Blue & Blues - Spreading Italian hues in Desi tones
By Nabamita Chatterjee | April 21, 2013
Blue & Blues, the Italian leather brand, plans to expand retail presence in key Indian cities, with a target of 30% growth in sales in the current fiscal. Praveen Agarwal, Director, Blue & Blues Fashion (India) Ltd chats up with Point-of-Purchase, about the brand's expansion strategy and how it plans to stand out in the competitive Indian market.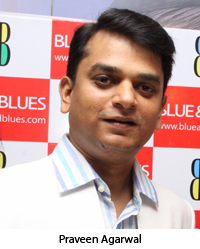 Blue & Blues was conceived by two Italians designers, Francesco Lanzaratto and Fulvio Rovaris, who were fashion visionaries with over 60 years of experience in leather products. After the death of Francesco Lanzaratto in 2000, the Agarwal Brothers, Praveen and Vikas Agarwal who had an experience of over 30 years exporting leather goods under the banner of Unique International, joined hands with Fulvio Rovaris, to bring this brand to India. The aim was to create a distinct mark of tradition in this lifestyle brand vertical. With standalone showrooms in Kolkata and Gurgaon, the brand is also available at premium MBO's like Shoppers Stop, Lifestyle, Landmark, Central, Witco, Ritu Wears and in select boutique stores in the metros.
How challenging it is to carve out a niche especially in such a competitive market?
For Blue & Blues one great challenge was to educate the Indian customers on pure leather'price' being a very big factor. We have observed that people don't understand the concept of pure leather versus mixed one. For example, we did a survey wherein we had real leather products & the impure ones and asked the customers to give their views by selecting from it. Out of 100, only one could select the genuine one. Thus in the Indian market there are these challenges when it comes to brand positioning.

So given the above how would you define your USP and value additions?
The most stand-out factor which got us into the market is that we introduced coloured leather into the boring world of black and brown leather products. Following the international trend we took this risk of adding more colours to the lives of Indians as at Blue & Blues we look at leather as an extension of one's soul. All our products are styled in Italy and provide the optimal mix between Italian designs and Indian consumer needs.


What is your marketing strategy and how encouraging is the market growth in terms of a brand like yours in India?
In terms of Indian market,'value proposition' is the most important determining factor for any business. The Indian consumers have this tendency of checking different shops to know the correct price of the item and here lies the basic difference between an Indian shopper and a customer abroad. We are in a more impulsive category and it is not always need based. Thus we need to hit that space more to build up our brand. Hence we have separate price ranges for our standalone stores where our handbag starts from around Rs 2000 and goes above whereas for the MBO's the maximum point is limited within Rs 4500.
What does it take to capture and then retain your consumer?
Since the very beginning when we launched our brand, we communicated through strategic campaign by partnering with Ogilvy & Mather and always put this message across that we are bringing colour to the staid world of genuine leather. Blue & Blues believe leather accessories, like any other fashion product, are successful only when their designs outperform those available in the market. It is hence imperative that we do extensive research before we bring any design for our buyers and therefore, operate via a full-fledged design and R&D team to continuously revolutionize the market with new offerings.
How much of your efforts towards capturing the consumers happen at the store? Could you tell us about some of your in-store initiatives such as displays, promos etc.
All marketing activities have to hit the target junction and will not be a success if done in isolation. We do lot of point-of-purchase activities regarding our offers for promoting the brand. For example, we had done a shopper-connective initiative called'Skin Sheen' where people could come to our stores and get their bags polished & cleaned from fungus and dirt which gets deposited on the leather. We also tried to educate the customers by informing them on which is pure leather and which is not, as only authentic product can be polished and thus it served the dual purpose of the campaign. Leather being an organic product, it will have some reaction on the skin if you make a mark on it. Whereas in cases of materials like PVC or plastic which are inorganic, there won't be any changes for a long time even if a scratch is made on it. Thus we try to communicate these messages to our clients by having trained professionals in our stores. We also use the booklets in our outlets to inform.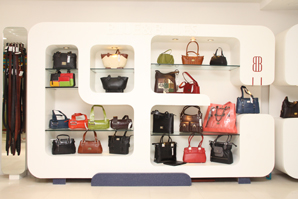 Are there any new trends that you are seeing in terms of consumer behaviour/buying pattern?
One very significant trend which we have observed from 2005 to 2013, is the concept of buying a bag worth Rs 3,000- 4,000, possibly due to the economic growth in the country. On a scale of 1-100, earlier about 10 people bought it, but now the figures have roughly gone up to 40/50. Today people have become more responsive towards impulse buying and thus in that respect the consumer behaviour pattern have surely undergone a change.
Going further what are your plans in terms of expansion all over India?
For a brand like ours, we need to make a constant mark in our retail presence. First, we want to reach out to more MBO's with our products. We are also looking at opening a store in Delhi followed by Bangalore, Mumbai and Hyderabad within the next year. We target 30% growth rate on our sales from now in the next financial year.
What is your take on the recent FDI Policy in terms of more International brands coming in? What do you think will be the impact of it on the Indian market and retailers?
FDI has to come and the biggest positive aspect is that the Indian brands would be much more exposed to healthy competition giving more learning opportunities. The brands which are coming in will be bringing in more openings with them and we as a brand are talking with many such international organisations as our buyers. It will serve as a dual objective as they want us to help them put up stores for them and also showcase our goods. Thus with more opportunities comes more revenue earning which in a longer run would be beneficial for the Indian market.
Related Viewpoints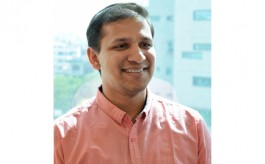 Executive Director, Madame
'Retail design solutions have to tell richer stories, create bolder experiences' : Akhil Jain, Executive Director, Madame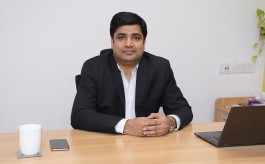 COO, V-Mart Retail Ltd
Small town India will spur organized retail growth : Vineet Jain, COO, V-Mart Retail Ltd