Bonita lends style & quality to home utility products
By Nabamita Chatterjee | May 22, 2014
To connect with wider markets, Bonita, a part of Casa Brands India, has tied up with Amazon. Point-of-Purchase chats up with Umang Srivastava, Joint MD Casa Brands India Pvt Ltd, to know more about the company's retail strategy. Read On: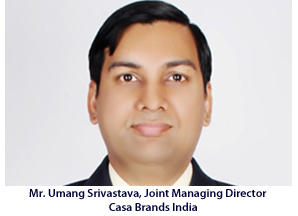 Tell us something about Casa Brands, and especially, Bonita? How challenging has the journey been?
Casa Brands India owns the leading home utility products brand Bonita. The company was established in the year 2007. Until 2012, Casa Brands was serving only international consumers under laundry care, storage and organising category. Bonita was launched in the same year (2012), when we realised that the Indian consumer does not have access to good quality household products in laundry/organising and storage category. Since space is becoming a big problem for everyone, especially in the cities and large towns of India, we launched Bonita so that the Indian consumer can live a better life by using Bonita products.
The journey has been quite challenging till now because Bonita is trying to break into a market dominated by unorganised players and cheap products that have no styling or quality element and the customer had never thought that ironing boards, cloth dryers or shoe racks can also be beautiful and match the décor of the house. We have gained a very good response from Indian consumers who value styling and quality.
In this competitive market how difficult it is to create a niche for this type of products? What are your USPs and value additions?
It was definitely difficult to create space for ourselves as the market is dominated by cheap Chinese imports and poor quality products of unorganised players. Bonita's biggest USP is that we strive to create more livable space with our products without spoiling the ambience of the house, making our customer's life easier and more enjoyable. Our products are stylish, durable, innovative and most importantly, provide great ease of use and save space. When you do not want to use them, you can fold them away and whenever you are using them, they will always look chic and match with the ambience of your room.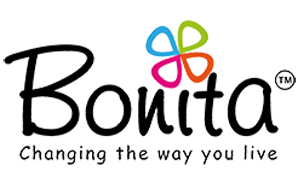 Throw some light on your tie-up with Amazon.in? How do you plan to leverage more market share with the help of online retailing?
Amazon is going to be very aggressive in the Indian market and it is the world's largest e-commerce retailer and they also need good brands to support their offering for the Indian market. This was the reason they approached us and we saw a good synergy between Bonita and Amazon where Amazon can benefit by offering its customers, innovative and good quality products from Bonita, and Bonita can benefit by using Amazon's platform to reach out to consumers in India. Additionally, Bonita products will also be launched in the US in June and we can easily use Amazon's platform to offer the same high-quality products to US consumers also.
With your products available in 1,000 stores pan-India, where do you see the brick and mortar retail heading, especially when it comes to the home utility segment?


Brick and mortar retail is a very important part of our sales strategy and still forms 70 per cent of our overall sales. So, we definitely see huge potential for growth through this channel. This is also more important because the reach of these stores is much beyond any other channel and since our products are needed in every household, the reach of this channel in unparalleled. Also, it gives an opportunity to the consumer to physically check the quality and feel of the product before buying it. Importantly, the success of a brand like ours depends on efficient Point of Purchase solutions and it is good to see so many players coming out with innovations.
Do you have exclusive flagship retail stores?
As of now, we do not have exclusive stores of Bonita but we do intend to have them in the near future.
What are the challenges you face in the home utility segment in terms of brand positioning? What kind of in-store communication strategy do you plan for Bonita?
Like I mentioned before, the biggest challenge for us is to communicate to the consumers that there is a brand available with much better products both in terms of quality and styling apart from ease of use. The challenges also comes in convincing the channel partners that consumers will buy the product. But we still need to effectively communicate to them about our USPs and how Bonita products can make their everyday life easier.
Also, most people could not believe (and actually discouraged us) that brands can be created with shoe string budgets and in such a short period of time. However, we have proved them all wrong and the only reason we were able to do that was because we believed in ourselves. If you work consistently and persistently, the obstacles go away. Regarding the communication strategy, we have been extensively using POP displays, dealer boards, danglers, posters and branding inside stores, providing the sales staff with Bonita t-shirts, etc. We also do BTL activities at the store to create engagement and consumer awareness about the brand and products.
What are your future plans in terms of expansion, both in online and physical retail space?
We are extensively growing in the online as well as physical retail markets. In the online space, we are available on all websites that sell home products and are growing as the new websites keep coming up. We are automatically invited to be a part of any website which starts a home section as they want to use our brand presence to drive customers to their website.
In the physical space, we are placed across 22 stores of Shopper Stop/Home Stop and will be available across Hypercity, Best Price, Viveks, Whitemart, etc. within May. The traditional store network is also growing and we aim to be present across 2,000+ stores this FY and this will include North Eastern states too.
What has been your turnover in the last FY and how much increase you are targeting at?
We have been growing at a stupendous rate of more than 200 percent YOY. You can imagine the growth by the fact that in the three months of this FY (April-Jun 2014), we will cross last FY's turnover. We are now going into an exponential growth curve.
How encouraging is the market growth of this segment and where do you see it five years down the line?
The market growth has been satisfactory and since it is a need-based product, every household needs it. We see ourselves touching a turnover of Rs 250+ crore within 5 years from now.
Related Viewpoints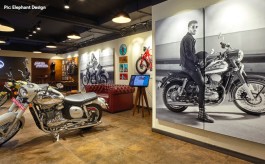 Co-Founder & Director, Elephant Design
'Designers have to take responsibility of making the store meet business objectives'