"Brand experience must be impactful and fun"
By VJ Media Bureau | August 17, 2018
Mattel recently executed some very interesting and interactive Board Games displays across stores in the country. In an exclusive conversation with Point-of-Purchase, Ishmeet Singh, Country Manager, Mattel India Pvt Ltd gives an insight into their shopper engagement and in-store marketing strategies.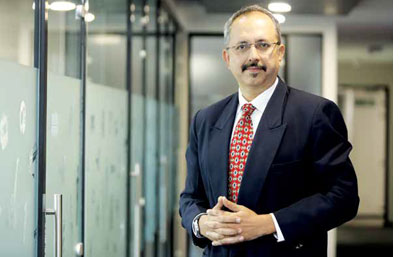 Experts world over say board games have a very important role to play in boosting kids' skills. Besides, playing them as a family enhances the bonding and fun factor. One of the leading toy manufacturing companies, Mattel recently executed some very interesting and interactive Board Games displays across toy specialty stores, departmental stores, hypermarkets, book stores and general trade stores. In an exclusive conversation with Point-of-Purchase, Ishmeet Singh, Country Manager, Mattel India Pvt Ltd gives an insight into their shopper engagement and in-store marketing strategies.
How does Mattel stand apart from the clutter?
At Mattel, our cards games portfolio comprises an amazing range
of powerful brands, each catering to a different age group and play value. Our offerings are across various segments like Family, Adult, Party, Kids and card games which is much wider than competition. To break clutter, we focused on calling out our most loved brands - UNO, Scrabble and Pictionary through attractive and interactive installations in high visibility locations in the store to attract shoppers.
How did you incorporate shopper engagement inside the stores?
For any new game that we launch, we need to ensure that we can demonstrate it adequately to the consumer to increase her/his familiarity with a seemingly new concept. We did extensive training sessions with our sales staff and visual merchandisers so that they could in turn train store staff and enable consumers to sample the new items.
We then selected top stores across major cities to conduct quick sampling activities with consumers.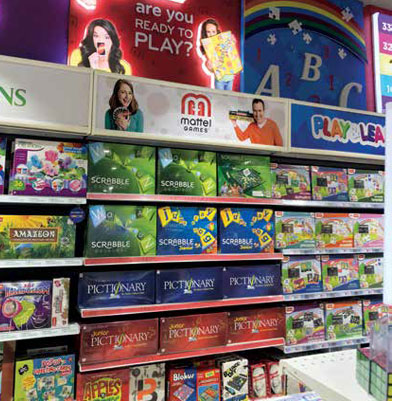 During the festive season, we will again ramp up our engagement at Top stores with our 'Game-a-thon' events where we use more elaborate set ups inside stores engaging consumers with longer format board games in the portfolio.
What are the key considerations in deciding on Point-of-Purchase elements for design and deployment in this category?
Games is a collection of multiple formats within the same category and hence the considerations differ by product.
For card games, the focus revolves around multiple placements, driving visibility and encouraging impulse purchase. Product stacking and placement is of prime importance and thus the decision to invest in floor standing units and counter display units positioned at the store's check out/ billing counters.
For board games/ family games, our decision was to create installations in high visibility, high impact locations within the store that would attract and subsequently engage the consumer at the point of purchase. For Scrabble, we installed magnetic boards so that the consumer could play a vertical Scrabble while waiting inside the store. Pictionary on the other hand had an erasable board with markers and cue cards.
What is the target age group for these games and how do you connect with the new-age kids using the in-store marketing tools?
Due to the sheer breadth of offerings, our portfolio caters to every game aficionado above 6 years. The games can be played by a group of friends – at any age or a family and at any occasion - during a long journey, a night at home with friends or just a rainy Sunday. Over the last few years, we have been building offerings with the different segments.
Our card games portfolio spans themes like skill and action (Blink, Bold, Pictionary), sequencing (SkipBo, Phase 10) and word association (Mad Gab)
We have also launched travel sized 'Fast Fun' versions of some of our other popular games like Blokus, Bounce Off and Kerplunk.
However, efforts this year have been to reach out to Young Adults through our party games offerings which includes games like Balderdash, F* That, Apples to Apples, and Fun Employed.
We have chosen a mix of on ground engagement and digital initiatives to reach this audience which includes seeding the products in popular pubs and cafes frequented by the target audience and retargeting existing buyers of comparable games.
What was the main objective of focusing on 'Scrabble' in your entire range of games?
Scrabble is amongst the Top 3 board games in the Indian market in terms of both volumes and revenue. Scrabble as a brand holds tremendous equity with all the stakeholders in a child's life because it is the very embodiment of education through entertainment.
We have instituted a property called the Mattel Scrabble challenge, a national level school Scrabble championship program which was designed to engage kids directly with the game.
The program has motivated a lot of schools to form Scrabble clubs and organise small scale independent Scrabble tournaments and created tremendous positive engagement for the brand with parents and teachers. Our target is for every household in our top 5 markets to own a Scrabble board and for every school to integrate it in their English lessons.
How effective and interactive was the display?
Games get a whole lot more fun when they're super-sized. In modern retail, Scrabble is growing at 25% yearon-year and the magnetic-board, interactive installation essentially is a key engagement lever for the brand which thus aids purchase. Also, we ensure our installation is closer to the Games shelves to enable trial for the other brands from our games portfolio. We are looking to replicate this installation now across different formats like departmental and book stores where in-store, brand engagement is a key to conversion.
What's your projected business growth in the country?
Games and Puzzles as a segment is set to grow at a CAGR of 21.4% according to Euromonitor 2018, however, Mattel Games bouquet is growing faster than the segment, clocking a growth of more than double of these estimates.
Tell us about your shopper marketing initiatives for both MT and GT?
At Mattel, our endeavor across channels and formats is to be able to help shoppers experience our products. With space constraints in GT, we look at out-of-category, secondary units to aid impulse purchase. Also, we do weekend activities in GT stores to help consumers experience our brands like Hot Wheels, Barbie and Games.
An MT environment gives us an opportunity to do big-bang visibility and interactive installations to give a more permanent and consistent brand experience. For some of our top stores in Toy Specialty and Departmental format, we own the category display through high-impact dressings and installations. Also, our in-store promoter workforce plays a key role in aiding the shoppers' journey from trial to conversions for our brands.
What is your overall experience with Indian retail solutions industry?
'Technology integration at Retail' is an exciting space today as it promises a great shopper experience and at the same time provides a sound analytics platform for brands to evaluate effectiveness of their investments at retail. Mattel's endeavor is to embrace technology to be able to provide a brand experience relevant to today's times Fundamentally, we always believe that our brands should get good long-range visibility at retail and the brand experience must be impactful and fun.
Related Viewpoints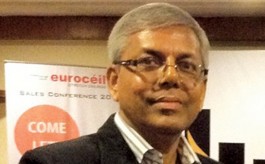 Managing Director, Euroceil
'Innovation is our hallmark'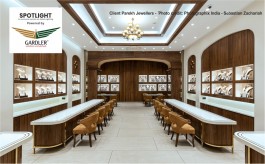 Principal Designer, Shravan Design Company
'Lighting impacts how merchandise is presented to customers'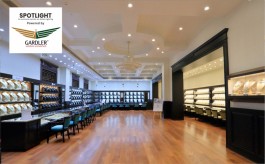 Head Designer, Ahanas Design For Space
'We look for sound technical knowledge in our lighting partners'