Bricks Vs Clicks Or Bricks With Clicks
By Dipanjan Mukherjee | March 04, 2015
Incorporation of technology has fueled the growth, bringing the change in the basic structure of how retailing is done in India say Piyush Kumar Sinha, Professor in Retailing & Marketing, IIM Ahmedabad and Anshul Mathur, Academic Associate, IIM Ahmedabad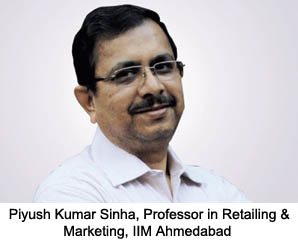 The retail industry in India is one of the most vibrant and fast pace industries showing some really significant changes in its structure. The total retail market stood at Rs 25 lakh crore approx (Table 1) and as per Yes Bank-Assocham study, and it is likely to touch a whopping Rs 45 lakh crore by 2016-17, expanding at a compounded annual growth rate of 15%.
A large young population, increasing urbanisation, emergence of nuclear families, increase in disposable income and customer aspiration and increase in the double-income households are some major factors that lead to a bright future of retailing in India. According to Euromonitor, annual disposable income levels in India increased by 14% in 2013 as compared to 12% in 2012. The Indian retail sector is highly fragmented and the unorganised sector has around 13 million retail outlets that account for around 92-93% of total Indian retail.
Incorporation of technology has fueled the growth, bringing the change in the basic structure of how retailing is done in India. Internet retailing offers consumers the advantage of competitive pricing and comfort of shopping from home. With the availability of multiple payment methodologies such as online banking, credit cards, debit cards and the very popular cash-on -delivery option, online shopping has now become a preferred option for consumers.
A high number of Indian retailers have noticed the shift in shopping habits among Indian population in recent years, specifically the shift in the retailing of non-grocery products towards internet retailing, which has led many store-based retailers to launch their own websites to offer online shopping. Footwear specialist retailer Bata and electronics and appliance specialist retailer Croma launched their online stores during 2012. Internet retailing has increased by 20% in 2013 where Dell India Pvt Ltd remains the leading player in internet retailing with an 8% value share in 2013. The growth majorly is driven by products such as apparel and footwear, personal goods, consumer electronics and video games hardware, consumer appliances, beauty and personal care, consumer healthcare. Beauty and personal care internet retailing was the least popular internet retailing category.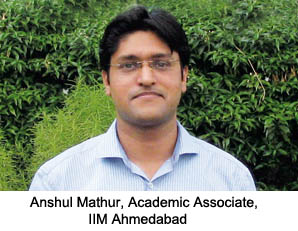 Mobile internet retailing has also become the talk of the town. It comprised 9% of total internet retailing sales in India in 2013. The increasing use of smartphones by urban consumers is a major reason for same (Chart 1). All of the leading players in internet retailing in India have already developed mobile internet websites which allow consumers to navigate their websites and make purchases using their smartphones.
Online retail has also become a major channel for consumers from tier II and tier III cities because of increasing penetration of hi-speed internet. Retailers have now realised that there is heavy and growing demand for certain products and brands in remote locations of country. India had 169 million Internet users in 2013, a rise of 274% over 2008 which puts India ahead of all other countries in the region except China. The Internet user base is expected to increase to 581 million by 2030, a growth of 200% over 2014.
Growing craze of online shopping is witnessed by Flipkart.com and Snapdeal.com which were 7th and 15th most popular website in the country as of September 2014. Later'On its Big Billion Day', Flipkart posted sales of $100 million in just 10 hours. Similar effort was again repeated by Snapdeal followed by Amazon who announced a $2-billion investment for its India operations recently.
But the rise of online retail got a significant impact on financials of physical retailers over the past three years. Operating and net margins of retail giants, such as, Shoppers Stop, Cantabil, KewalKiran, Provogue, and Trent have shown a declining trend. Even some of their operating parameters, such as, same-store sales growth, conversion ratio and sales per square feet have been on a decline for same period (Table 5).
Traditional retailers now have been working hard and revisiting their strategies to remain in the game. But the question is, are moving in a right direction if we treat online retail as a threat to brick and mortar retailer.
We need to take a look at a study conducted in the US. According to US Retail Ecommerce: 2014 Trends and Forecast, the total US retail market is $4.7 trillion, out of which the internet retailing counts it share to 6.5%. But the report further suggests that impact of online retail is much bigger than what numbers actually state. Out of 219.4 million internet users in the US, 89% of them have accepted the fact that they have browsed, researched or compared products online but have not necessarily bought digitally. Another research from Accenture found 78% of customers researched online before they made their purchase from a brick-and-mortar store. In the same research it was also revealed that 72% of customers who bought online have been to a store before making the final purchase.
Traditional retailers must understand and follow the shift taking place in consumer behaviour. Consumers are now having everything just one click away. This aspect opens the door for "Omni Channel Retail" for both online and offline retailers. The concept can be defined as seamless integration between multi-channels that put customer first, irrespective of technology or mode they are engaged with. It is a holistic approach where the ultimate objective is to deliver seamless shopping experience with the right mix of technologies and bricks.
According to a study conducted by AT Kearney on the ongoing evolution of omni channel retail, physical stores are the preferred shopping destinations but at the same time it is important to acknowledge that internet users today start their shopping while they are sitting on their couches or at office and end it in a shopping mall with a physical product in hand, whereas some users start at the mall experiencing feel and touch of product and end up ordering it online.
The store plays a significant role in sale whether it is done in store or online. It offers the ability to test, try on, or experience products, personal caring from associates, instant gratification and many more, whereas online platforms provide very rich product and service information, customer reviews, convenience, price comparison, etc. In simple words, value can be created with an appropriate mix of advantages offered by both channels.
Traditional retailers have a variety of tools and techniques with which they can actually transform the total shopping experience. For example, Home plus, Tesco's South Korean arm, has come up with a unique virtual market that can be accessed through smartphones. Customers in that part rely heavily on their smartphones to take care of daily tasks as they have little time to spare for shopping. Following the behaviour observed, Home plus brought the store at a point where consumers had time like subways with lifelike images of products which replicates the real shelves and gives consumers a supermarket kind of experience. This way, consumers can choose the product they want, scan its QR codes, touch on the screen and thereby create a virtual shopping cart for goods to be purchased. Home plus then ship their selected products to the consumer's home within hours.
In India some of the traditional retailers have taken steps in a similar direction. For instance, Shoppers Stop, which started its online store in 2008, has boosted its online presence, features and user interface to bring its online visage on par with leading e-commerce websites. Amazon and Future Group have formed an alliance to jointly sell goods online following the shift in consumer buying patterns. In another similar step, Infiniti Retail, a Tata group company which operates Croma, and Snapdeal have also formed a strategic partnership through which goods available at Croma stores will be available for purchase on Snapdeal.com. For many of the traditional retailers, these steps bring a lot of change in their basic structure and strategy which demands time and investments.
The present generation of consumers who are online want the products and all related information instantly. Traditional retailers need to match that pace but moving too fast may not provide enough time for learning the new avenues and moving too slow may lead to loss in market share, scale and opportunities.
Table 1 -- Internet retailing by category: Value 2008-2013
| | | | | | | |
| --- | --- | --- | --- | --- | --- | --- |
| Rs million, retail value RSP excluding sales tax | 2008 | 2009 | 2010 | 2011 | 2012 | 2013 |
| | | | | | | |
| Beauty and Personal Care | - | - | - | - | 180.2 | 234.0 |
| Apparel and Footwear | 3,696.9 | 5,267.1 | 7,785.5 | 10,530.2 | 13,629.6 | 16,910.1 |
| Consumer Electronics and Video Games Hardware | 14,585.7 | 18,223.3 | 20,883.7 | 28,818.9 | 34,944.1 | 45,364.2 |
| Consumer Healthcare | 443.6 | 506.7 | 586.0 | 715.7 | 896.4 | 1,240.6 |
| Consumer Appliances | 1,827.2 | 2,267.5 | 2,905.3 | 3,434.7 | 4,197.7 | 5,231.8 |
| Home Care | - | - | - | - | - | - |
| Home Improvement and Gardening | - | - | - | - | - | - |
| Housewares and Home Furnishings | - | - | - | - | - | - |
| Media Products | 3,325.1 | 4,655.2 | 7,111.7 | 9,883.7 | 12,799.4 | 16,408.8 |
| Food and Drink | - | - | - | - | - | - |
| Traditional Toys and Games | 43.8 | 55.1 | 80.9 | 104.4 | 136.0 | 175.4 |
| Other Internet Retailing | 39,892.1 | 45,578.0 | 52,268.8 | 64,730.1 | 75,109.1 | 84,466.2 |
| Internet Retailing (total) | 63,814.4 | 76,553.1 | 91,621.9 | 118,217.6 | 141,892.5 | 170,031.1 |
Source: Euromonitor International from official statistics, trade associations, trade press, company research, trade interviews, trade sources
Table 2 Internet Retailing Company Shares: % Value 2009-2013
Tags :
Piyush Kumar Sinha
Anshul Mathur
Related Viewpoints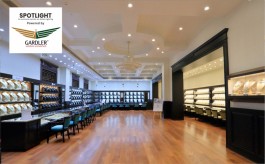 Head Designer, Ahanas Design For Space
'We look for sound technical knowledge in our lighting partners'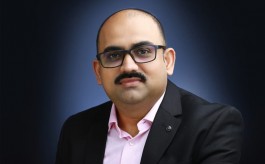 CEO & CFO, Smollan India
'Adapting to tech advancements is imperative for competitive edge'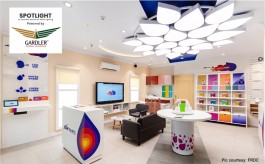 Managing Director, FRDC
'Prefer lighting partners who invest in their own products': Sanjay Agarwal, Architect & Store Designer