Buckling up for the well-heeled Indian market
By Elke Moebius | April 28, 2014
Heel & Buckle, which hails from London, is a new entrant to the Indian footwear market and has accordingly tailored its offerings to the Indian market.VM&RD gets into a conversation with Dhiraj Bathija , CEO, Heel & Buckle India.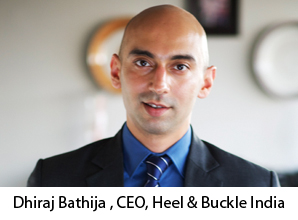 Curated and conceptualized for the Indian market, Heel & Buckle, the brand has its Indian backbone in the form of Dhiraj Bathija. Although a Chartered Accountant by qualification, Dhiraj's insight into the retail industry and the footwear market in India and Europe combined with his diligence was instrumental in launching Heel & Buckle in India. Below are excerpts from a conversation with the achiever.
Give us a brief about the brand
Heel & Buckle is a London based bespoke footwear studio which was launched in 2011. It is a multi-brand format which spells luxury. It has great emphasis on delivering quality along with great style and looks. It houses luxury brands which are dedicated to footwear. There are high-end luxury brands which focus on footwear as part of their collection, but those brands are not our forte. For India, the brands we house have been duly modified to suit the market.
Why did you decide on bringing this particular brand to India?
The Indian market responds very well to high-street brands like Aldo, Charles and Keith, Steve Madden etc. Then we have the luxury brands as well. This market gap is pretty huge and that is where Heel & Buckle comes in in the form of a multi-brand luxury footwear house.
Do you have bespoke services for the Indian customers as well?
In India, we don't do bespoke on a regular basis. We have events once in a while when we take bespoke orders. But we take inquiries all the time and let the customers know when we would be able to cater to their bespoke requests.
You are a Chartered Accountant by profession. What got you into retail?
I have done a lot of things in my life. I also used to do a lot of Retail Strategy consulting. With constant advising and working closely with brands like Selfridges and Next, I got deep insight in the industry. Also, the Heel & Buckle owner is a personal friend of mine.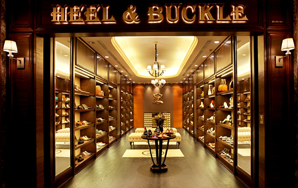 Tell us about the process you went through to bring the brand to India.
The process was not that difficult on the London side. I have contacts there and decisions were easily taken on that front. Although, on the Indian side, it was a bit of a task as lot of paperwork had to be taken care of, besides getting the right people and also deciding on an apt location. We were very clear it had to be a luxury location, as that is what suited the positioning of the brand. The entire process took about 10-11 months.

Who is your target audience?
Our target audience falls within the age group of 20-55 years. They are well-educated and well-traveled people. They are a very sophisticated audience and know what they want. They are looking for high quality products and can indulge in quality. Also, they have a very individualistic approach and not a herd mentality. Price is not on their criteria.
How has the brand been modified to suit the likes of the Indian market?
All markets are very different from each other. We cannot create a replica of the London model in India. The market strategy has to be duly adjusted. Also, the collection we house in the India stores has been hand-picked for the Indian customer. Brands and styles are brought in accordingly. Here shoes with a gold base colour are quite a requirement as they cater to their traditional wear needs as well. The heel size of the shoes is also reduced based on Indian preferences. Also, for men changes are required. They prefer wider shoes for increased comfort. So we offer more Italian choices for men based on the local design sensibilities.
How has the brand been received in India?
We opened our first Delhi store at the DLF Emporio mall a few months back. We already have a store at the Palladium mall in Mumbai. The Delhi store is doing really well. Delhi customers are not very price sensitive and more willing to experiment. They are bolder in their choices. We have a wider market in Delhi compared to Mumbai, though, I must say the Mumbai store is doing pretty good as well. .

Who has designed store? Also what was design brief to designer?
We were very clear on the concept we wanted. It also had to be a continuation to the Heel & Buckle stores in London. The Indian stores have been designed by B&K group. Both the stores are about 600-800 sq. ft. The ambience of the store had to be very old world and very woody in the look. It had to emanate luxury and convey a very plush look. The feel had to be very upper class English to be in sync with the brand's standards.
How much you have you spent per sq ft for building the store?
We have spent about Rs. 6000-7000 per sq. ft.
Which are the brands housed at Heel & Buckle? How was the call taken on the selection of the brands ?

The Indian stores have high-end luxury brands like Magnanni, Paco Gil, Rad Russel, Pazzion and Alessandro.
What is the Home Service concept and how successful is it?
It is very new concept in the Indian market. For cities like Delhi and Mumbai where life is fast-paced and traffic is a big hassle, Heel & Buckle offers the luxury of shopping at home. Our sales specialist takes a few shoes based on the clients' choice and their size, to a location preferred by the clients- mostly their residence. This gives them the advantage of shopping from the comfort of their home by actually trying out the product and then buying. We have a very niche clientele for this service. Usually they are repeat customers or customers who have been referred for this service.
Is the e-commerce version of the brand doing equally well in the Indian market?
All our retail channels represent what Heel & Buckle is all about. E-commerce is for customers based away from Mumbai & Delhi.We have a good market in Rajasthan and Bangalore. It provides a great platform for us to reach out to the rest of the country.
What are your expansion plans?
In India we plan to expand in the North itself. NCR region is our immediate target. Since Delhi has given a great response we will open more stores in Delhi. Our expansion plans are not limited to India. We plan to set foot in the Middle East and Gulf regions as well. A store in Dubai should open by the end of this year.
Related Viewpoints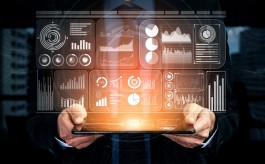 Angel Investor & Business Strategist
'Marketers need to stitch the missing link between data and business value'