Catering to the tech savvy
By Fairy Dharawat | January 30, 2014
In a conversation with Point Of Purchase, S. Rajendran, CMO -- Acer India, shares his insights on how the Indian shopper has evolved, besides talking on the retail scenario in India and the company's expansion plans for 2014. Read on...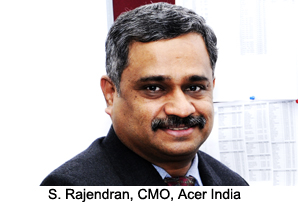 Trends in the industry
The growth in the income levels and education, has led to a growth in the buying capacity of the consumers. We have also seen an increase in the retail formats thereby making shopping a more convenient experience than ever before. The biggest change that we have seen fundamentally is in large format retail stores, providing convenient access to a variety of products, all under one roof, for an evolved customer as well as for someone who is may be uninitiated or who is a first time buyer. The second fundamental change that we have noticed is in the online retail format, which is mostly led by informed buyers who are knowledgeable and know what their needs are, conduct adequate research and go online for a convenient buying experience in terms of product delivery.
Approximate Investment in retail
Acer got in to retail during early 2000 and we were the first in the industry to come up with a very easily understandable engagement format with the channel community. We started with two defined retail formats, the exclusive Acer Stores - termed as Acer Malls and multi-brand stores knows as Acer Points; the footprint ranging between 500 and 2000 sq ft.
The investment that we make typically is in the entire in-store merchandising. In some of the larger stores, we also invest in manpower, people who are known as ISPs (in-store promoters).
As the customer has evolved worldwide, we at Acer have also moved up the ladder to provide innovative designs to our customers through our new-age products. We have introduced a demo program for these new-age products, wherein Acer's retailers will be able to access these new age products at a deep discount. This initiative is aimed at providing a touch and feel experience of our revolutionary products to the customers. Some of our revolutionary products such as the S7 Ultrabook, R7 Notebook and the P3 Hybrid Ultrabook can be experienced in a very rich manner only through physical presence. The newly launched Iconia W4 tablet, which is also India's first 20.3cm Tablet with Windows 8.1, can be held in your palms and these points-of sale provide this opportunity to experience them.
We have increased our investment levels across various platforms, not just in merchandizing and manpower training, but in digital signage's as well. We have introduced digital signage's in our stores and connected them to a dedicated server. The server pumps in fresh content on new products which makes for a pleasant viewing to anyone who walks in to the store. In an Acer mall, we typically invest, as per the size and format of the outlet, anywhere between US$ 2000 to US$ 3500 per store. The investment in the entire infrastructure is taken care of by the entrepreneur, and we provide our support in terms of merchandize and in-store digital signage.
New Formats

We are looking at online engagement to become stronger in the segment. In the tier I and urban markets, there is a dominant preference for this format from evolved customers. Therefore our engagement with the e-commerce portals such as Flipkart, Croma Online store, and Snapdeal etc. are increasing day by day, in terms of ranging the right products and providing the right browsing experience for the customer to come online and consume product relevant content. We continue our association with the conventional exclusive stores, multi brand stores, LFRs, with a focus on the metros and tier I towns.
Number of outlets
We have around 150 Acer exclusive stores, over 400 MBO multi brand stores and beyond that through the LFRs we have an added presence of 200+ touch points. We also have Acer Galleries, which are dedicated to non-metros and smaller towns. We have found that having a permanent presence in the tier III and IV towns also lends a lot of legitimacy, more so for smaller towns, and suburbs. The total number of Acer Galleries presently stands at 2500+.
Expansion Plans
We would look at another 50+ stores (Acer Malls and Acer Points) across the country in 2014. As far as Acer Gallery is concerned we are looking at expanding the number, which is currently more than 2500 stores. From these which are already out there, we will focus on and drive better performance for the store in terms of business velocity. The expansion planned is Pan India.
Innovation
We realized that technology is moving at a rapid pace; for the uninitiated customer it is always a challenge to understand the full spectrum of offerings and to map the information for their requirement on their own. It is possible the customer is a first time buyer and may not require highest grunt power in the processor speed, he may not require graphics. Or the customer can be a student who requires a 15 inch screen for a multimedia usage that is comparatively higher than that of a mid-30 user profile. We find that a trained in-store promoter with the right knowledge and right attitude along with an understanding of the varied user requirements is able to intelligently match the customer need with the SKU offering.
Secondly, we conduct in-store training enablement for our in-store promoters, through digital signage's during off-peak hours. When it comes to peak hour for customer walk-ins, our in-store digital signages are used for product messaging, or even running our latest TV commercial. This enables a more wholesome buying experience.
Taking the theme of'progressive design' forward and in-line with our brand promise of'explore beyond limits', we want our customers to explore their individual limits and acquaint themselves with Acer's innovative product offerings in its entirety. Through our demo program, our in-store promoters are trained to show product demos to our customers, how the design innovation can make their lives better. These initiatives we feel are making the last-mile of customer buying much better.
Insight on retail experience
We have products which go from the entry-level, to the mid-end and the high-end with a customer base from diverse backgrounds ranging from a student, businessman, or a housewife. Across the spectrum of products, our dialogue with the buyer begins with guiding the buyer, understanding his/her needs based on the questions pertaining to their requirement, varied usage patterns etc and match it with the right Acer product which fits in their budget.
Approach to retail in India
At a very large level our approach to retail in India is different from that of the international market. The fundamental reason being that, when it comes to IT, India is not as highly penetrated compared to developed markets. In the developed markets, the dialogue and interaction in the last-mile buying is slightly less on buying since we are talking of an evolved and knowledgeable customer, whereas in India, the touch and feel remains a big consideration for buying. We focus a lot on feature benefits in markets like India, because the customer has to graduate in the buying cycle from just focusing on the bare specs to how the product can fulfill the user requirements.
New Age Shopper
The new age shopper is below thirty years of age with an interest in technology, a high appetite for new products, and having a clear articulation of what they are looking for in a hardware device. We engage with them through social media tool which may be not as relevant for a mid thirty or forty age group. We engage with them in a more action-related manner. And all this we tie up in back-end for trapping these interests and taking it in last mile in logical manner. We combine all the ends of our various communication modes, through social media, through call centre, through enquiry handling to graduate to a point where we have a very consistent engaged dialogue with our shopper and bring it to a logical conclusion.
Related Viewpoints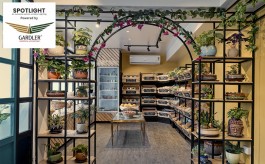 Founder & Principal Architect, Studio Noya
'Making the product visible in today's retail environment means making the most of light'