Chai Chai: The journey of "Ketli-The Tea Bar"
By Dwarika Prasad | April 17, 2018
"Ketli-The Tea Bar", is an ideal example of the potentials of organized street retail and how it can be a trend setter in this segment of F&B vertical.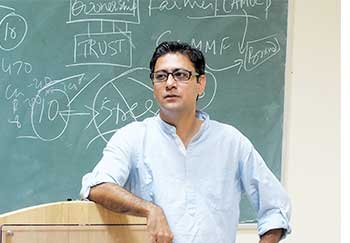 Reflection
It was late in the night and everyone had left for home. Rahul Shukla was sitting at his place, "Ketli-the Tea Bar" at the IT park area of Kharadi and sipping the last cup of ginger tea and reflected upon the journey he had taken three years back.
Or was it really three years? He thought and his mind wandered to the times when he was a young MBA student in Pune in 2006. In one of the sessions his then Marketing Professor threw a challenge to his batch mates about practicing what they were learning in the classroom. The message was very clear "Walk the Talk". Surely the challenge looked interesting and a welcome departure from the regular lectures at his B school.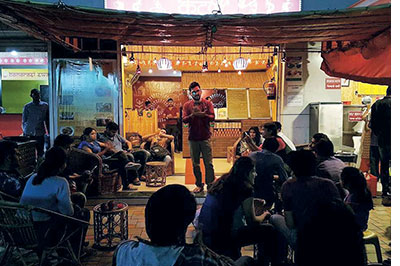 The Trigger
Rahul and his friend Avishek moved to the chai tapir (tea shop) outside their campus to grab a quick cutting chai before the next lecture. But this time, while having tea and discussing the project, they observed the tea shop closely for the first time. They started talking to the owner of that tapri and asked about his business, the issues, cash crunch, customers, his offerings, space constraints etc. The conversation grew so interesting that they bunked the next lecture and were excited about the subject of their "Walk the Talk" project: the tea shop.
They had decided that in next few months, they will work closely with the tea shop to transform it and to their own surprise and everyone's they actually did it. The revenue of the Tapri grew 10X in next 11 months and profits 3X. Their experiment was featured in Pune Mirror and the tea shop owner became a mini celebrity. The project went great but the market realities caught up with them and they moved to their respected jobs in different cities. Rahul over those many years worked in the domain of Retailing and had stints with Landmark Group in Dubai and few companies in India. Whenever he would come to Pune, he would visit that tea shop and remember the old days and the project. The tea shop guy had expanded his business and was now a successful entrepreneur.
The Insight
Rahul believed that a Chai Tapri is a microcosm of a large businesses where all the principles are same as the corporate world and just the scale is different. Rahul noticed that Tapri is a very interesting place where people from every walk of life come to relieve their stress and socialize. Be it a small break from the office work or quick catch-up with an old friend, Chai Tapri served all these purposes.
Also, he mused that no matter how rich or famous we become, we never leave behind our habit of having a cutting chai at the Tapri at our old towns. These observations made Rahul more curious to dive deep in to the Chai Tapri world. He noted that quick service and affordable price are the USPs of Tapris. However hygiene issues and lack of service/facilities make Tapris unfriendly for a quiet relax time. He worked in Dubai for 2 years in Marketing & Branding field before coming back to India. In India again he tried to adjust himself within the corporate atmosphere for 4 more years. But his dream of exploring the Chai Tapri never let him settle in a job. One fine day he had a detailed discussion with his wife Kavita who was also an engineer and worked with Infosys to quit his corporate life and embark on a less travelled journey. Since Rahul had experience in IT and Retailing, the obvious choice would have been in creating something in that domain but Rahul was always fascinated by the street retail formats in India and his heart was in tea.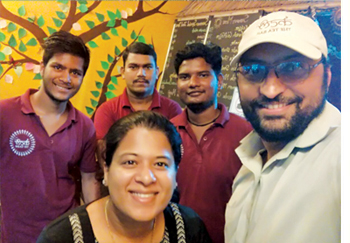 Leap of Faith
He decided to call up his old Marketing Professor and bounce of this idea. They chatted for an hour and few more times after that day. Rahul was convinced that he can create an interesting concept around tea. On 15 Aug 2015 with shoe string budget, Rahul Shukla & his wife Kavita Shukla founded "Ketli" as a refreshing, economical ,convenient joint for working professionals / families/Youngsters for Leisure, breaks, meetings or quick bites.
They chose Kharadi as the location of their Ketli as that's the very place Rahul had started his MBA journey.
The Journey so far
It's been almost three years now and they serve, 30+ types of Teas and other beverages as well as food items and strongly believe in making Ketli "Sab ki Apni Chai Ki Dukan" (the tea shop for all). With prices starting from Rs 20 onwards, Ketli is a daily joint for many. From the beginning they worked on "Word Of Mouth" model. They believe that each and every customer is their Brand Ambassador and if they are given great service every time, they are bound to spread positive word about their shop. The USP of Ketli is that they prepare each & every cup of tea fresh, and as per customer's preferences like Kadak (Strong) or Fiki (without sugar).
Also they use natural ingredients for all their Desi Tea. (Ginger, Tulsi, Black Pepper, Lemongrass, Mint, Cinnamon, Cardamom etc.). They also have unique teas like Gud Ki Chai, Dryfruit chai, Black Pepper Chai, Saunf Ki Chai, Kashmiri Kahwa, Chocolate chai but the most popular chai still is Adarak wali Chai with Bun Maska.
They aim to capture daily tea drinkers as well as those who want to spend time with friends/families. They have also experimented with many seasonal products to capture the Seasonal business. Desi Items take centre stage in their menu. While adding any new item in menu they ensure to give it a desi touch. Products like Tandoori Maggi, Khari, Mathri, Bakarwadi, Egg Banjo, Bunmaska are great companions with Teas.
Steady and Organic Growth
On a week day they get a footfall of 200 which increases to 300 by the weekend and they get a lot of young college grads, IT professionals as well as young families.
They made small beginning with 14,000 rupees per month in August 2015 and were profitable from that month only. Since then the earnings have increased to almost 3-3.5 lacs rupees per month. They intend to invest a lot in cloud based ERP and take their business omni-channel. They have also partnered with Zomator, Swiggy and FoodPanda to deliver their products at customer's door steps as well. They are already getting orders worth Rs. 35,000 per month through their online channel partners.
Ketli: the new social
Both Rahul and Kavita love music and are very selective in the type of music they play in the shop. Be it Kishor Kumar, Mohd. Rafi songs or hit numbers from 90s or rock songs from legendary rock bands, they make sure to hit the nostalgic chord in the customers' mind.
In last one year with the advent of poetry jams and open mic, they have started creating a cultural eco system around their shop and organize events like Poetry jams, Story Telling, Live music etc. These events are by the customers and for the customers. They also plan to add stand ups in coming week as it has really caught on with the youth. Their social media presence is growing day by day and they intend to maximise it using user generated content on Facebook (https://www.facebook.com/ketlitheteabar/)
Their Youtube film (https://www.youtube.com/watch?v=t4OIpIhdE2k) has also generated quite an excitement among the netizens and helped them generate the buzz.
The Future
They started with one employee and now they have a team of 5 people in total. They claim that they are extremely employee friendly and have made all our employees stake holders. They incentivize all team members every month depending upon the business. Also they have plans to add Medical benefits as well as insurance for all their employees. They are proud to have extremely low attrition rate and the first employee who joined them when they started, still works with them and look forward to continue in future.
While a lot of big tea chains have opened in last three years, they believe in going slow and are not in hurry to expand the business. They have already started getting proposals for Franchise as well as external funding but they want to grow organically and keep tight control over quality. They are happy being niche and want to make sure that customers remember them in their good memories as more than 80% customers are regular customers.
So when asked about how would you define Ketli, the couple said, "We want Ketli to be a place where everyone is happy, be it our customers, employees, our vendors or us."
Post Script:
As I sit with Rahul at his Ketli and sip our ginger tea's we both remember our days in the Business School, where as his Marketing Professor, I had arguments and debates, and discussions about the potential of organising street retail and why an MBA can't do it while a road side chai tapri guy can.
I reflect on those thoughts and feel happy and proud that Rahul & Kavita have proved me wrong!
Related Viewpoints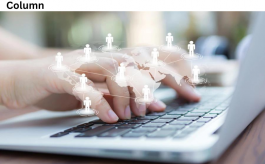 CEO & Co-Founder, MoEngage,
'Need of the hour is unified data & deeper customer insights'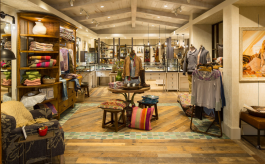 Chairrman, JGA
Can store design support retail sustainability?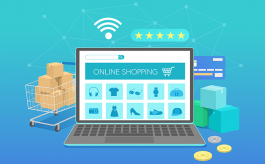 RVP - Sales, Denodo India
Tech Talk: Why data virtualization and data fabric are critical to the future of Retail