Design exemplified at Epsilon!
By Nabamita Chatterjee | April 02, 2013
The architectural-design firm is a renowned name for providing high quality retail solutions across the Eastern region today. Bipratip Dhar, Founder of Epsilon chats with VM&RD to give insight to the firm's approach towards retail design and the nuances of making a successful retail space.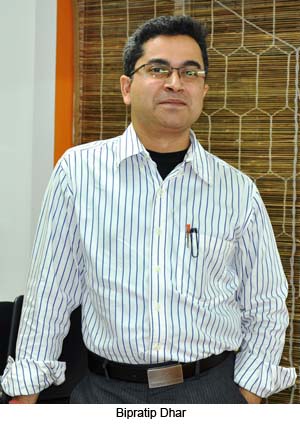 Founded in 2000, Epsilon follows an innovative design approach, which is evident in their retail design projects. The firm not only adopts the latest intelligent building ideas but also the concepts of sustainability and energy conservation as their responsibility to the local environment & its community. With a team of like-minded and enthusiastic professionals, Epsilon's aim is to study the environmental, cultural and behavioural patterns of the space & its end users, experimenting with different forms, research on different material usage, to result in good detail and aesthetics. Bipratip Dhar, Founder of Epsilon is a graduate from Sir J.J. College of Architecture and is the key support system for his organisation. His vision which reflects his designs has helped him and the agency within a very short time to explore their expertise in various sector which includes both architectural & interior design solutions to retail outlets, hospitality, healthcare, auditoriums, residential & commercial spaces. Here's an excerpt from the interview:
In retail design, what has been your biggest achievement?

Designing the P.C. Chandra Jewellers showroom at Gariahat, Sawansukha Jewellers Showroom, Tanishq - Gariahat outlet, has been the turning point for us. All these projects had some element of fun and challenge involved in it. Here I would also like to mention about the Dalhousie Institute Club, which has got a very old world charm and it was exciting to work on revamping it as we restored the heritage feel and fused in very contemporary design elements. Also the restaurant project at City Centre, Rajarhat called Massekah which means'veil' we tried to create the ambience of the Afghan culture as the cuisine is dedicated to that region. Thus the use of screens with'jaafri' works or the motifs, the wooden panels all recreated that aura of the place in itself.
Do you have any role models in your design and creative philosophies? If so, who or what are they?
Architecturally I am influenced by the works of many great men of this field like Buckminster Fuller, Paul Rudolph and Frank Llyod, the exponent of organic architecture. The creative thoughts of these people have surely helped me enriching my design philosophy. Having onsite exposure of handling various kind of designing project at the early stage of my career has also helped in shaping my aesthetic fundamentals. Thus it has been a great learning path for me.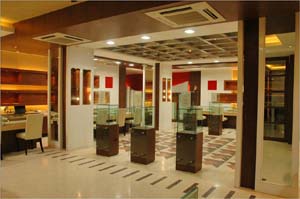 What are the key factors which can attribute to the success of your firm?
In our agency we do not adopt any particular school of thought, and the designs we do are responsive towards the environment having a touch of exclusivity which is inspired from various forms of art. To complement that, we do extensive research work which fulfils the functional and emotional purpose of the venture we are handling. For example, in one of our retail project namely Sawansukha Jewellers, we did an extensive use of straight line architecture in the ground floor and the upper level which is especially dedicated for very expensive collection, has got a very exclusive look harmonizing with the merchandise offered. Thus we do not have a design imprint or label which is easily recognised as we keep the end-users in mind while planning any design project.
Which is your favorite architectural element in retail design projects?
I personally get charmed by the good height of any architectural space as it allows huge flexibility and more scope for visualisation in terms of presentation.

What is your take on Visual Merchandise as an architect and interior designer?
Visual Merchandise indeed is an integral part of any retail entity. The visual merchandise should be aptly planned for any venture keeping in mind the aesthetics of the particular project. The VM part comes in from the very beginning as it invites the customer towards the products displayed, thus the beauty of the facade or the atrium plays the first role of connecting the people with the merchandise. As it augments the consumer to visit the store or restaurant, one should relate the space with the surroundings and we follow this thumb rule for any of our assignments and deal with VM in a very subtle manner without overdoing.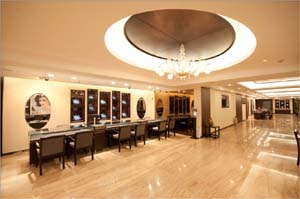 In the Indian retail scenario, what do you think are the advantages and challenges in ?
From my personal experience, I would like to mention that as far as Indian retail scenario is concerned there are two distinctive areas, one is organised brands like Pantaloons, Shoppers Stop, Tanishq etc. who have got their in-house VM teams with fixed budget and other brands which are not well-organised usually the family-run companies. Both have their share of advantages and disadvantages. The challenges also lies in terms of traditional mindset of the Indian retailers as this whole concept of VM is just evolving in the country and typically very new for East zone of India. Quality oriented visual merchandise is the demand of the hour which will ultimately hit the end-users. Thus convincing the clients that you need to differentiate your exclusive products and present them in such a manner that they are not lost among an array of regular merchandise offered is also a challenge for visual merchandisers.
What's been your experience in training and retaining talent in VM in India?
Visual Merchandise should be treated as a separate subject altogether with special emphasis on retail design in India. The institutes should provide structured curriculum for this because so far VM has been just taken as a part of fashion technology courses. Thus VM should be recognised as a specialised wing of retail industry to increase the scope of the market as well as in retaining talent in this field. The interior designing courses should have courses on VM because nowadays visual merchandise has expanded its horizon in every sector be it Retail, F&B, Hospitality, Medical Field and so on.
Where do you see the Indian Retail Design industry & the role of VM in the next 5-10 years?
With more brands entering the Indian market, I believe that the market is going to grow. The franchisee business or the retail chains will increase their footprint, where VM will play a great role as well. Just like the western countries where the high-streets have got uniformity in terms of VM, it would be a great opportunity as far urban planning is concerned if we can introduce such concepts in India. Carving an innovative visual merchandising plan for Park Street keeping alive the heritage feel here for my City of Joy' would surely be a dream come true for any designer.
Related Viewpoints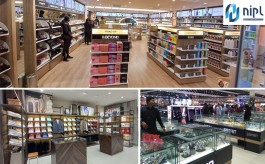 Director , Naman In-Store India Pvt Ltd. (NIPL)
Naman In-Store India Pvt Ltd: A journey fuelled by strong client relationships, infrastructure & skilled team