E-commerce FDI should be phased over time: Deep Kalra
By Vipin Singh | March 01, 2014
Interview with CEO, MakeMyTrip Inc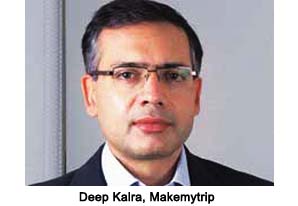 Foreign direct investment (
FDI
) is not an issue in the travel business and
MakeMyTrip
is set to go for another round of funding, says the Nasdaq-listed firm's founder & chief executive,
Deep Kalra
. But, to protect domestic
e-commerce
players initially, he suggests FDI in the sector be allowed in a phased manner. On the online-versus-offline war playing out in the retail space, he tells
Ruchika Chitravanshi
&
Nivedita Mookerji
in an interview that his company has already gone through such a trial by fire. Edited excerpts:

A global study has shown growth in online travel business is reaching a saturation point. Is that also true for the Indian online travel business, estimated to account for three-fourths of the country's total e-commerce sales?

I don't think so. The online or digital platform is not limited to web alone; transactions through mobile phones are also part of it. Purchases via mobile handsets are growing faster than we imagined. Around 20 per cent of our traffic comes from mobiles and 13 per cent of transactions are on that platform. That has happened over the past year.

So, you don't see any decline in growth for Indian digital travel business (over 20 per cent at present)?

What will probably see slow growth is ticketing. Forty per cent of air and rail ticket transaction, including those from suppliers and online travel agents (OTAs), are already online. There's much headroom in hotel bookings, where less than 10 per cent traffic has so far moved online. The aviation sector's woes spilt on to travel and we had a weak year. With some action now happening in that space, sales are expected to rise. There will be lot more capacity as two new carriers (Singapore Airlines and AirAsia), come in.

How will new players change things?

The best part about more competition among airlines is that faith in travelling will return. Many splurge on travel from their stock market earnings. Bourses are the barometer of what happens in a country. So, the sentiment needs to pick up there, too. We want to work with all airlines that help improve sentiment.

Is there anything big you are planning with SIA or AirAsia?

Once they get permissions (to fly), there will definitely be some stuff. Once they are ready, we can do specials and promos.

The government is considering a policy on allowing FDI in e-commerce. You are believed to have voiced some apprehensions on that.

FDI in e-commerce might need to be phased a bit to protect domestic players, who have made substantial investments. If Amazon comes to India armed with a billion dollars, it may get difficult for people who built their businesses in the era of protection. FDI should be phased over time so that it gives you enough time to get your act together. I have no bias on this, as 100 per cent FDI is allowed in travel, which is not part of e-commerce in that sense.

Why is it that international players in online travel are still not very prominent in India?

International players are still trying to figure out the Indian audience. They have invested quite a bit of money.

MakeMyTrip was the first big player in the online space but it has been low-key lately. E-commerce players like Flipkart, Myntra and Snapdeal, on the other hand, seem to be in news all the time.

Everyone is excited about the new and untold stories. Ours is well-known story. That said, Flipkart is a very exciting company. It's tough to grow in the goods category... that makes the company really special.

Is there any plan to get into goods?

I can't say 'never' but our hands at present are full with travel. We would rather grow geographically. There is enough to do in travel. There are some big problems in this segment that need to be solved.

What are you referring to?

Buying a holiday and customising it are cumbersome. It is not a quick process. We want to make it simpler for people. We are working at introducing a shopping-cart concept in online travel booking. Dell did it in the best way. They said buy your computer and configure it yourself.

Do you see any online-versus-offline war in travel bookings... something like the faceoff between e-commerce and brick-and-mortar stores in the retail segment?

In travel space, we went through trial by fire. Now, everyone has accepted that online travel business is a force to reckon with. MakeMyTrip has maintained it will sell at a price an airline or supplier wants it to. But others have offered discounts. If you do that as a regular policy, you are hurting your business and also driving others out of business. In travel, that (additional discount) has more or less stopped.

Amid deals and rate discounts being offered by airline companies, why should one go to an OTA?

The prices might be similar... but it is user experience where we are putting a lot of effort. Over time, we are finding that people like to have all their bookings at one place. The reliability of customer service after sale has also become very important. Besides, we offer deals on combos (flights and hotels). 'Combo' is a term we are experimenting with, because Indians seem to understand this term well. While I thought the term had an appeal because of movies (popcorn plus drink), research showed McDonald's made combo popular (burger plus drink).
Related Viewpoints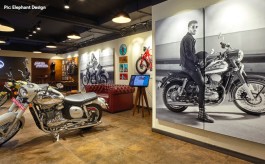 Co-Founder & Director, Elephant Design
'Designers have to take responsibility of making the store meet business objectives'