Elevating the coffee experience
By Fairy Dharawat | November 07, 2013
Hardcastle Restaurants Private Limited, the Master Franchisee for the West & South Indian operations of McDonald's Restaurants, has brought the coffee retail format McCafe to India at its McDonald's® Restaurant at SOBO Central in Mumbai. In a chat with Point Of Purchase, Smita Jatia, Managing Director, McDonald\'s India (West & South) talks in detail about the new brand's entry to India, revealing during the course of the conversation that the company plans to invest Rs 500Cr plus in the next 3 years and close to Rs. 1000 cr. in 5-6years and plans to add 100-150 more McCafes® in the next 3-5 years across key trading areas in metro cities of West & South India.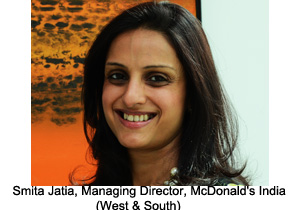 Can you give us a brief on the beverage industry and what prompted McDonald's to introduce McCafe?
The Indian cafe market is estimated at $230 million, or about 1,400 crore, and is expected to grow about 13-14% a year over the next five years to be a $410 million industry by 2017. This nascent café market in India offers us an opportunity to grow the segment. With the introduction of McCafe, Hardcastle Restaurants Pvt. Ltd (HRPL) the company that operates and manages McDonald's in West & South India, hopes to be able to cater to the growing café market by tapping into both existing and new customers and embracing the coffee culture that is fast gaining acceptance in India.
McCafé® aims to reach out to consumers as the best place to enjoy a range of premium specialty coffee including cappuccino, latte, iced mocha and frappe. The launch of the McCafé® brand will be a major step in the beverage growth strategy and is a step towards building on its well brewed coffee success.
The expansion of the McCafé® brand and its product offering is part of the company's goal to elevate its coffee portfolio and to become India's favourite destination for great food and beverages. Customers have always been the foundation of our business and we have always strived to reinvent ourselves to present them with a new experience every time they walk into our restaurants. Adding McCafé® products to our portfolio gives us a unique opportunity to create a brand within a brand at the point-of-sale. The concept of McCafé® operating inside the existing McDonald's® restaurants opens the door to more Indians to a premium coffee experience.
How different is the format compared to other International cafes? Have you Indianized the café for Indian customers?
McCafe restaurants globally follow the format of a "brand within brand" with different in-store point of purchases within a single restaurant. We will be following a similar format in India, too. This concept offers greater convenience to customers by allowing them to choose from a wide array of product offerings from both McDonalds & McCafe under one roof. It also provides the company a competitive advantage in terms of cost savings on infrastructure and faster roll-out times.
At McCafé® premium espresso-based coffee begins with 100% premium Arabica beans, fresh ground in-restaurant for every cup and are sourced from Chikmagalur. Over time, we will look at further localizing our menu offerings
Are you looking at a new positioning of the brand McDonald's with the introduction of McCafe?
McCafé® is an integral part of how McDonald's® India (West & South operations) is transforming and elevating the brand and customer experience. Our goal is to fuel stronger customer connections and to be the place Indians think of first when they're hungry or thirsty. It is a new format that we are introducing as a part of our overall growth strategy to reach out to a larger customer base. We are not looking at repositioning the McDonald's brand, but will work towards creating a unique brand identity for McCafe.
McCafé® is part of McDonald's® ongoing commitment to provide Indians with best experiences at great value. The opening of McCafé® in India is in response to the growing demand for good quality coffee. McCafé® provides Indian consumers with an enhanced coffee experience at great value without compromising on quality, freshness and convenience.
What kind of response are you expecting to the new format?
We have seen a good response since launch and have received a positive response to our products and the warm relaxing ambience McCafe provides. Internationally, the format has received an overwhelming response and has an expanded presence across 10,000 plus outlets worldwide and we are expecting the same response in India. We believe McCafé® will drive our beverage and food business to unparalleled heights and solidify McDonald's® as an indisputable leader in the Indian quick-service restaurant arena.
Can you share the investments you are looking at for expansion?
Our company is in the "acceleration" phase. The aggressive rolling out of the acceleration phase requires stable foundations, a solid balance sheet, and a constant control on processes and quality and we believe we have established a strong foundation over the 17 years of our existence in India. We have a plan to invest Rs 500Cr + for developing our business in the next 3 years and close to Rs. 1000 cr. in 5-6years. We plan to aggressively increase our retail footprint to fortify our presence in the existing market and enter into newer markets and add 75-100 new restaurants by FY'15. We will make full-scale deployment on brand extensions such as McCafe, McDelivery, Drive Thrus, Kiosks and 24x7 Operations as also focus on re-imaging McDonald's restaurants with fresh and contemporary designs to enhance customer experience and brand relevance.
Given our store-in-store format, we will be able to ensure that our capital expense on setting up additional McCafes will not be very high. We will be investing approximately Rs 30-35 lakh per restaurant for adding McCafe to our existing restaurants across south and west India.
How many outlets are you expecting to open for FY'13-14?
Currently we are progressing well on our targeted growth path and have expanded our footprint in West and South India. We had a presence in 3 states in 2002 which has expanded to 7 states in 2012 and we continue to grow.
Going forward in FY13 and in the coming years, we will continue to invest in the growth of our business to provide an appealing customer experience - from menu and service to value and convenience. Currently the McDonald's restaurant at SOBO central will house the first McCafe in India. We plan to launch 100-150 more McCafes® in the next 3-5 years across key trading areas in metro cities of West & South India to make it easily accessible to our consumers.

Which locations are you planning to concentrate on and why?
Our strategy is to follow a nucleus approach wherein we establish a single restaurant and then work towards growing in concentric circles - increasing our footprint in a phased and structured manner. We will continue studying the market and will work towards introducing more McCafes across key trading areas in large metros in the first phase of our expansion.

Who are your target customers and what is your approach to connecting with them?
Customers are the key focus for our business and we have always aimed at providing them with a new experience every time they walk into any of our restaurants. McCafe provides our consumers with more choices - they can now have an Iced Latte with their burger or pick a muffin during evening breaks. McCafé offers a haven in which customers can spend whatever time they have available with a good quality coffee at great value in comfort.
McCafé customers are busy people - on the look-out for some "me" time. These are White-collar workers in search of a quick break on the way to office or from regular work and taking a small coffee break in between a hectic schedule. McCafe would also appeal to Mums with Kids who are in search of some'me time' or 'time out' to themselves and Millennials and young college kids who want a place to hang-out with friends without burning a hole in their pockets.

Any consumer insights you would like to add?

With the advent of social media the youth of today are connected globally, are well aware of global issues and current affairs and vociferous in their opinions. They are global citizens and are at par with their counterparts based in other countries. The continuously evolving economic, societal and demographic changes have reshaped the Indian consumer profile, behavior and spending patterns. This behavior is underpinned by surging economy, rapid urbanization and the rise in personal disposable incomes as well as in the number of double income households, the higher exposure to international lifestyles.
India has a population of approximately 1.27 bn with 50% and above population being below the age of 25 makes India one of the most attractive and untapped consumer markets across the world. In about half a decade the incidence of eating out has more than doubled and propelled the overall demand for food service. In consequence it has become vital to understand the fast paced consumer dynamism in terms of demographic and behavioral differences across different stages of life and varied graphics.
Related Viewpoints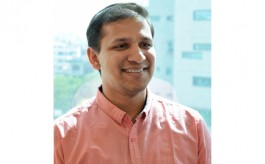 Executive Director, Madame
'Retail design solutions have to tell richer stories, create bolder experiences' : Akhil Jain, Executive Director, Madame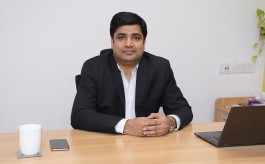 COO, V-Mart Retail Ltd
Small town India will spur organized retail growth : Vineet Jain, COO, V-Mart Retail Ltd