'Experience' – add to the cart please!
By Satarupa Chakraborty | March 11, 2019
From an IKEA launching sleepover party, to a Tiffany & Co offering F&B services at its Fifth Avenue flagship (apparently inspired by the Hollywood classic 'Breakfast at Tiffany's), there is no limit to the experiential bouquets offered by brands today. VM&RD takes a look at how some brands in recent past have redefined their retail presence to go beyond physical aesthetics.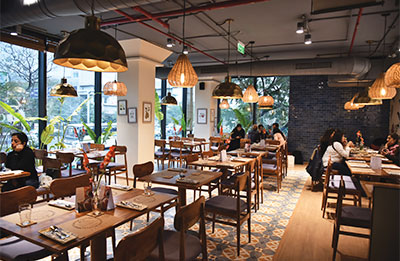 A Harris Group study quoted by Shopify says that 72% of millennials prefer to spend money on experiences rather than materials things. Other studies show that this preference for the experiential may not be confined to the millennials. Well, this comes as no surprise. After all, shoppers do increasingly seek something larger in the brick and mortar retail space – something that not only addresses their material aspirations, but also meets their sensory, emotional and social needs. This has seen many brands upping their experiential quotient.
America's luxury jewellery and specialty retailer Tiffany & Co, taking their cue from the iconic Hollywood hit 'Breakfast At Tiffany's', included F&B services at their Fifth Avenue flagship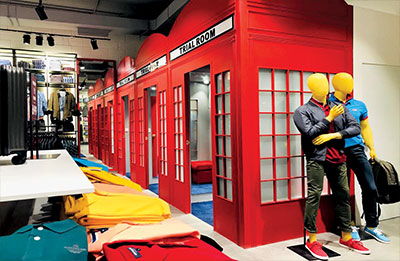 through the brand's own Blue Box Café. For many such retailers and others back home, "experiential retail" doesn't simply mean scuffing the surface, but actually bringing in unconventional retail features that make their shoppers stay longer than usual. Here's a round-up of the experiential trends that VMRD observed over the last one year or so.
F&B: Almost all successful mall properties/retailers are now re-evaluating their mix of brands to include a healthy ratio of retail and F&B. Some retailers went a step forward to include F&B into their flagship space.
White Crow, the first multi brand store concept from Reliance Brands Limited has dedicated 2600 sq ft to Café Sante, while the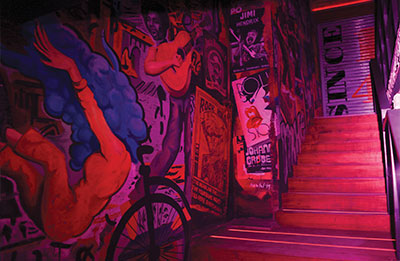 total space of pure-play retail spans across 5200 sq ft.
More recently, Fabindia launched their 7th Experience Centre, where FabCafe, Fabindia's own café brand, is the highlight offering. Ajay Kapoor, President – Retail, Fabindia explained at the launch, "When we say experience, we must take a holistic approach in building the brand. We want to showcase Fabindia as a way of life and since food is integral to our lifestyle, we can't skip the role that a café will play. The food we would serve would be rooted and honest, which is in line with what Fabindia stands for."
Interestingly, we spotted this trend being popular with a number of single store, premium furniture brands as well, specially the ones located at high streets.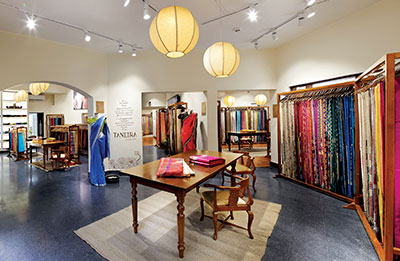 Anchor Store concept: Anchor store as a concept has been around for a while now. But what is interesting is the way brands are leveraging it to add some experiential offerings to their customers. For example, In order to increase their relevance to their TG -- independent and sophisticated women aged between 25 and 40 years -- Reliance Retail brought in their Anchor store concept, Project Eve, a couple of years back. Along with bringing many premium brands for the first time in an SIS format, the store also brought women-specific services such as salons, shopping assistance, etc.
Peter England, ABFRL's men's wear brand, forayed into the anchor store concept called 'Men's Obsession' which was piloted in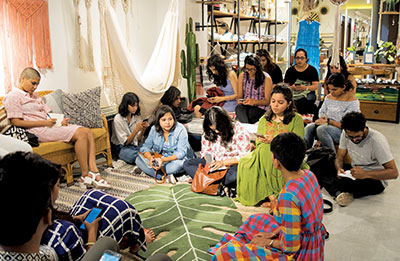 Bangalore. It includes grooming sections and salons in a 5000 sq ft retail space.
Pop-up store concept: As part of their plans to add up to 1 lakh sq ft of retail area, Select Citywalk Mall, recently earmarked a lot of space to accommodate pop-up stores. Having its presence for a limited period of time, mostly less than a year, pop-up store concept works wonders for brands that are just testing the market. In the last few years, Select Citywalk has hosted many brands including Masaba, Casa Paradox, Madison and more.
While pop-up stores in the West, often set up in close vicinity of the brand's main stores, are aimed at redirecting walk-ins to the actual stores, the pop-up concept in India is more about enhancing engagement and brand value. Active wear major Puma recently created a weekend pop-up space in Bangalore. Interestingly, the space is a showcase more of the city's subculture rather than the brand's own merchandise. The only obvious brand communication is the graffiti on the walls. Positioned as an artistic community space, the pop-up platform also reiterates Puma's commitment towards reusing material and retaining existing elements.
In-store marketing / events: When it comes to creating in-store buzz, nothing works like interactive shopper engagements. Most retailers are already capitalizing on this. When
Tata Industries' Taneira made a debut, they strategically positioned the brand as a showcase of India's rich art and craft heritage. This entailed hosting art and culture workshops in the store to attract more eyeballs. It also marked a first in India's perceivably unorganised textile sector.
Also, as already mentioned, Project EVe is a brand that has a strong focus on connecting with today's strong women. As part of its experiential offerings, the retailer periodically hosts talk shows, engaging activitiesand other interactive programmes in the store. Not surprisingly, these sessions have very little to do with shopping. Instead they focus on empowering their shoppers with informed choices over fashion, culture, diet, etc.
Making their debut in brick-and-mortar market last year, omni-channel brand Vajor also sought the community building route to establish better connect with their TG. Announcing strategic brand portfolio expansion, Ena Bansal, Head- Marketing, Vajor, said, "We have always connected with our customers well, both through the online channel and on the shopfloor. The latter happens through the events that we organize inside our stores. It has helped us tremendously in understanding our customers and that has prompted us now to look into vertical expansion."
The key takeaway from these examples is the increasing need to expand the scope of design in the context of retail space dynamics. In the days to come, design as a concept will possibly be as much about curating an experience as about creating aesthetics. It will mean designing an ambience that integrates the tangible and the intangible, while redefining aspirations.