How Lancome wooed the selfies...
By Fairy Dharawat | April 25, 2014
Lancome India launched their new variant'Dreamtone' on Instagram along with MindShift Interactive in a campaign titled #GoNoFilter to target women and the Selfie generation of the country. Read on to know more...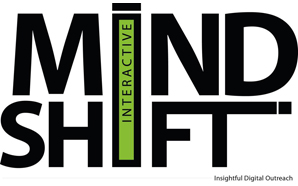 Social media is becoming a hub where brands and shoppers meet and get closer on new levels of engagement offering quick data analysis. As Lancome India, along with MindShift Interactive, launched Dreamtone on Instagram to create the #GoNoFilter campaign targeting women and the Selfie generation of the country, we find what it took to create an engaging campaign which earned the brand 1500 new followers in just three months' time.
As the campaign hit 1500 followers within three months, the initiative is labeled as India's largest Instagram campaign. MindShift Interactive crafted a campaign around the fact that women love SELFIES (self-portrait photograph, typically taken with a hand-held digital camera) and displaying it across social media platforms.
The campaign titled '#GoNoFilter' ran women through various challenges over the course of 7 days geared towards the idea of sharing photographs without the use of an Instagram filter (filters are a commonly used feature of Instagram that allows users to enhance their photographs), in connection with DreamTone which claims to bring about the confidence in women to go without make up.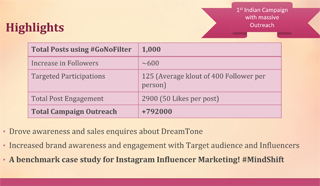 Kiran Singh, General Manager - Lancome India, said speaking about the campaign, "The target group for Lancôme skincare especially is women over 30 with sophisticated tastes, and who understand the value of efficacious skincare that is backed by extensive research. With DreamTone, which is a skin tone correcting product, the skincare catalogue has now become an excellent proposition for women in their 20's as well who believe that prevention is a better option than just a solution. The Lancôme make-up range has always been something that many women swear by especially for products like our mascara. There are frequent make up launches that keep the excitement going and promoting these launches on our digital media works well for us. The best way, we feel, to entice customers is to offer them products that are truly relevant to them and that deliver results, all with extremely high levels of service."
Influential Instagrammers in the beauty & lifestyle domain participated and got their followers to indulge in the #GoNoFilter Challenge, in the form of a 7 Day Photo challenge. As a part of the challenge, Instagrammers were asked to post beautiful pictures of things that inspired them without using any filters. Keeping in line with the aesthetics of Instagram, the best entries were shortlisted and winners were gratified. The challenge engaged about 200+ participants with over 1,500 images being posted using the #GoNoFilter hashtag. As a result, the followers of Lancôme India doubled, growing from 600 to 1200+ in a span of 7 days and leading to conversations across Facebook, Twitter and lifestyle blogs.
Zafar Rais, Founder & CEO, Mindshift Interactive Pvt. Ltd,. said, speaking about the campaign, "The challenge created a superlative engagement of 7%-8% (average engagement is about 4% across brands) showcasing increased consumer enquiries (sales& awareness) for the product. In addition to the above we brought together a luxurious Tea Party at the Lancôme Boutique where the brand introduced DreamTone, over a relaxing pampering evening for niche Bloggers and Twitter and Instagram influencers. With over 50 photographs of the event and products being shared on social platforms using #LancomeLove and #DreamTone, influencer relations were successfully nurtured towards give #GoNoFilter its due outreach." He further added, " Women were elated with the campaign and spoke of #GoNoFilter at the store to the level of asking for it given they'd love to experiment with a product that allowed them the confidence to step out without make-up."
In addition to the campaign, MindShift Interactive has been responsible for creating a sustained and engaging presence for the brand with the provision of content through visual styling for Lancôme, making it a benchmark amongst international counterparts.
Zafar Rais adds, "Insights form a crucial part of a brand's strategy on digital. We decided to launch Lancome India on Instagram with the insight that women love the platform along with the data showcasing people loved sharing photographs with Filters on Instagram. We dared women to go beyond the regular and share their best snaps, without any touch ups to their images and see how much people love them as it is. The same insight was used for their Selfies, helping them realise that after using DreamTone they'd see a visible confidence towards going without make- up."
Kiran Singh from Lancome India adds talking about the impact of the campaign, "It is the main reason why we grew rather quickly in terms of followers and the engagement with our users has been great. It's been great to see people showing off their Lancôme products!"
Data Source: Mindshift Interactive
Related Viewpoints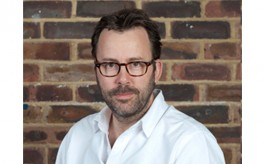 Associate Director (Design), rpa:group
'Technology is still a tool and requires a skilled eye to apply it for best effect'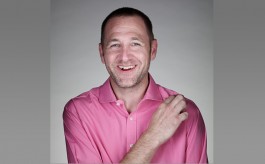 Founder and Creative Director, Quinine
Some great examples of sustainable retail practices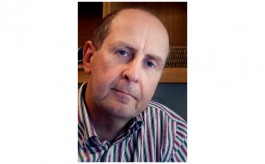 Founder - VM-Unleashed Ltd.
The future of retail spaces is a balance of technology & people