If multibrand retail isn't opened, we'll continue with the format we've developed: Scott Price
By Jim Hollen | April 09, 2014
Interview with President and Chief Executive Officer, Walmart Asia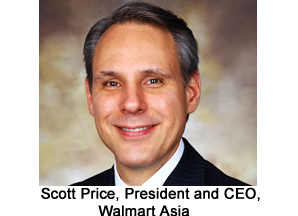 Walmart, the world's largest
retail chain
, has an
expansion plan for the India market, even as the sector awaits the outcome of the Lok Sabha poll verdict. Adding 50 cash and carry (wholesale) stores in the next four to five years to the existing
20 is what the American chain is looking at.
Scott Price
, the president and chief executive officer at
Walmart Asia
, in a telephone interview from Hong Kong with
Nivedita Mookerji
, says the chain will start
e-commerce
in India this summer, first through a pilot in the cash and carry business. And, that there is no plan to exit the India market. Edited excerpts:

In its manifesto, the Bharatiya Janata Party has opposed foreign direct investment (FDI) in multibrand retailing. And, surveys have indicated it might form the next government at the Centre. What are your thoughts in such a scenario?

We are actually happy with our cash and carry or wholesale stores. India will continue to attract FDI. We respect India as a democracy… we are happy with our current investment path.

So, what are your plans?

We are at 20 cash and carry stores in India. We took a pause (from end-2012, when the latest store was opened) and now we have set a target to open 50 more in the next four -five years. We continue to be interested in India. If the government finds a way to open multibrand retail, we will take a look at it. If it does not, we will continue to focus on this format that we developed. I will be modest and not say that we perfected the model in India. But we have confidence in it and will continue to invest.

Any of these 50 stores coming up this year?

I don't want to talk about it yet. I promise you will get a personal invite for the grand opening (laughs).

Can you indicate where the next store is going to be?

No, it's a secret!

You mentioned last year that "FDI has passed", showing you were disappointed. You're now saying you are happy with cash & carry. But are you not disappointed that multi brand FDI isn't happening the way you had expected?

My statement last year was around the processes (around the multibrand policy). But I think you have to be optimistic about India. It is an exciting opportunity, leading forward to the heart of the globe. Also, one must compete in investment against countries around the world.

In recent months, Walmart has been through many controversies and there have also been reports of job loss. What was the job loss at Walmart India?

Yes, there were job losses when we made a transition into two separate businesses, after we broke off with Indian partner Bharti. That was unfortunate but part of transition. However, I believe every individual was treated respectfully. For me, it was a one-time event. If I look to the opportunity over the next five years, with those 50 stores, Walmart will be an incremental employer in India.

What is the investment Walmart plans to make in India?

That's a competitive piece of information I'm not willing to share.

Has the top management ever thought of an exit from India because of policy problems? Did you so far have to exit any region because of policy inconsistency?

We have never considered leaving India and as I said, we are committed to India. There are a few countries we have exited for commercial reasons — we looked at the competitive landscape and took a decision. We have never left a market for the reasons you asked me.

What about Walmart's e-commerce plans? You are focusing on e-commerce big time in other regions, including the US. In India, how does it look?

We are in the process of launching e-commerce in cash & carry stores or B2B (business to business). That will cater to kirana stores and other business members, enabling these to shop online. So, it is ironic that there's a view that modern retail will kill kirana stores.

What are the other e-commerce models you could look at?

There's a marketplace model and there are competitors in that. The marketplace is not as efficient as the third model, which will be B2C (business to consumer) e-commerce. B2C e-com allows an efficient supply chain, supplier development, distributing centres and delivery network. Recently, in conversations, we heard e-commerce FDI might be allowed. It is positive; it allows investment into India, it will create jobs.

Until B2C FDI is allowed in e-com, will you open B2B e-com and also marketplace? And, how soon will B2B e-commerce come to India?

We are launching a trial for B2B e-commerce this summer and we would expect to extend to all stores after we have successfully launched the trial. But at this time, we have no plans for marketplace.

On your partnership with Bharti, when you broke off, what was the real problem? Was it only because the retail policy was not conducive?

Somebody asked me why we divorced Bharti. Divorce is the wrong word. Divorce usually means you are getting married to someone else. We began the partnership on the basis of respect and I believe we have respect on separation.
Are you speaking to any potential domestic partners for multibrand FDI?
We're waiting to understand as to how much multibrand retail might or might not move forward.
Have you felt let down by the way the (present) UPA government worked on the policy?
Disappointment is not the right word. We have respect for democracy.

Have you initiated any discussion with BJP leaders, including their PM candidate, Narendra Modi?

I have not been to India for a couple of months. When the time is right, we will have discussions, depending on how the FDI dialogue goes.
When is your next visit to India?
I'm not allowed to answer that.
Whom do you think will form the next government in India?
I have not had the time to think of Indian politics (laughs).