Intec: Raising the cool quotient
By Fairy Dharawat | April 22, 2014
As the scorching Indian summer sends people scrambling to install ACs in their homes and offices, Amarjeet Singh, CEO-- Intec Group, one of the leading Original Equipment Manufacturers (OEM) in the country engaged in the manufacturing and assembling of consumer durables such as air conditioners, talks to Point of Purchase and shares his take on what it takes to create and sustain an AC brand in the Indian market . Read On...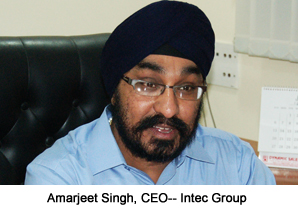 The Indian Retail Market
The Indian retail market has a lot of potential and it is improving with the likes of MT. Five years back they did not even exist and today they have changed the way the market works. Big brands are looking at India but are hesitant due to the Indian political system. In the next few months ( after election ) we should know where our Indian economy and retail Industry are headed. Retail currently is not booming, it is improving, and once the political system get stabilised, retail will boom to its potential.

USP
Quality product at a reasonable price brought by people with more than 25 years of manufacturing experience in the industry is our USP. We are now opening up warehouses, service centres and manufacturing units.. In a nutshell, we are providing quality of A class at pricing which everybody can afford.

Target Market and Shoppers
Intec has been around for more than 25 years. We come from a manufacturing background and created air conditioners for leading brands in India. As a component supplier and Orignal Equipment Manufacturer (OEM) we supported leading brands by creating strong manufacturing units which catered to their requirements.
We created the brand as we have an efficient manpower, manufacturing capablity, R&D facility and felt that after having manufacured 1 million air conditioners we have the expertise to create our own brand. We wanted to develop a product for which the customer does not pay heavily, but pays a reasonable price keeping the cost and which comes with extraordinary quality and long life. We learnt a lot while working with big MNCs in terms of how to maintain quality, how to honor time and commitment etc and we are thankful to them.
We are always concerned about our shoppers feedback, and are working towards the track record of the kinds of problems shoppers are facing.
India is a country of approximately 2 billion population and the penetration of AC in the market is less than 5 %. Television on the other hand has gone beyond 20 %. There is a huge scope in this industry to grow. The Indian AC market is only Rs 36 lakhs which is equal to the production of any single Chinese company. Chinese companies are catering to the world market for ACs. India on the other hand does not have many brands in air conditionings.The competition is not tough in this industry as only a handful of manufacturreres in India are good.
We have hired two agencies which take care of all our shopper studies and reports; one is at a national level, while the other is focused on the North region. We also have our individual audits of the market.
In the market, there is a big gap between Split and Window ACs. The Window AC market is declining and the Split sAC market is growing . Studies help us understand on which segment to focus more. For example, after this particular study, we decided to focus on the manufacturing of Split ACs. . The study has concluded that there is a vacum in the market and that there is a need for a new brand. It is very important to build the brand name with a good product and equally good after-sales service. With that, we will surely be able to gain the confidence of our consumers. The end objective is to have a satisfied customers and create brand goodwill in the market .
Retail Communication
We are proposing to our dealers to have one or two trained sales executive to represent the Intec group. This initiative will boost the brand and provide visiblity. We are targetting presence across all major retailers like Reliance, More etc.

Expansion Plans
We are present in tier two and tier three cities and recently launched in North India. We are getting good response from places like Jharkhand, Jaipur, Chattisgarh, Ajmer etc.
Now we are planning on entering the national market as early as possible. Our investment will be on developing our product. We are planning to have exclusive showrooms Pan India. We have opened two exlusive showrooms in Delhi and we are planning to open ten more which would mean 12 in Noida. We are also opening five stores in West. In Mumbai we will get in to MT stores like Vijay Sales and Croma. The stores are 800 sqft and it is a collaborative initiative wherein we bear the costs of investment in the begining, after studying the area and the consumption. We are also looking at various other models like profit sharing model, non profit sharing model, expenses sharing model etc and the main criteria are the location and the demand levels. Next year we are planning five showrooms in Punjab and 10 more stores in UP. In totality we are looking to touch 25.
We are expecting a 3-5% share in the next three years in the market. The idea is to grow, but steadily. Digital marketing is also going to be a game changer and we are going to be heavily present in the medium.