Making Sweet Little Ideas Big!
By Dwarika Prasad | March 01, 2018
Tularam's represent the real Indian entrepreneurial spirit and real business on the streets which creates REAL value for its trusted customers.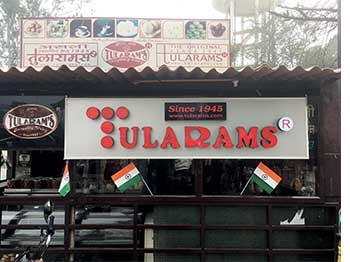 Dear Readers
Greetings!
In our series #BusinessOnTheStreet (BOTS), I wrote about Abbas and Gutu Shoe Shine Store at Addis Ababa Airport, Ethiopia and how with ingenuity, hard work and passion Abbas had turned a simple skill of shining shoes into a million dollar business.
Far away in the dusty road of a small town in Bijnaur District of UP, I found literally sweet story to share with you all. I have been travelling between Kashipur and Dehradun for last five years and midway I stop at a place called Nagina. It's a densely populated town like any other town in UP and is always bustling with activity.
Just outside the railway station one finds a small 200 Sq. ft. shop called "Tularam's" written very prominently on the wall of the shop. It is a shop which was started during British time in 1945 by Mr. Tularam Gupta as a small tea shop. His tea was served in earthen cups which are popularly known as "Kulhads". Gradually, Mr. Tularam started selling samosas, kachoris and other items. In 1947, the year India got its independence, Mr. Tularam introduced Gulab Jamuns and they were an instant hit. Slowly the word spread and anyone who would pass through Nagina would stop for a round of tea and Gulab Jamuns.
In 1972, Tularam's son Mr. Govind Gupta inherited the shop from his father. He is an avid traveller and would visit various cities in the search of the perfect recipe for his sweets. He would go to Agra to learn how the world famous petha would be made, similarly Mathura for the "peda". He now sells them with a clever brand name "Aagre Jaisa petha" and "Mathura Jaisa Peda" since they would taste like the original, his customers were happy to have them.
Mr. Gupta narrated the story of how he started selling Rasgullas in a market known more for Gulab Jamuns and Mava. Some of Mr. Govind Gupta's friends are traders and settled in Kolkata and he would often visit them and each time he would go to Kolkata, they would take him to some of the best known sweet shops of Kolkata. From those shops, Mr.Gupta brought a perfect recipe of Rasgulla which was again lapped by his customers. Many Bengali travellers who would visit Corbett National Park would stop at his shop and buy his famous rasgullas too.
Mr. Gupta has been managing this shop for last 45 years but last year he handed over the business to his son, Mr. Shobhit Gupta.
Shobhit is a third generation businessman but he has his own ideas and is all geared to take his business to newer markets, expand the product line, use technology and bring investments to revamp the old shop. He has already set up a website www.tularams.com and started taking orders online as well, though his facebook page is not so active and needs a lot of work.
The father-son duo are bullish about future and plan to open a bigger shop in Dehradun but also aware of the challenges and competition from local (Kumar's & Anandam) and national players (Bikanerwala & Gulab) in the Dehradun market. But since they specialise in Gulab Jamun's and Rasgulla's they are confident that they can create a unique niche for themselves and triple the turnover in next 3 years. Shobhit is now working with his team to make his products available pan India and is in talks with food aggregators also and see how he can sell his products pan India.
He surely knows that technology and social media can help him expand his reach at the same time, he wants to invest in R&D, create a better store environment for his customers in his new store. He has invested in re-branding the current store too, with bright lights, also helps customers with parking as it's a cramped road, runs contests like "Selfie with Rasgulla" on Social media. His POP advertising in the shop includes lively posters, well-crafted brochures which make the customers aware about which sweet goes well with what accompaniment and how it is enjoyed the best. His packaging is second to none and each of them highlight the brand "Tularam's".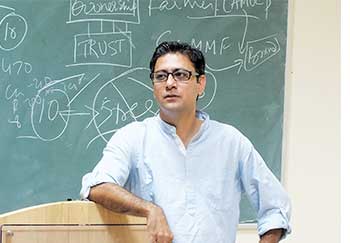 The original store lacks in ambience and space but they have some of the best customer service orientation. The staff is prompt, super-efficient and courteous. Mr. Gupta engages his waiting customers into a conversation and while I have been observing him for years, each time he surprises me with his presence of mind. He ensures that his customers who want to enjoy the sweets and kullhad tea end up buying a lot of gift packs for their friends and families. So while the walk-in customers relish the sumptuous sweets, he makes sure that those customers take home the same sweet and plays on their guilt of having enjoyed heavenly gulab jamuns or rasgullas. How they bundle complementary products, upsell and cross sell items is a marketing lesson in itself.
Mr. Gupta told me that he has this shop on long lease from PWD and he can't do any structural changes and hence since 1945 the shop and its layout has remained the same.
He has staff of 15 who work between 5 AM till 11 PM in shifts. I asked Mr. Gupta about his daily foot fall, he was not sure as he has never counted but whenever I had visited the place, it's always full of people and I have had to wait to get my table.
While I enjoyed my guilt ridden plate of irresistible gulab jamuns (I am a diabetic),
I did some math and in my conservative estimates, this small 200 sq. ft. shop would be doing a business worth 5-7 crores per annum and if I add turnover from another new shop which they just opened it would be around 10 crores (though he did share his post GST Tax bracket, which are little conservative). In business valuation terms it would be around 40-50 cr and that's from a small street in a dusty town in Bijnaur called Nagina.
True to its name, Tularam's is truly a gem (nagina) from this place.
While the world is going gaga over the food tech start-ups and their new age start-ups flushed with VC money/angel investors, I would put my money on entrepreneurs like Govind and Shobhit Gupta who would never get featured on the cover page of Forbes but truly represent the real Indian entrepreneurial spirit and real business on the streets which creates REAL value for its trusted customers. Something which a lot of new age start-ups fail to do despite funds, PR, media hype, Ivey league education and million dollar valuations.
Few learnings for me from this amazing example of #BusinessOnStreet :
Be proud of your legacy (Each and every piece of advertisement talks about it starting in 1945)
Build on what you inherited: Three generations expanding and creating more wealth
Experiment, explore and learn from competition
Treat your customers with love
Don't be ashamed of your origins/city/place, instead make it your high point as everyone loves an underdog
Embrace technology and embed it into current business model
See the world as your market and not just the location one is in
Hope you all enjoyed this sweet little story from small town. Next edition, I would be back with another gem from another street somewhere around the world.
While you sip your gourmet Brazilian coffee at Starbucks, I am gorging my "Nagina Jamun's" at Tularam's with kullhad chai.
Cheers !
Dwari
Related Viewpoints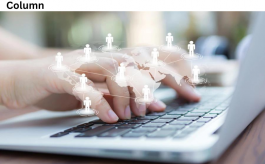 CEO & Co-Founder, MoEngage,
'Need of the hour is unified data & deeper customer insights'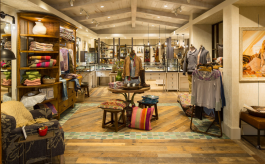 Chairrman, JGA
Can store design support retail sustainability?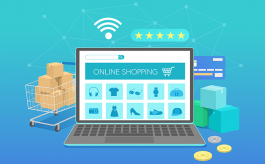 RVP - Sales, Denodo India
Tech Talk: Why data virtualization and data fabric are critical to the future of Retail