Maui Jim: With a long-term vision
By Fairy Dharawat | April 22, 2014
With the growing aspiration levels and exposure to international brands, the dynamics in the Indian retail space are changing like never before. Ibrahim Rahumathullah, Managing Director, Maui Jim, the American sunglass brand, tells Point Of Purchase how a niche brand can explore and retain a loyal clientele without any blitzkrieg by offering value.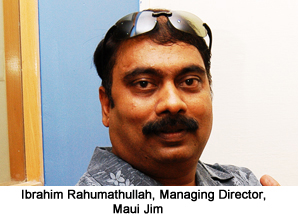 Trends at Retail
Retailers today look for long term productive association and value brands that provide value for money. They have also become conscious of what shoppers desire and that their trust is valuable.
A large number of people in India, particularly in the middle income group, have only in recent years converted to the idea of wearing sunglasses. It was a luxury for many earlier which has now become a necessity. A lot of it has to do with rising disposal incomes. The segment of population that travels a lot and has seen other parts of the world also has a fair idea about quality products and trends across the world. Also, the section of the population who is turning towards lifestyle products is our focus.
Target Audience
Our target audience is the urban dweller - both the upper middle class and the higher ups -- who believe in buying sunglasses for both comfort and style and prefer the technology segment.
Our prescription sunglasses are a major target segment for us and that is why opticians too are involved deeply in our distribution network. It enables people to achieve the benefits of sunglasses while not worrying about vision correction lenses.

USP of the brand
Our USP is our unique technology which offers one of the best protection for the eye against glare and harmful ultraviolet radiation. Another USP is that we provide prescription sunglasses that offer convenience to people with eye sight issues. A different positioning is the greatest need. If your brand has a USP and you are able to market this USP intelligently, you will find a clientele that will be committed and loyal. When Maui Jim came to India, the challenge before us was to enter a market where shelves were already full of some well-known brands and establish our own space in their midst. Maui Jim is also the only company to embed three rare earth elements in its lenses to improve definition and depth perception while allowing you to see true, vivid colors.

Marketing at Retail
Our marketing strategy is more to do with setting our brand as different from others so that we are able to attract the audience we are targeting. We focus on our speciality i.e. the technology segment. We have set a benchmark in the area of technology products and this is the segment where we focus and work on our strategy. We have a loyal set of clientele and word of mouth has been a major driver of sales. It is important to make our first time buyers wear and see through the sunglasses we offer. We haven't launched an advertisement blitzkrieg. When it comes to marketing our product, our emphasis is to let shoppers feel and try the product and thus our retail network remains crucial for us. Shoppers today are conscious of the quality of the products. This is what makes them brand conscious as well. They like to invest in products that may be expensive yet long lasting and give value for money.

Retail Positioning
We are not very aggressive when it comes to promoting our brand. We market it though as a product that adds a lot of value to lives. We have also positioned it as a technology brand which is a utility product as much as it is a lifestyle product. We are also focusing on, as I said, heavily on the prescription market segment.
Challenges
We do not have a major advertising campaign. So, often shoppers are not very distinctly aware of the benefits Maui Jim brings. As I said earlier, the challenge is to make them wear Maui Jim eye-wear once and make them feel the difference. Another challenge that a brand faces over time is that its rivals come up with new marketing techniques and new features, you have to make sure you remain ahead in your space.