'Need of the hour is unified data & deeper customer insights'
By Retail4Growth Bureau | March 14, 2023
By applying technology and analytical processes to marketing-related data, businesses now understand what drives consumer actions. With this, they can optimize their ROIs, writes Raviteja Dodda, CEO & Co-Founder, MoEngage the customer engagement platform, in this column.
Today's consumers are the 'here, now and my type' generation. They want immediate and personalized interactions with brands. And the Indian e-retail industry is adding huge numbers of this generation of online shoppers every day. The industry is expected to grow by 25-30% annually, reaching $150-170 billion by 2027. Indeed, a tall order for brands vying with one another and trying to differentiate their branding through timely targeted and enhanced customer experiences that are also unique; all possible if their actions are based on real-time data analytics.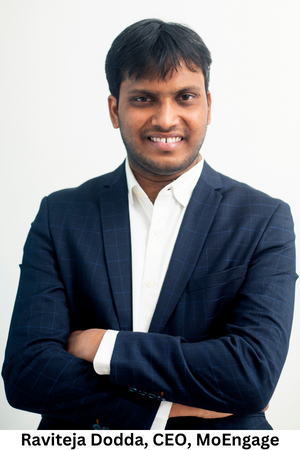 Marketing analytics platforms use real-time data to connect with customers at every point of the buying journey. This data is analysed to make more effective business decisions simply by understanding who these buyers are and what they want. Insights and analytics are trajectories to impactful branding and marketing strategy. But the critical requirement here is unifying all relevant data related to a customer and creating insights out of it to keep each individual customer engaged.
Identifying the Flaw in Marketing Platforms
Unfortunately, current marketing automation platforms are built to deal with volumes of data, and not with insightful personalization. Big data and marketing platforms can handle huge amounts of information emanating from customer interactions. The need of the hour is not access to huge data, but diving deeper into insights given by marketing analytics. This includes handling multichannel touchpoints, effective email marketing and promoting longer customer lifecycles.
Today's customers want real-time recommendations and the ability to seamlessly jump among multiple devices but with the same experience. They want highly personalized content suited to their interests and needs. Gone are the days when they opened a 'Hi there!' email with universal content. They want to know how the communication will benefit them personally. So, marketing based on insights coming from previous campaigns are a definite no-no. Because customers move on and insights become antiquated very fast.
So, marketing automation urgently needs to be upgraded and has to progress from a campaign management platform to an all-inclusive omnichannel customer engagement tool based on analytics and insights. They should have the ability to integrate data-driven insights generated in real time and create dynamic and individual campaigns even as the customer interacts with the brand and at the same time keep them engaged till the last mile of the shopping journey. This will allow marketers to act on what makes marketing so successful: engaging content, relevant messaging, and the ability to connect with each customer.
Proactively Getting the Right Insights through Analytics
So what do marketers really want? They now seek real-time marketing analytics that combines the flood of data with powerful analytics and tools to sift through and retain the required information. By applying technology and analytical processes to marketing-related data, businesses now understand what drives consumer actions. With this, they alter their marketing campaigns and optimize their ROIs.
The data should also connect campaigns to website traffic and other metrics to understand how various channels impact user behaviour. It should guide marketers toward future marketing and content strategies, increase the efficiency of their ad spends, and test the viability of new products, channels, and markets. They can get this from platforms that can leverage unified marketing data from across various channels and campaigns and simplify analysis.
Marketing automation platforms
An integrated marketing tech stack is a smart quiver offering different platforms. Apart from effectively helping companies connect with their consumers, it enables them to convert prospects into customers and provide products or services.
Going beyond demographics
Marketing automation enables businesses to reach customers at the right time with personalized messages based on their preferences, behaviour, and previous buying history. Personalized marketing is going beyond addressing the customer by name in marketing emails. It's about reaching the right person with the right message at the right moment and with the right suggestions.
Unifying customer data
Customer data doesn't do much when it's siloed in different locations. Smart marketing platforms unify data from different channels to build a 360-degree view of every single customer. These tech stacks inherently enable all platforms to talk to one another and lead the customer through the channel they want.
Giving the omnichannel experience
An advanced marketing platform is a solo performer but wears multiple hats. It connects data from different channels, creates a single view of the customer, predicts future behaviour with AI, and helps deliver personalized experiences.
Creating unique customer journeys
Integrated tech stacks design and deploy customer experiences that are unique; whether it's through an app notification, website messaging, emails, or SMS, they start conversations that convert to sales.
Zooming in and zooming out when required
Engagement platforms give companies macro data about a customer's behavior and engagement preferences. The analytics platforms deliver micro-level information by segmenting customers and the attribution platforms give acquisition data. Marketers need all these platforms to talk to one another other so they can get all the information about their customers in one place. Each channel works together to create a unified message and voice for the brand. For instance, an omnichannel marketing strategy will automatically stop sending an SMS message about a particular product to someone who just purchased it.
The underlying data is automatically updated, triggering messaging across all channels to adjust as well. It makes for an integrated shopping experience, from the first touchpoint to the last, keeping the customer at the epicenter of the marketing strategy.
Technology now enables marketers to seek an omnichannel marketing automation platform that is well connected to the modern tech stack, delivers predictive analytics, and powers intelligent campaign creation. Customers are already on this trailblazing path and brands that don't get on this track risk being dropped from the customers' radar.
Pic courtesy: Freepiks
Related Viewpoints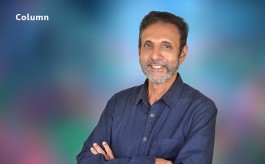 MD, Rave Design
How malls are redefining India's Tier II, III economies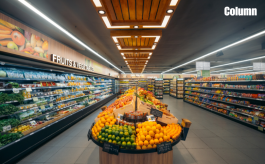 Head of Brand Marketing, Simpli Namdhari's
Retail as an influencer for healthy, eco-friendly practices