Reinventing the art of making gelato!
By Nabamita Chatterjee | March 19, 2013
Vadilal recently opened India's first artisanal gelato outlet'melt in'. Point Of Purchase chats up with Aastha Gandhi to know more about this new retail venture.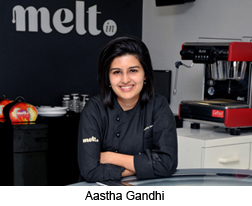 Vadilal, the 100 years old ice cream maker, forayed into a new business recently by opening India's first artisanal gelato (Italian ice cream) outlet, melt in, in Ahmedabad. Following the footsteps of Vadilal Gandhi, who set up Vadilal's first business venture a century back, his great great grand-daughter Aastha Gandhi has ventured out on her own to set up a new business for Vadilal Industries Limited.
Q) Can you share with us your vision of becoming a well recognized gelato retailing brand in the country?
Artisanal gelato is a new concept in India, though few companies are offering it in some of the metros. We believe that the product has immense growth potential as it differs from ice cream in many ways. Since Vadilal is already top trusted ice cream brand (as per Brand Trust Report 2013), venturing into gelato will give us an edge as customers tend to be loyal to their brand when it comes to food and dairy products. We hope to have'most trusted Gelato brand' tag soon.
Q) How challenging it is to carve out a niche especially in such a competitive market?
Artisanal gelato market being very new for the Indian industry, the challenge will be to establish the product by well positioning rather than competition. Strong product positioning would ensure higher brand recall value. Another challenging task would be to ensure that consumers differentiate between gelato and ice cream. This is possible only if they experience it themselves.
Q) How would you define your USP and value additions?
At'melt in', customers are served fresh gelato made right in front of them. We hope to define our USP on this feature, which would not only make customer feel special, but also instil trustworthiness and loyalty towards our brand and that is what we want.
Q) Who is your targeted consumer?
As in ice cream, gelato is targeted at any customer who not only wants to beat harsh summers, but also enjoy delicious dessert. Gelato has more advantages over ice cream and so those who don't have ice cream can also have gelato. So effectively, we could have more consumers compared to ice cream. Though, we could not afford to have bias towards our consumers, we believe that our product would be in demand largely from the youth and premium segment.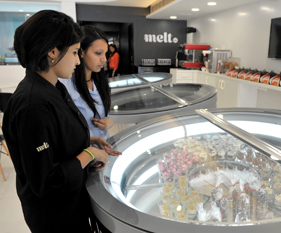 Q) What does it take to capture and retain consumers for this segment?
Persistent innovation in products is the best way to retain customer interest. However, this innovation in products takes a lot of market and consumer research to hit the nail right on the head. Our experience in ice cream segment would come handy to us in this regard.
Q) Could you tell us a little on your in-store initiative plans such as displays, promos etc. How do you think these will influence the consumers?
Being an impulse category player, capturing customer liking becomes all the more crucial.We have invested in the first round and rotating gelato display case - Tonda for our gelato and few other products. We trained our chefs under a French chef so that our savouries are an ideal mix of Indian and international tastes. But the most important influence on our customers will be the flavours of our product. We will be offering twelve different flavours and except for few like Strawberry, Vanilla and Chocolate, rest are new.
Q) Any new trends that you are seeing in terms of consumer behaviour/buying pattern? What does this mean to you as a brand/retailer?

The buyers today are more aware about the products available and their ingredients, nutritional quotient and price-value equation, which makes them even more demanding. With the rise in disposable incomes, buyers today are more equipped to make choices according to their desires and preferences. As a brand, this is a very good sign as it encourages healthy competition. With an expressive target audience, we have more scope to innovate our product line.
Q) What are your retail expansion plans?
Over the next few years, we plan to set up such niche artisanal gelato outlets in Mumbai, New Delhi and Bangalore. I see amazing potential for growth with not only the increasing levels of the desire for something new but also rising purchasing power of the youth. With summer approaching, we expect to hit the right chord among the premium market segment customers.
Related Viewpoints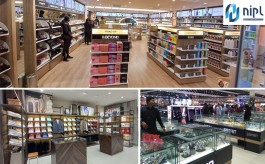 Director , Naman In-Store India Pvt Ltd. (NIPL)
Naman In-Store India Pvt Ltd: A journey fuelled by strong client relationships, infrastructure & skilled team