Reinvention Is Central To adidas
November 28, 2014
Deepak Chakravarty, VM Head, adidas, India, shares that the brand gives him enough inspiration to be authentic in designs and creative skills and this automatically helps to be the best in the industry.
Deepak Chakravarty, VM Head, adidas, India, talks to Sarita Gujar about the brand's approach to visual merchandising in India. Edited excerpts of the interview:
What is your view on the brand personality of adidas? How do you capture the essence of the brand's personality in your work?
The brand personality or the brand values of adidas are inspiration, authenticity, honesty and commitment. All these are derived from the world of sports. Reinvention is the key, not only for adidas marketing strategy but also for its product line. adidas continues to prove itself as a brand built to last through a game plan of reinvention.
The same essence is brought forward in my work. The creative field of visual merchandising in which we compete is transforming rapidly and we are continuously honing our skills on lit props, extensive acrylic usage, and newer technologies to keep pace with the ever growing visual merchandising gamut. The brand gives me enough inspiration to be authentic in designs and creative skills and this automatically helps to be the best in the industry.
What are the typical VM standards followed for adidas stores in India?
Broadly, adidas VM team focuses on inspiring window facades, best in class in-store communication, flawless display standards and perfect mannequin dressing.
adidas window should reflect the brand identity. In recent times we have used many innovative designs and props on our windows which have helped us to grab more eyeballs than ever before. We are working on composite window facades which will be more flexible for any creative concept to allow impactful windows and maximum creativity which will be cost effective and simple to execute.
In-store communication is an effective tool to bring more sales. The more we communicate with our customers, the better it is for any brand. At adidas, visual merchandising provides many in-store tools which effectively communicate with the customers. Focus is to come closer to the customer and ISC helps us in a great way. We believe in displaying the merchandise in such a lucid manner that it appeals to the customers. Firstly, we focus on the right consumer journey which helps the customer to navigate the entire store freely. Focus is also given to display the depth of multiple product offerings. Effective colour blocking, symmetrical display of ensembles, and double display of best sellers are a few areas which we strive to maintain at all times.
How do you assess shoppers' response to adidas VM & in-store promotions?
I believe that visual merchandising helps to maximise the aesthetics of a product with the intent to increase sales. If done well, it creates awareness and also the brand loyalty to a great extent. In current times adidas stores are looking at their best with impactful windows, great apparel story and super lucrative promotions. All these things draws customers inside the stores and the response can be seen with ever growing sales figures year-on-year.
Do you work out VM and in-store branding as per location?
Yes. We are sensitive to demographics and we chalk out different VM strategies for different markets. For instance, we use imagery of more local players in Tier 3 & 4 towns which customers can relate to more easily. Also, we run different campaigns in different cities on the basis of purchasing power. A 16,000 adidas springblade shoe can easily be sold in Delhi or Mumbai than in smaller towns like Ajmer or Jabalpur. We have different product offerings for different segments of stores; hence VM strategy is also different.

Which are the most recent campaigns that you have executed for adidas? Please elaborate.
adidas World Cup campaign: The design for the World Cup campaign brought the hue which was much needed to intensify the football fever in the Indian market. The design was made keeping in mind the holistic approach. Apart from the window design there were POS/highlight zone/sit covers/football presenters which were kept at the cash counter/football wall/flags and information panels which revealed "did you know" facts about the key players associated with adidas. Lionel Messi, Luis Saurez, Mesut Ozil and Daniel Alves were there on top giving the right kick to the football fans to build their excitement once they enter inside the store.
The window design was adapted and modified into two categories: static and dynamic. Dynamic window was executed in the top 20 stores and for the rest it was static.
How effective would augmented reality and interactive display be for the brand? Are you planning to go for these in the Indian market?
The pleasure of shopping in a real store environment cannot be underestimated. However, augmented reality is the next big thing in retail, especially in visual merchandising. adidas is very serious on this front. We do like to elevate the visual in-store experience in the near future. In fact, we have already made a start by using moving props in our windows. As I earlier said, interaction will be a watchword and personalisation a huge element.
Overall what is your comment on the VM trends in the country?
The Indian industry's understanding and practice of the concept of VM is inadequate unlike in the western countries where VM receives the highest priority in the commercial planning of a product. Retailers don't understand much of how visual merchandising can actually help them. For many retailers, visual merchandising is just window dressing, or just an unnecessary expenditure. Customers of today are driven by desire and latest trends. Stores have become a lot more glamorous. In the current day and age, VM has become increasingly significant with more and more international design trends entering the Indian market. However, things are changing at a rapid pace and the importance of VM is growing in the minds of brand owners and marketers. With all this in view there seems to be a very bright future for visual merchandising in India and is fast emerging as a professional, lucrative and much sought after business and profession.
Related Viewpoints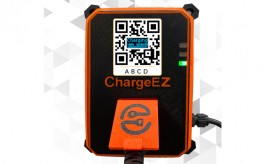 Co-Founder & CEO , ChargeEZ
'EV charging points serve as key customer touchpoints across multiple locations'