Retail space leasing soaring high in India, say reports
By Retail4Growth Bureau | August 10, 2023
According to the CBRE report, in 2023, India is likely to reach the highest number of retail leasing after the 2019 peak. The report also reveals that primary leasing in newly completed malls will be the key growth driver in 2023 through the new supply of retail real estate space, which would be around 60 lakh square feet in 2023, the highest in the last five years
India's retail sector is witnessing a constant surge in demand and driving healthy leasing across Grade A retail spaces. Growing consumer base, evolving lifestyle, urbanisation, rising disposable income, the convergence of online and offline retail, and investments in retail infrastructure are factored in for the hike in the leasing activity of retail spaces, says this report released by CBRE. According to the report, retail leasing witnessed a significant hike of 24 percent year-on-year in the first half of 2023 compared to 15 percent growth in the year-ago period. The first six months of 2023 witnessed total leasing stood at 2.87 mn sq ft compared to 2.31 mn sa ft. Bengaluru, Delhi-NCR, and Ahmedabad collectively accounted for 65 percent of the total share of leasing.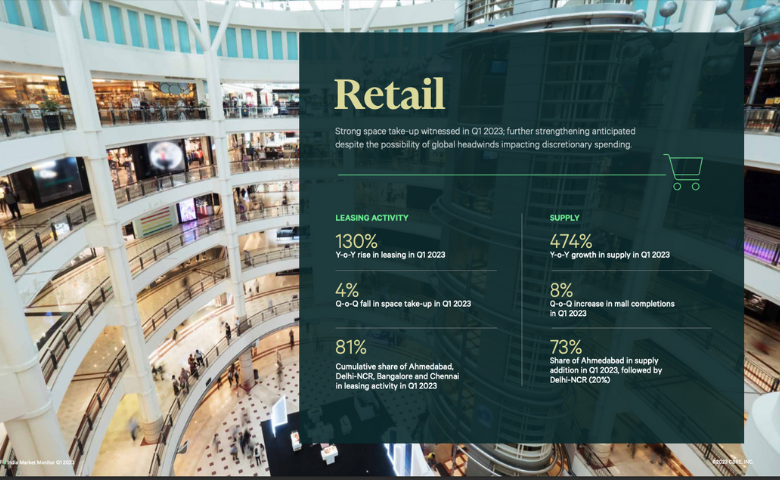 As the future of the retail sector in India looks sanguine, mall and retail real estate developers are capitalising on the hiked demand by planning new launches. A report of India Market Monitor-Q12023 shows substantial new supply during Q1 2023 with a staggering 474 percent year-on-year rise. Ahmedabad led the leasing activity with 27 percent, followed by Delhi-NCR at 26 percent and Bangalore and Chennai at 14 percent each.
Industry players are confident of the strengthened market sentiments. The increase in supply may boost primary leasing, which could be seen as a key demand driver for retail space leasing in the current year.
As Akash Nagpal, VP, Leasing & Business Development, Trehan Iris, said, "India's strong economic condition and increased disposable income of young professionals has fuelled retail sales across the categories. Backed by positive market sentiments, brands, and retailers are aggressively expanding their footprints. Industry trends highlight that retail leasing is expected to reach new heights in 2023 as there is a surge in demand from retailers across categories. Since newly completed malls are leading the leasing activity across cities, the demand for Grade A retail space is also surging. Market analysis predicts that 2023 is likely to surpass the 2022 level in new retail supply owing to the pent-up demand. The current growth momentum of retail leasing is likely to continue ahead."
The future of Indian retail leasing looks promising, as retail space in the country has become the world's fifth-largest destination and it may hover around an astounding value of USD 2 trillion by 2032, says the report of Boston Consulting Group.
Speaking on the prevailing bullish outlook of retail leasing, Kaustubh Chandra, Manager, Marketing and Leasing, Brahma Group said ,"India's strong domestic consumption is encouraging brands and retailers to navigate their expansion plans which augur well for the leasing activity across Grade A retail space. Well-designed and strategically located retail spaces attract both domestic and international retailers, further driving the demand for leasing. According to the CBRE report, in 2023, India is likely to reach the highest number of retail leasing after the 2019 peak. The report also reveals that primary leasing in newly completed malls will be the key growth driver in 2023 through the new supply of retail real estate space, which would be around 60 lakh square feet in 2023, the highest of the last five years. This certainly reflects the bolstered confidence of investors, brands, and retailers and if the current trend continues, Grade A retail space leasing will be at an all-time high by the end of the year."
Industry trends highlight that several investment-grade projects launched by reputed players in the past two years are likely to be operational in 2023. The desire for convenience, a wide range of choices, and a curated shopping environment is fuelling the demand for retail space. The future of the retail sector in India looks promising, with ample opportunities for growth and development.
Navdeep Sardana, Founder, Whiteland Corporation said "In the labyrinth of India's retail landscape, the demand for leasing spaces resonates like a symphony of growth. It is a testament to the nation's insatiable appetite for commerce, where the convergence of burgeoning middle-class aspirations, rapid urbanization, and an evolving consumer mindset ignites the flame of demand. As the heartbeat of retail beats stronger, driven by the allure of strategic locations, seamless connectivity, and the promise of an experiential shopping extravaganza, the demand for retail space leasing in India continues to soar, painting a vibrant canvas of opportunities for visionary entrepreneurs and dynamic brands alike."