Tangerine: Revamping the Indian home decor world
By Nabamita Chatterjee | July 29, 2014
Since 2012 Indian Home Variations (IHV) has carved a niche for itself in the premium house-ware segment with the objective of making Indian homes more stylish. From their stable comes the new age concept of Home Couture in the form of Tangerine, a boutique designer brand of home accessories. With the knowledge of Indian consumer behaviour and current market trends, they aim to bring a total coordinated solution for home fashion design. Point-of-Purchase interviews Rajiv Merchant, Co-Founder, Tangerine, on the brand's retail venture and strategies.
When was Tangerine launched in India? How difficult was is to create a niche in the home decor market in India?

Tangerine, a designer home solutions brand, was introduced in the Indian home décor market in 2013. The brand comes from the house of Indian Home Variations (a marketing and distribution company that offers premium houseware products). I started this venture having acquired two decades of experience in the textiles industry.

Tangerine was started with a vision to address the changing lifestyle needs of Indian consumers. Keeping in view the aesthetic sensibilities of Indian consumers and the current global trends in home accessories demand, Tangerine aims to offer products that exemplify the best thematic concepts. Tangerine has introduced eight woven themes around eight colourful stories and offers a highly coordinated solution for home couture and accessories, making homes a place of self-expression.

Today, the home décor market in India offers significant growth opportunities for both new and existing brands. However, lack of availability of quality retail space, high real estate cost and rampant discounting make it difficult for the players to create their own unique identity in the market. However, with improved availability of quality products and better presentation at the retail, supported by e-commerce, brands can look at attracting more customers and creating a niche for themselves in the market.

Please throw some light on your brand's USP?

Tangerine promotes a designer home solutions concept - offering fashionable bed linen and accessories that complement high-end lifestyle without losing sight of the price points that cut ice with consumers. In tracking the current trends and fusing design with eclectic patterns, Tangerine has created a wide range of products that are fashionable and comfortable. We offer innovative thematic stories and colour coordinated designs that can suit one's lifestyle and enhance the ambiance of the home. The nature of the products has evolved with theme-based and colour coordinated designs, bringing the concept of ethnicity to the fore. The collection comprises a chic array of bed sheets, comforters, duvets, pillow cases and even products like towels, napkins and shower curtains. In addition to bed and bath products, Tangerine has a collection of mugs, handbags, bath mats that are coordinated to represent each colour. All these products are available in leading specialty stores, departmental stores, online stores and mom & pop furnishing stores across the country.

What are you expansion plans, both in the physical and online retail space?

We plan to establish Tangerine as the most fashionable brand in the category of home accessories in India.

What was your turnover last year and what is your target for the current year?

As Indian Home Variations, we clocked a turnover of more than Rs 60 crore last fiscal and we aim to scale the Rs 80 crore level in the current financial year.

In this e-marketing era do you feel that the brick and mortar stores have to reinvent themselves?

Yes, one can say that brick-and-mortal retail businesses have felt the effects of online shopping to an extent due to the era of e-marketing. However, brick-and-mortar businesses are unlikely to disappear completely. The segment that Tangerine deals with prefers to visit the store and purchase the product as for them the quality of the product plays an important role. As the e-commerce market expands, many brands will look to sell their products online to reach out to a larger market. Keeping in mind this growing trend, Tangerine products are now being sold on our website www.mytangerinetree.com and also on major leading e-commerce portals. Tangerine believes that it is important for a brand to be present on the online medium as well as in the traditional retail space to cater to different customers.

How encouraging is business growth for this segment?

One can say that the home décor market in India will continue to flourish as it was underserved for a long period of time. The home décor market caters to diverse consumers. With rising disposable income people are looking out for brands that provide them innovative and quality products. Keeping this very expectation in mind, we launched Tangerine in the Indian market.

What kind of challenges do you face when it comes to in-store brand positioning of Tangerine? What is your in-store communication strategy?

One of the major challenges for any brand is lack of quality space for story-telling. With the pressure of top line and bottom line growth, most brands fill the stores with a huge amount of stock and build warehouse type of look instead of a premium retail consumer touch point. We have been working hard to overcome the said challenge with our retail partners. We have consistent brand story visuals and props that we supply to the stores every 45 days.

What is the retailing strategy for Tangerine? Do you have EBOs?

We are in the process of devising our own retail touch-point of EBO and will soon launch it in the Indian market.
Related Viewpoints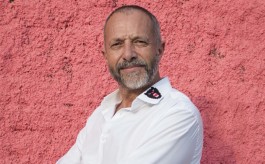 Executive Creative Director, Imagination
'Physical retail formats must be a seamless extension of the brand's omnichannel ecosystem'