The A WORD – Artificial Intelligence in eTail
By Akhil Almeida & Naina Jayarajan | April 17, 2018
The article throws light on the various aspects of Artificial Intelligence and how it is being effectively deployed in the etail segment to connect with the shoppers in a better way
Artificial Intelligence is the new buzz word around all of us. Everyone, from colleagues to friends, irrespective of the industry they work in, irrespective of the generation they belong to (X, Y or Z) is talking about it. Even Shahrukh Khan is talking about the use of Artificial Intelligence in movies (Source: Economic times https://economictimes.indiatimes.com/small-biz/startups/newsbuzz/vr-ai-will-diminish-the-role-of-the-actor-in-films-shah-rukh-khan/articleshow/63054972.cms )
But what is Artificial Intelligence (AI) really?
As per the dictionary, the development of computer systems able to perform tasks normally requiring human intelligence is defined as Artificial Intelligence. AI sphere of problems includes reasoning, knowledge, planning, natural language processing etc. Simply put, Artificial intelligence, is nothing but artificially recreating human intelligence.
AI as a tool is being used across various industries. A recent report by Mckinsey indicated high adoption of AI in Telecom, Automotive and Financial services industries (source: Discussion paper by Mckinsey Global Institute). While these industries are naturally inclined to adopt AI, it is just not limited to these sectors. For example, in Healthcare, it is being used to fine tune the accuracy of medical predictions and thereby choosing the best line of treatment. Indian railways has used AI to monitor its systems remotely to predict signal failure. AI was used actively by Facebook and Twitter to weed out terror based content on their sites. The Indian Government has set up a task force in order to leverage development of AI across multiple fields. There is huge impetus on skill development and training of workforce to keep up with AI based development in the country – with companies like Intel and Google investing in training thousands of developers and students. AI is definitely here to stay. In this paper, we will examine the use of AI specifically in etail.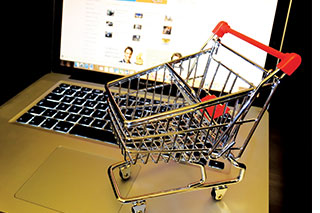 Re-imagining shopping with AI
AI has begun to change the way we shop. It has started to impact not only the retail organisations which are using AI to analyse data but also us, the consumers in how we shop. AI can make the shopping process a lot more intuitive, from giving recommendations that are personalized to your needs, to receiving notifications based on your activity on the portal. While AI pervades eCommerce at various levels, we have focused on a few key areas in this paper:
Customer service – Many companies are introducing chatbots on their online sites to enable better customer service. A Chatbot, as the name suggests, is a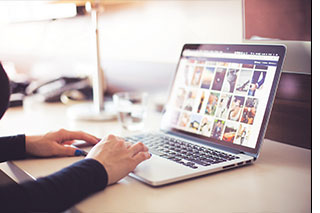 computer programme designed to simulate conversation with humans over internet. Bots are an effective and a cheaper way of solving for easy consumer questions and issues – and most importantly driving better consumer experiences. As per the predictions released by Gartner, chatbots are going to replace 85 per cent of customer interactions by 2020. An example in the Indian context is that of the Titan chatbot. The minute you login to the Titan online store, a pop up announces that it is the Titan Store Chatbot and can actually help you in shopping – whether for diamonds for your wife or a watch for your daughter! The chatbots are actually effective as the chances of a human error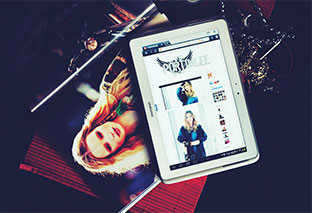 are greatly reduced, it is super-fast and also comes at a lower cost for the retailer. For a consumer, the experience is similar to that of interacting with humans at the other end for query resolution. Many would not even begin to notice the difference between a bot and an actual person. The Bot Eva on the HDFC site, answers questions pertaining to simple queries like branch details, opening an account, change address, questions related to FDs etc. I gave into the temptation to say Thank You just to see if the bot has been programmed to close the loop. And sure enough, it said to me "Sure, let me know if I can help you any further" OR something to that effect.
Contextual messaging & Personalised Recommendations: Personalisation is not new to eCommerce. Based on browsing the etailer sites, there are personalised recommendations that a consumer can use to shop even more! It helps to create a customer profile on an individual's behavioural data and thus builds on the ability for custom recommendations. Buying a phone – here is a screen guard and a cover that will go fantastically well with the phone you plan to buy! How about these new book releases which are part 2 & 3 of the books we noticed you have bought recently. Looking for a boat necked top? Here are other similar styles you could also look at. Netflix makes recommendations on TV / movie viewing based on what you have seen so far! There are recommendations on complementary products, on alternative products (just in case you don't like what you see). As a consumer, you cannot do anything but buy!
The notifications one gets, is for relevant categories increasing the interest levels of the consumer as well. There is a higher probability of the individual scanning through the notifications and increases the chance of actual purchase. A push notification from Ola recently urged me to book a cab by telling me - if I am ready to leave work (at 5.15pm), there is an Ola ride for me about 5 mins away! While I did respond to the prompt and tried to book a cab, the time changed to 25 mins J
Indeed, a great way for eTailers to cross sell and keep the consumers engaged on their sites.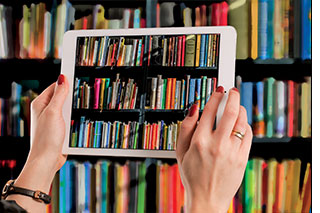 Doing away with Abandoned carts (Call to action):
"Much like a pesky child who constantly is at it, for you to buy play dough and keeps saying it like mantra until you give in, and buy the damn thing! eTailers are now using AI to keep reminding you "You have some items in the cart" and that the price is changing OR the product is about to go out of stock. It makes you take a pause and actually think about making the purchase. AI is helping many etailers in minimising the problem of abandoned carts through targeted notifications and sms's.
Search experiences:
About 97% of consumer who visit an e-commerce website do not end up shopping on the site. They might browse a catalogue, search through products, compare prices, but they still leave without making a purchase.
One of the biggest reasons for this is that they are unable to find the product they are seeking. "How can you define a product you can't describe". There have been a lot of improvements in technology of translating natural language into words and text. But at the end of the day, the text in the system is hand-coded by one person and that person's representation of what the product is. Marketers try to address this by adding search filters, keywords etc. But this means the consumer is doing the hard work –sifting through pages, filters, and typing more text to find the right product – of finding what they're looking for.
Another reason why the visits-to-sales conversion remains low is because the overall experience hasn't changed significantly. If you compare an ecommerce web page from 10 years ago and today, not much has changed in the form of the standpoint of user experience. From a shopper standpoint, experience is key; but in the absence of differentiated experiences, consumers tend to focus on price. This leaves online sellers with little choice except to cut prices as much as possible – a race to the bottom where only the players with the deepest pockets can win. AI can bring intent and context into search. If a person goes on to an online shoe store looking for a pair of white sneakers, that person might browse and even select a certain product. But if the same person returns after a month and runs the same search query – they will end up getting a replica of what they bought last. However, that might not be what they're looking for at all. In fact, they might be shopping for someone else. AI will understand the needs of a shopper very quickly by first engaging with the shopper at the point of search, and then present the most relevant items at that point of time.
Think of the experience of visiting your favourite shoe store, and having an experienced salesperson attend to your request after asking you a few well-placed questions. Only now the experience is happening online and it's the AI that is posing the questions and presenting the relevant items to you while explaining why you should consider this product over similar alternatives. No more filters and searches and scanning through multiple pages but a consistent and thoughtful customer experience that is just as good (if not better than) the real world.
Another way AI can improve search is that it can take shopping outside the realm of the store and into everyday life. Today, Pinterest allows the users to select a picture online and ask Pinterest to generate similar images. AI can be deployed in similar ways. One does not technically needs to go for shopping to select a product and buy it online – you may just see a friend/celebrity wearing something, take a picture on your smartphone and AI will find similar items for you tailored to your height, weight, and time of the year (season).
It just cannot get more convenient to shop online!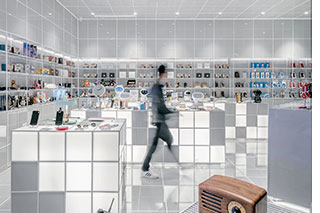 Trend Spotting: Fashion forward
AI has not only been helping in making the entire process intuitive, it is also at the back end, helping in creating new product lines. AI can track what kind of designs are working, the match of patterns to sleeves to collars – helps the designers figure out the next batch of apparel designs which would be a sure shot bet given they are stemming from whatever the consumers are buying or checking online. It greatly improves the cycle time associated with designing apparel. This is something that is being attempted and in certain cases, successfully by the online players.
Other areas which AI is being used
It is being used at the back end for address corrections (missing pin codes) and in creating a consistent product catalogue; personalisation can be done on the landing page as well – by tracking previous browsing and shopping behaviour, the products/ categories that appear on the page can be personalised increasing the relevance to the consumer thereby increasing engagement. Key players, like Flipkart are experimenting with helping their consumers get easy access to product reviews and also guide the consumers in making a purchase by asking relevant questions.
What's next?
Voice activated apps for online shopping, Virtual buying assistants will soon be seen coming into play. Virtual Assistants can cut down the number of steps required to filter out the various features/brands and bring up the right set of products the user is interested in. With additional use of Speech-to-Text and Text-to-Speech interface, the user experience can be further enhanced and significantly cut down the need for the user to be aware of the user workflow for the apps. Voice activated shopping should bring in the next surge of growth for eCommerce players.
Not online or offline but omni-channel.
The retail stores of the future won't have cashiers or checkout lines. Stores of the future will use a combination of technologies linked with AI to create a seamless experience offline and online. By combining computer-vision to understand when a consumer enters the store, sensor fusion to identify what products they have picked up and put in their bag, and deep learning algorithms to guide them through the shopping journey – shopping can be a truly seamless experience. Imagine you are planning a dinner party on a Friday night. AI will sync with your calendar and set up reminder for when you need to visit the store. Deep learning algorithms can identify the ingredients you will need depending on the type of meal you want to serve and point you in the direction of those items when you visit the store. Sensor fusion will identify when you've put them in your bag and computer vision will know when you've visited the store. All the items that you've picked up will be added to a virtual cart and billed to you automatically. No need to wait in line at the cashier!
Don't have time to visit the store? Simply open an app and choose from the pre-selected items that AI has thoughtfully placed in your cart. It already scanned the calendar and prepared your shopping list, remember? Once you pay, it's delivered from the closest physical store to your home or a drop off point for easy pick up.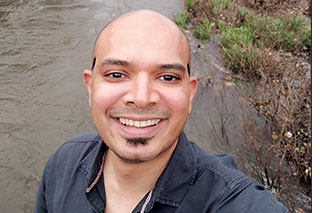 If this sounds like science fiction, this is the same technology that is being used in today's self-driving cars, and cashier-less retail stores have already debuted in some markets. So, the future is much closer than many of us realise.
Akhil Almeida is Vice President [Digital] at Kantar IMRB. His journey began in 2002, when the music industry he worked in was upended by digital music piracy. A few years later he gave up his marketing job to join a digital advertising start-up and went on to successfully lead strategic digital initiatives at the Mahindra Group. He currently helps clients navigate the evolving digital landscape and understand it's impact on consumer behaviour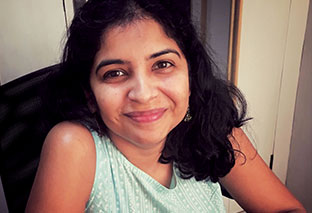 Naina Jayarajan is Associate Vice President at Kantar IMRB wherein she heads the eCommerce practice. Her career spans more than 15 years across Nielsen, Ipsos and Synovate all over India. She has worked across verticals like FMCG, Automotive, Education, Infrastructure, Finance, Durables, IT and is currently setting up the eCommerce practice at KANTAR IMRB.
Related Viewpoints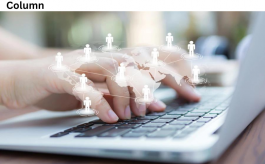 CEO & Co-Founder, MoEngage,
'Need of the hour is unified data & deeper customer insights'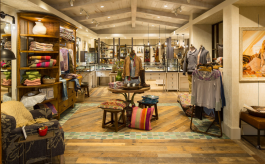 Chairrman, JGA
Can store design support retail sustainability?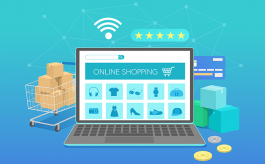 RVP - Sales, Denodo India
Tech Talk: Why data virtualization and data fabric are critical to the future of Retail