The White Crow: Giving wings to aspirations
By Smita Sinha | February 05, 2019
Reliance Brands Ltd.'s new retail initiative, The White Crow, spread across 8,000 sq ft at Sindhu Bhavan Road in Ahmedabad is the first ever multi-brand outlet bringing together all the premium brands under one roof. In an exclusive interview with Retail4Growth, Darshan Mehta, President & CEO - Reliance Brands Limited (RBL), takes us through the journey of The White Crow (TWC).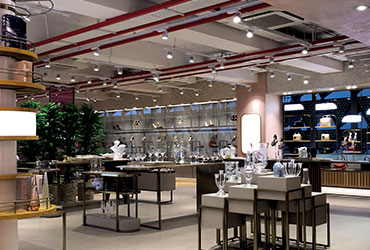 Located in the high street of Ahmedabad, The White Crow store is RBL's first ever multi-brand store. Spread across 8,000 sq ft, the store is designed to bring Indian and global premium brands together under one roof. With brands like Superdry, Salvatore Ferragamo, Scotch & Soda, Adidas Originals, Brooks Brothers, Onitsuka Tiger, G-Star Raw, Steve Madden, Armani Exchange, Coach, Diesel, Replay, Dune, DC Shoes, Canali and Kate Spade, among others, offered within a single door, TWC addresses the needs of the fashion conscious and aspirational consumers of luxury in the city of Ahmedabad.
But more interestingly, the store is an example of a contemporary retail format built from a close understanding of what the consumer prefers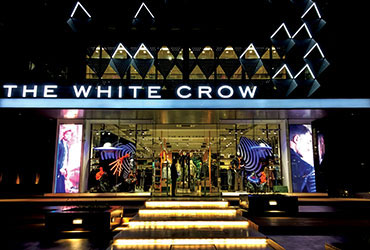 and how he or she behaves -- right from the store design to the brand selection and the shopper experience.
Format driven by how a customer shops
One of the most interesting aspects of TWC is the concept of mixed merchandising, as against the usual shop-in-shop format and the categorisation based on products rather than brands. The store thus presents a uniquely curated fashion collection from over 44 premium brands. The products themselves are divided under 8 fashion and lifestyle categories – casual wear, formal wear, customisation section, fragrance library, handbags & shoes, collectibles, luggage and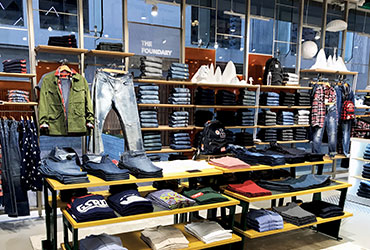 tableware.
Speaking about the store format, Mehta said "This unique format is intuitive to how a customer shops. A customer doesn't use the same brand for all her dressing needs. The chances are that a woman will wear a Zara top with a Diesel denim and accessorize with a Jimmy Choo shoe and Gucci handbag. At TWC a customer will find products from multiple premium brands at the same place. For instance, a Superdry hoodie can be seen next to a GAS denim and an Armani Exchange shoe."
"The mixed merchandising also helps in suggestive selling. So if a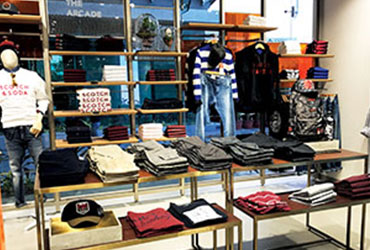 customer sees a Replay Hyperflex denim next to a Brooks Brothers shirt or an Armani Exchange shoe together, it is an effective cue to the customer's mind about a possible fashion trend and combination," he added.
According to Mehta, while shop-in-shop is a 20-year old concept, the mixed merchandising format is more customer-friendly, helping shoppers pick from a plethora of choices across all the categories offered in the store.
Also, TWC also plans to add new brands every month to keep up with the customer's preference. "We are constantly changing/ adding/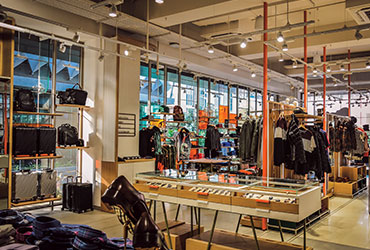 rotating brands every month to give the customer an added reason to come and check out the store more frequently. And this doesn't happen in metro cities like Bombay or Delhi," Mehta said.
Brand positioning – a one-point destination for the fashion lovers
With TWC, RBL is essentially aiming at creating a fashion destination and in the process creating access to multiple premium brands and the corresponding environment for shopping. Here again, the choice of brands is driven by what today's customer seeks. As Mehta said, "I don't differentiate between Indian and global brands. I think that's an obsolete concept. To me Raghavendra Rathore and Brooks Brothers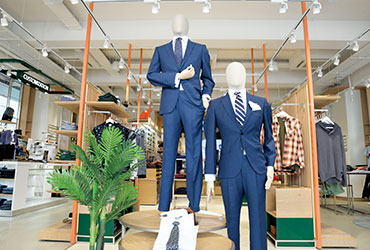 are both premium brands. A Raghavendra Rathore bandhgala can be paired beautifully with a Diesel denim and you will find both the brands together in our store. Similarly, a woman would as much fancy a nice Anita Dongre dress as a Jimmy Choo shoe and possibly wear them together."
Catering to contemporary needs & sensibility
The store look again is a reflection of contemporary India with a space that is designed to evoke a fresh and premium feel, which is in sync with the aspirational needs of the customers.
The glass and wooden shelving system is an integral part of the store,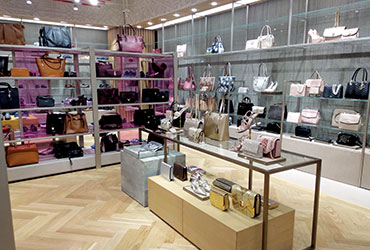 and the fit-outs are given an orange hue. The store has a light neutral colour scheme that envelops the entire design.
"We wanted to make sure the store environment is not intimidating and, at the same time, aspirational. We wanted to create a store that you have never seen before. The space lends a warm feeling; it is hospitable and it is unique. In terms of design, we have virtually scored a 95 /100," Mehta explained.
It took 12 months to complete the store design process and the space was designed by an award winning interior design agency, ST Design. The visual merchandising is done by the Brand and retail innovation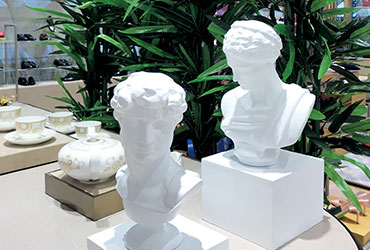 company, Few Steps Ahead, while the branding has been done by an internal designer at RBL.
Interestingly, the entire store design journey is also an example in creative freedom and finely blending aesthetics with the reigning cultural ethos. As Mehta explained, "I firmly believe that if your design head feels very strongly about something then you should give him or her the leeway because he or she is the expert. For example, initially I had some reservations about using orange in the store, but my designer convinced me that India is known and loved around the world as a vibrant and colourful country and orange goes with that image. He turned out to be right. For when I walked into the store and saw the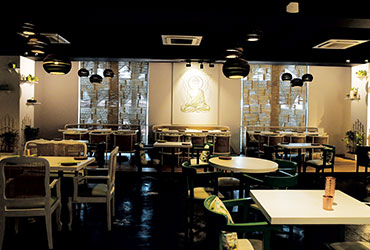 fit-out stand, I knew it was a contemporary version of the traditional image of India. So trust between the designer and the client is very important in the whole design process."
Crafting the right customer experience
In the context of customer experience in retail, phygital has become a buzz word today but Mehta believes that Indians are not yet ready for phygital. "Phygital is overdone in the western countries where manpower is scarce. But Indians still love the human touch, they love people over digital services. When a customer goes to a store, they like to have human interaction before buying a product or while browsing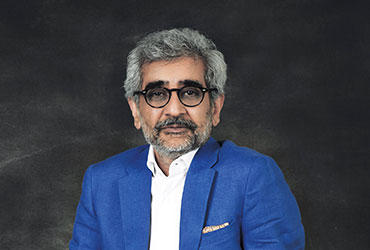 the product range. They don't want to go and stand in front of a kiosk. They would rather have human assistance while making a purchase," he pointed out.
This belief and understanding of the Indian psyche is reflected in TWC. For example, the store has a Brother sewing machine right in the middle of the store for craftsmanship and customisation. If a customer wants to a customised denim or an alteration s/he can get it done right at the store.
"Interestingly, the Brother sewing machine has actually been appreciated by a lot by our customers. They said it felt good because it gave a sense of being in a clothing store. Thus, it also helped in connecting with the customer by giving a sense of familiar comfort without being overtly loud," Mehta highlighted.
As part of enhancing the customer experience, the store also houses the Santé Spa Café, which serves a range of vegan and gluten free food. So while the store is spread across 5,200 sq ft, the café occupies an additional space of 2,600 sq ft. "Through this approach we are trying to give a holistic experience to the customers. This is something that doesn't exist in India," Mehta said.
A strategic choice of location
TWC is part of RBL's efforts to take their premium segment across apparel, footwear and lifestyle categories to mini-metros and smaller towns, again a result of their close study of emerging markets and consumer profiles in the country.
Highlighting the reason behind choosing a mini-metro city, Mehta said, "The idea is to launch the concept of a departmental store in a different and unique way in a city like Ahmedabad which has a ready purchasing power. There is no multi-brand format of international brands in India to make the customer experience wholesome and complete in overall lifestyle purchase."
Also as he added, outside the key metro cities, there is a high purchasing power in the cities like Ahmedabad, Lucknow, Jaipur and even Guwahati. But it may not be always feasible to build malls or put up individual mono brand stores at these places. "Also, the departmental stores presence in India is quite mainstream. That prompted us to open an MBO concept store in a city like Ahmedabad."
"Ahmedabad, a city with population of 9 million people, has just one mall in the town called the Alpha Mall, where we have 2 stores – Hamleys and GAS. The mall is fully leased out for 9 years and we were literally waiting with a token in hand for a place to get vacant to open a Brooks Brothers store, a Superdry store,a Steve Madden store, an Armani Exchange store, a Canali store etc., but we did not get a spot," he further added.
However, given the existence of ready purchasing power and wealth in the city, Ahmedabad was an easy choice for RBL to open an MBO format in the city. According to a report (PDF, 2.8MB) by Boston Consulting Group (BCG), population in tier II- IV will increase 4.5 times by 2025 and also by 2025, tier II and III towns will account for 45% of India's consumption and add 30% of affluent households, who will be a significant market for premium luxury products.
"Two indications that Ahmedabad has high purchasing power – one is the fact that the city has at least 5-6 high-end car showrooms. Secondly, the flight connectivity, between Mumbai and Delhi - Ahmedabad is very good at 19-20 flights per day with high seat occupancy. Location is an important factor in the success of any Retail format and Ahmedabad was a ready market for us, given its affluent customer base and connectivity," Mehta explained.
RBL is now planning to open TWC stores in other cities like Lucknow, Jaipur and Guwahati.
Summing up the journey
Talking about the obstacles in the whole journey towards creating an experiential store, Mehta said, "The only challenge that we faced was that there wasn't a mall or a beautiful high-street in which we could set up presence of our premium brands. But with TWC we have overcome this challenge. And the kind of response we got in the first 5 weeks has been mind blowing. The response was positive in sales, footfalls, conversions and all the other key performing indicators that we use to track success in Retail."
Going forward RBL is planning to add more brands every month to the existing 44 brands. "We have a hot pipeline, we keep adding new brands every month," Mehta said.
RBL has also recently announced a partnership with Williams-Sonoma, Inc. to bring Pottery Barn and West Elm in India. This will also mean a new category in TWC portfolio - home décor and home improvement. The company has also partnered with Replay – an Italian premium denim and casual wear brand - to open Replay stores in India. As of now, The White Crow is all set to give 'Ahmedabadians' a new retail experience to indulge in and a true taste of premium luxury.
Concept Design: ST Design, Hong Kong
Architect & PMC: Amol Talekar, Pune
Retail Experience Design: Few Steps Ahead, New Delhi
General Contractor: Shilpi Designers, Mumbai
Flooring: Greenheart Floors, New Delhi
Fixture & Furniture: Elemental Fixture Pvt Ltd, Bangalore
Lighting: Focus Lighting & Fixtures Ltd, Mumbai &
JN Lighting India LLP, Mumbai,
Speciality Value Lighting & Design, Mumbai
Signage: Ubiquitous Signs Pvt Ltd, Mumbai
Hangers & Mannequins: Abstract Mannequins, New Delhi
VM Props & Window Display: HG Graphics, New Delhi
Related Viewpoints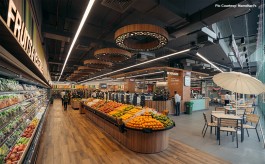 CEO, Namdhari's Group
Can retail bridge the gaps in organic food eco-system?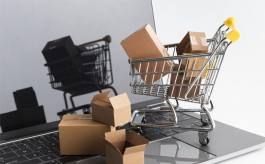 Co-founder & CEO, Ace Turtle
"A good omnichannel strategy will help redefine operations & deal with unforeseen challenges efficiently"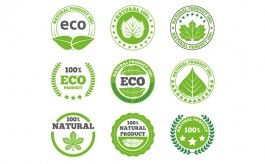 MD & CEO , Arrow Digital
"Most brands are eager to adopt green technologies but lack the information"