Titan Eye+ sees huge potential in Indian eyewear market
By Nabamita Chatterjee | April 29, 2015
From introducing new retail concepts such as pick and browse eyewear products to building connect with optometry students, Titan Eye+ is exploring news ways to expand its consumer base.
Titan Eye+, the third major consumer product business from Titan Company Limited, which started in 2007 has over 310 stores across 100 cities in India. The brand is constantly expanding its portfolio and retail footprint to redefine the quality standards in India's prescription eyewear industry.
Nabamita Chatterjee
interviews
Bhaskar Bhat, MD of Titan Company Limited
and
Santosh S., Regional Business Manager, Eye Wear Division of Titan Company Ltd.
, to know the brand's further plan in terms of retailing it in this competitive Indian market and how do they use in-store branding and promotions to position their products and services.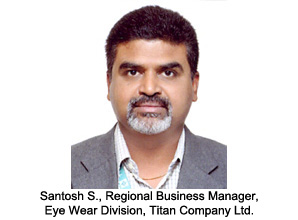 Edited excerpts.
How would you define the current state of the Indian eyewear industry and how Titan Eye+ is an exception?
Eyewear in India has witnessed a sharp ascent in the years on account of higher sales of this product category. Apart from innovation in product design, Titan Eye+ has also been very successful in providing access to the ophthalmic healthcare across India. There is enormous untapped potential in the eyewear market. For the last eight quarters, eyewear has shown continuous growth - both same-store wise as well as total. It is operating in that under-penetrated, under-served segment of the market.
What is the growth rate of Titan Eye+ and its position as a business vertical in Titan Company Limited ?
This business is of Rs 300 crore and is highly profitable. We are growing at a rate of 25 per cent every year and an average of 60 stores are added every year pan India.

Who is your particular TG?
Titan Eye+ has positioned itself in such a way that we are not a luxury brand and neither a common mass brand. We aim at Sec B, B+ and A, who mostly belong to the age group of 25 years to 40 years. Also we try to position or locate our stores where this age group floats around.
We have a wide range of house brands including Titan, Adreno, Flair, Glares, Dash, etc., as well as one of the largest ranges of international brands in the city such as Montblanc, Swarovski, Porsche, Tag-Heuer, Carrera, Police, Ray Ban, Maui-Jim and Tommy Hilfiger. The range spans every budget, with frames starting at Rs 495 upto Rs 30,000. Branded lenses from Titan (starting Rs 345), Essilor, Kodak and Nikon; contact lenses from Bausch & Lomb, Johnson & Johnson and Cibavision are also available. Titan Eyeplus is the perfect destination for the fashion conscious consumer looking for the latest in international eyewear fashion. The stores also provide a facility to get customized Rx lenses made for sunglasses.
What is the basic retail design strategy followed by Titan Eye+? Are you planning any new concept for better connectivity with your customers?

Since the last eight years, Titan Eye+ has changed the entire outlook of the optometry industry. As an organised retail chain, for the first time we launched the concept of open pick and browse concept of various products related to eyewear be it lenses, frames, or sunglasses which in any optic store is kept inside the shelves and requires the salesman to show the particular product.
Also, recently we have introduced a concept of placing the products as per the price tagging in the shelves. From our experience, we have observed that when our products were kept in for open browsing, customers used to get confused about getting their desired range. Thus in all our stores now, we have positioned the products as per the price tagging which is printed at the top of each rack or shelf.
Each of our stores have a state-of-the-art clinic with fully equipped digital set-up and we offer free of cost eye check up to anyone who is interested. It is not necessary to purchase the product from us, but it is an important service that we provide with trained optometrist from Shankar Netralaya Hospital. The optometrist is the back bone for our optical store.
Very recently, Titan Eye+ took up the initiative of Titan Eye+ Shield Optometry Challenge 2015 in Kolkata where in 500 optometry students participated. This was created to interact and build relationships with the future optometrists and to share the trends and requirements of the eyewear industry.
The Titan Eyeplus Optometry Challenge helps Titan Eye+ to build-up the brand in the minds of future optometrists and help the category grow further.
How much of your efforts towards capturing the shoppers happen at the store? Could you tell us about some of your in-store initiative plans such as displays, promos etc. How do you think these influence the shoppers?
All our advertisements and in-store promotions or branding revolves around attracting the youngsters, who falls into the age group of 25-35 years. Our research also gave us similar figures that this segment being the most potential buyers having disposable incomes, do take interest in seeing and understanding the messages that are given at the stores.

Any new trends that you have noticed in terms of consumer behaviour/buying pattern? What does this mean to you as a brand?
In the recent years, there has been a great change in the buying trend of any consumer product. Today, people have become conscious and informed about the choices available in the market and they try to take the decision judiciously. As a brand and being an organised retail chain, we try to help our customers make the right assessment for their requirements. In all our stores, we have a styling section and our trained staff helps the consumer to understand which frame or which colour of the lenses will suit the best.

What are your retail expansion plans across India? Do you have all company owned showrooms or follow the franchisee model?
We are expanding robustly across India and we have both EBOs and franchisee stores. In the coming fiscal, we will also add more stores across the country following these formats.
How encouraging is the market growth for a brand like yours in India?
As this market is majorly unorganised and fragmented, there lies a huge opportunity to tap it. We are getting great responses from not only the metro or tier I cities but the tier II and III cities are equally promising.
Related Viewpoints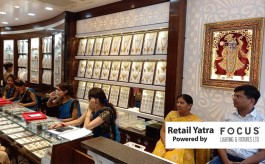 Owner, Agarwal Jewellers
 'Only permanent connect & good behaviour help in the long run'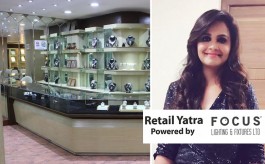 Managing Director, Mahavir Ashok Jewellers
'Location & relation go hand in hand in jewellery retailing'