What's in-store for the Indian retail signage industry?
By Satarupa Chakraborty | May 20, 2019
Being an integral part of the mammoth transformation of India's brick-and-mortar experience, India's retail signage industry presents both untapped opportunities and unique challenges . VM&RD takes an in-depth look.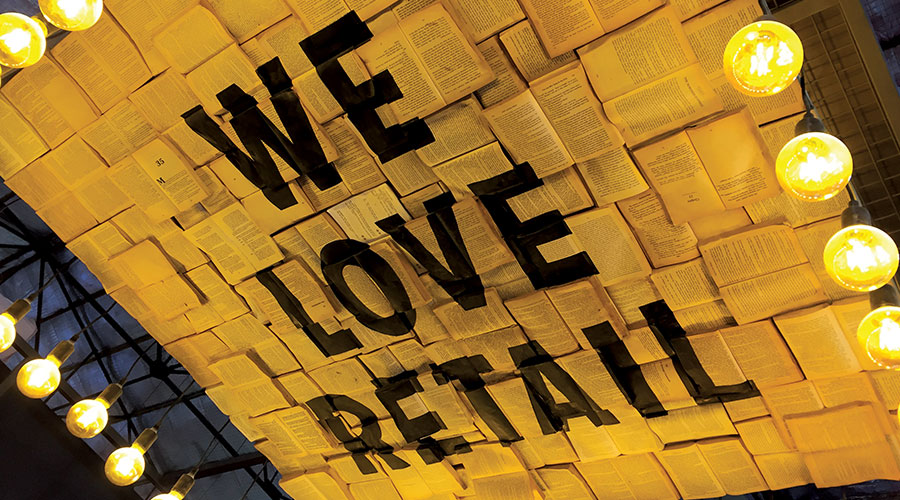 We have seen enough stats and data that testify to the growth of brick-and-mortar retail in India. The growth of physical retail space is also making retail operations more competitive, with experiential being the buzz word. Signage, though it covers only 1%-5% of overall store space, has a large and primary role to play in driving walk-ins, retention time and engagement with the customers. A survey published in VMRD in 2017 says that 8 out of 10 shoppers entered a store based on the quality of the signage and about 60% of stores have reported an increase of about 10% sales growth simply by enhancing their signage quality and visibility.
Today, Being an integral part of the mammoth transformation of India's brickand-mortar experience, India's retail signage industry presents both untapped opportunities and unique challenges . Here's a look. going through massive expansion and revamps, one of the primary elements under the spotlight is signage quality. Many brands are going to the lengths of changing their logo and brand representations and signage is the first point of brand interface which undergoes the revamp. To adopt a more slim and crisp look, brands are largely moving from flex to ACP (specially for façade signage) even if the cost is about 50% higher. LED neons, neon tube rolls and more innovative products are fast replacing traditional wayfinding signages. In all, one can safely conclude that signage has been an important part of India's retail transformation.
At the crossroads
But the moot question now is about how the signage industry can go to the next level of growth. The industry has welcomed many new comers, making it not only a young but a lucrative industry to join in. But although some of the sign makers have grown to have allencompassing facility and services, the average growth size of each business is really low. There's also an apparent lack of focus on R&D in retail signage per say. According to many signage makers this is because of many factors. For one, the lowest bidder often gets the job, so in a purely cost driven market environment, it's difficult to make investments in R&D. Also, most sign makers are still not treated as consultants with them having to contribute very little in terms of signage strategy or design. The financial and other incentive to scale up is thus low for most sign makers.
Those doing sizeable business with banks, hospitality and other commercial set-ups are investing steadily towards architectural signages and signage design. For an industry growing at a CAGR of about 25%, there's still only a few companies who can be comparable with their global counterparts. For this to change will require many industry dynamics to change.
Industry at a glance
VMRD focuses the spotlight on close to 40 signage makers of the country in terms of their business size, origin, infrastructural capacities and turnover numbers, and based on the study, presents some key findings:
l The industry looks young as 67.5% of the players started their operations post 2000, while more than 50% of the rest started in the late 90s.
l The infrastructure space required for signage industry is next only to the fixture industry among all RSPs, although the former requires a space size that is 1/4th to 1/5th of the latter's space requirement.
The average facility size ranges between 10,000 sq ft and 25,000 sq ft., while around 37% companies have less than 10000 sq ft space each and only 12% companies have plant facility of more than 40,000 sq ft. The number of companies exceeding 1 lac sq ft is negligible. Each facility has an average staff size of 64 members to man the unit.
l The average growth of each company during the last one year has been 10%-20%. Only 17% of the companies have seen more than 20% growth in their businesses and no one exceeded a growth of 60% in their respective business.
l For 30% of the signage makers, a majority of their business comes from retail, while others' retail share of overall business amounts to between 30% and 50%.
l Almost all signage manufacturers have infrastructure to execute sign convertors, channel letters, LED Signages and backlit signages. 78% of them are capable of executing architectural or route cut dimensional signages and soft signages. About 60% of them can claim themselves to be specialty sign printers and digital printers. 18% of them are substrate manufacturers.
l 40% of the signage manufacturers made no investment in their business which shows that signage set-up needs least development cost. Amongst the investing vendors, an average of Rs 73 lakhs has been spent in the last one year towards infrastructure development.