What's in store for these silent salespeople?
By Payal Gulati | January 20, 2020
VM&RD reached out to a few mannequin manufacturers and suppliers to get their take on new market trends as far as mannequins are concerned. Here's a low down.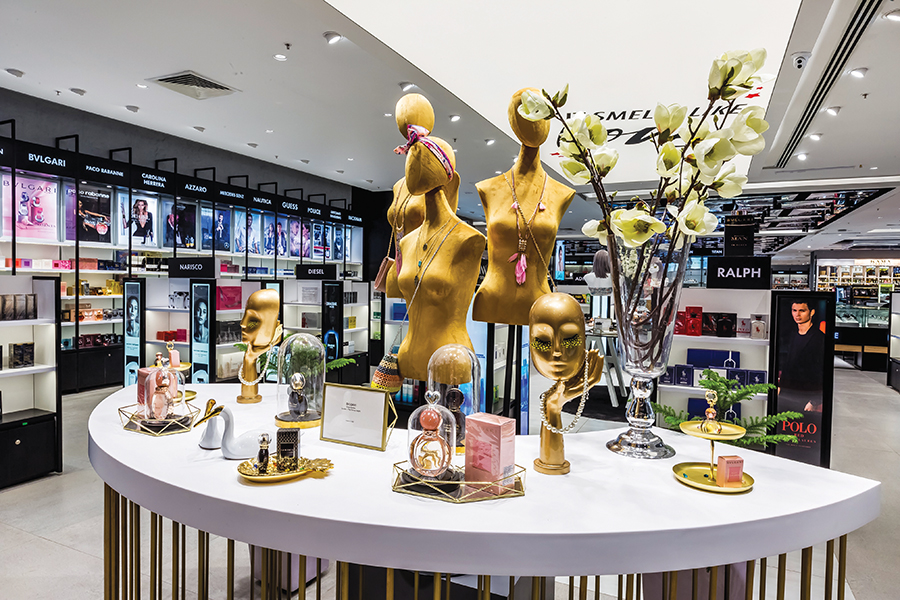 Mannequins have had their ups and downs as the retail market itself went through its different phases. Today as brick and mortar retail goes through some dynamic shifts, with experiential offerings and technology fast redefining the shopping environment, what does the future hold for mannequins? What are the new trends?
Almost all leading retailers would agree that garments displayed on mannequins sell 40-50% faster than in-store merchandises, prompting retailers to increase the number of mannequins per store. Many modern mannequins are also equipped with technologies like facial recognition and beacon technology. Some of them are even data collectors, capturing data on passersby. But what else is really happening on the mannequin front? How is the mannequin industry looking? When VM&RD reached out to a few mannequin industry players, a few key observations emerged.
Emerging trends
One very clearly discernible trend is that mannequin manufacturers are focusing on producing environmental friendly mannequins. As Ravi Verma, Founder, Clone Mannequins, says, "Everything is changing, in terms of technology, material and the look of the mannequin. In the coming years, you will see big changes in the material of mannequin as people want to be more eco-friendly. Faber class is not good from an environmental point of view. But still, in India we see many of them."

"In India the clients are much concerned about the style and they are not much concerned about the material. Active mannequins are more now than regular ones. Trends of the mannequin are changing too fast," he adds.

Talking about the emerging trends in the market that drive innovations, Siby Varghese, Director, Tranz Mannequins, says, "The flying mannequins which we have done for Flying Machine is something new. The mannequins are all flying and jumping types; they are hung from the ceiling and don't touch the ground. We have also done a ten feet mannequin for Citrus. For Koski we had done the hanging dress forms. Now we are working on motion mannequins. They are under development process, there are 5-6 motors that have to be synchronised and we have to develop the software for the motion. We are going to do a series of motion mannequins which can be used for categories like jewellery and sports."
"The clients are even looking for some interactive mannequin poses to be developed or imported, which we are currently working on. And a few clients also want recyclable mannequins made of paper and corrugated. But the problem with making this type of mannequin is that it requires a lot of investment and there is not enough demand to justify that kind of investment. We are currently using resin and fiber materials and are now looking for alternative materials which can be recycled and are eco-friendly," Varghese adds.

Jambudweep Impex is yet another company which has been in the mannequin business. They are the sole distributor for "Purform Mannequins", a New Zealand based company, the owners of the brand Purform have been in the mannequin business for 7 decades. Their mannequins are sold in the India market as well as exported all over the world. Talking about the unique features in their mannequins, Sanjeev Magon, Partner, Jambudweep Impex, says, "These are amongst the most durable mannequins in the entire world. These are made of polyethylene which is a very durable material and these are 100% recyclable. So they have zero impact on the environment . Another feature is that they are fitted with magnetic arms. Normally they come with a hook and lock technology which becomes a little difficult while changing the garments. But since our mannequins have magnetic arms they are user-friendly."
Talking about the latest trends, Charanjeet Singh, Director, Abstract Mannequins, says, "The demand is for high-end mannequins, in terms of quality and standards which are on par with international markets. But then they also come with the cost. As the quality increases, the cost increases too, but that becomes a challenge for the client. Internationalized standards provide you with more detailed structures, with defined body and features, and such intricacies increase the total price of the product. It's not difficult to create such a detailed mannequin. Also, it takes more time as compared to that of a standardized mannequin; high detailing needs patience and time."
Further sharing his observations on client demand he adds, "In sports apparel industry, they give weightage to having active stance mannequins so as to show movement in mannequins. Proper muscular mannequins to get the proper fit as per one's body is required by the client, so as to give the feel of how a garment would look like on a muscular body. Also, clients nowadays prefer getting a mannequin with different face color/ material with different body structures, for eg: a chrome face with a white glossy body. Also, wooden arms with fibre-made mannequins are in trend these days."


Read the complete report in the January 2020 edition of VM&RD Magazine.