1-India Family Mart launches its 50th flagship store in Ranchi
By Rita G Chauhan | April 05, 2018
1-India Family Mart launches its 50th flagship store in Ranchi. Plans are to add 50 more outlets by the next financial year in India.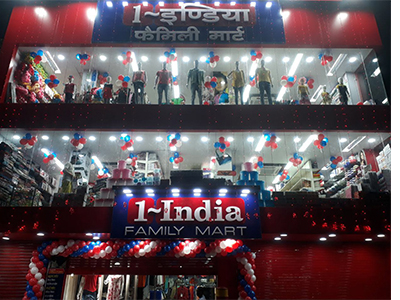 1-IndiaFamily Mart launched its 50th store at Birsa Chowkin, Ranchi and 8th store in Jharkhand. 1-IndiaFamily Mart, which is a well known fashion chain across Eastern and Northern India, is a flagship brand of Delhi-based Nysaa Retail Pvt. Ltd. Through this brand, the company is aimed to cater to the growing demand of the market and a class who is quality, fashion and price conscious. Spread over 8000 sq ft area, the new outlet has housed a large range of all its fashion apparels and general merchandise to offer an organized retail experience to its customers.
Speaking on the launch of its Ranchi store, Ravinder Singh, Co-founder & COO 1-India Family Mart said, "We see tremendous growth potential in Jharkhand, thanks to the encouraging response garnered by our existing stores. We are planning to launch more stores across different districts of Jharkhand within the next 12 months, with a focus on providing the best retail experience. As a value retail chain, our focus is to always to provide Fresh, Affordable Fashion and general merchandise at all our stores."
Nysaa Retail Private Limited has established 1-IndiaFamily Mart brand in 2012 as a value retail chain and began operations in 2013. Currently, the company has total 50 stores across Northern and Eastern part of India. It is planning to strengthen operations in existing market all along expanding to new locations including Bihar, Chhattisgarh, Rajasthan, Haryana, Punjab and North East. It is aimed to add 50 more stores by end of the next financial year in India. Within this financial year, the company will open 30 stores of 8000 sq ft average area.