A revival or status quo for FMCG?
By Dinesh Jain | Vjmedia Works | January 02, 2014
While there's optimism the Lok Sabha elections and the likelihood of a new government could bring change, high food inflation remains a concern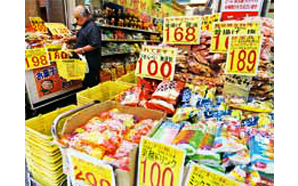 Recently, Unilever, the world's second-largest consumer goods company, made an unusual announcement - it would cut some 2,000 jobs by the end of 2014 and shed its product portfolio by a third to better tackle the consumer slowdown.
It's no secret that the Rotterdam- and London-headquartered company, which derives about 55 per cent of its $70 -billion revenue from emerging markets, including India, has seen the tide turn significantly for it in 2013. For the September quarter, the company reported its slowest sales growth in four years, as demand for its soaps and spreads declined around the world.
Unilever's Indian subsidiary, Hindustan Unilever (HUL), in which the former increased its stake from 52.5 per cent to 67.3 per cent in July, has been at the centre of this slowdown, facing the heat of lower discretionary spends, as consumers slashed budgets to tide over high inflation and interest rates.

Lower volume growth
Nitin Paranjpe, the former HUL managing director and chief executive who was elevated to the position of president (homecare) of Unilever, effective October, minced no words when he said the nearly Rs 2-lakh-crore fast-moving consumer goods (FMCG) sector was slowing.
"The market across the board is slowing, but it is most pronounced at the premium end," he had said.
The slowdown was best captured in lower volume growth for the sector in general, and HUL in particular. For the June quarter, for instance, HUL reported its lowest volume growth of four per cent, though managed to improve its performance in the September quarter, reporting a five per cent volume growth.
During the year, most other companies saw mixed results, including Kolkata-based ITC and Emami and Mumbai-based Marico. Those who had hedged their performances against the vagaries of the domestic market, such as Godrej Consumer Products Ltd (GCPL), were exceptions.
As Abneesh Roy, associate director (research), Edelweiss, said, "GCPL has seen its international business do well, which has helped it tide over the consumer slowdown in the domestic market."
During the September quarter, GCPL posted 33 per cent growth in its international business, contributing nearly half its revenue during the period.

Going rural
The year belonged to companies that invested significantly in rural areas. With growth higher in these regions (16 per cent, against 12 per cent in urban areas), most companies rushed to capitalise on this momentum, increasing direct distribution and infrastructure. Companies also devised specific products for rural areas, keeping in mind the profiles of consumers there.

Ticket size
Sunil Kataria, chief operating officer (sales and marketing), GPCL, said, "There is a significantly affluent class in rural areas. While low-unit products are available in our portfolio, the presence of this affluent rural class also means you can go beyond the sweet spot of Rs 20 and look at slightly higher ticket-size items for this consumer."
GCPL plans to market its creme hair colour sachets (priced at Rs 30) in rural areas. While Dabur is pushing products such as Real range of juices (priced at Rs 25) and Fem bleaching products (Rs 35) in rural regions, Marico has a wide range of products for this segment - Set Wet (hair gel), Zatak (deodorant), Parachute Advanced Body Lotion and Parachute Advanced Jasmine Oil, besides its core portfolio of coconut oil. Emami is pushing bigger packs of popular products such as Navratna Cooling Oil and Fair & Handsome in rural areas.
The way ahead
Harsh Mariwala, chairman and managing director, Marico, says rural areas will continue to be the major driver for FMCG companies next year. "Consumer sentiment should improve with elections and the formation of a new government. I think the thrust on rural is not likely to change for companies, as growth rates are clearly higher in the hinterland, as opposed to urban areas."
FIVE EXPECTATIONS FROM 2014
The buzz around open offers will get louder, as pressure on MNCs such as Nestle and Colgate mounts, following stake increases by GSK Consumer and HUL

A possible recovery in sentiment, following

elections

and the likelihood of the formation of a new government at the Centre

Rural areas expected to be the major driver for companies, as growth continues to be high in these regions

High

food inflation

will be a concern

Product innovations expected to rise, as companies put money behind disruptive products