After'khadi denim', weavers in talks with Arvind for'poly vastra'
By Surya Prakash Gowda | Vjmedia Works | July 16, 2014
Poly vastra is made of 67 per cent cotton and 33 per cent polyester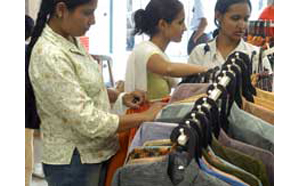 After'khadi denim', khadi weavers and their respective associations like Khadi Board and KVIC are learnt to be again in talks with Ahmedabad-based Arvind Ltd for potential commercialisation of the hand-spun'poly vastra', a blended khadi fabric made of polyester and cotton.
According to sources in Khadi Board and KVIC, talks have begun since sometime on collaboration with Arvind for exploring commercial opportunities for'poly vastra'. The fibre is made of 67 per cent cotton and 33 per cent polyester.
"As of now, poly vastra has not made much inroads in the khadi stores run by the associations. However, talks are on with Arvind Ltd to explore commercial opportunities of poly vastra, on the similar lines of khadi denim. If successful, the company's technical experts and marketing team would be working with the weavers on further innovation in the fibre for commercial purposes," said a person privy to the development.
An emailed query to Arvind Ltd remained unanswered.
Sources add that the process will, however, take some time due to extensive manual process in weaving poly vastra. One of the discussions towards commercialisation of poly vastra is also towards tapping the formal menswear segment, especially as office wear.
It needs to be mentioned here that Rajkot-based Saurashtra Rachnatmak Samiti (SRS) had signed a memorandum of understanding (MoU) with Arvind for supply of at least 5,000 metres of khadi denim.
Khadi denim is a hand-spun and hand-woven cotton fabric with 12-count twisted thread. "Arvind has asked for about 20,000 meters of khadi denim per month. But as there is a manpower constraint at present, initially we would supply 5,000 meters, which over a period of time would increase to 20,000 meters per month," Devendra Desai, president of SRS had told Business Standard earlier.
Apparently, at the Paris Fashion Show organised in December 2010, Arvind had marketed the innovative Khadi Denim quoting Mahatma Gandhi's views about the conventional fabric.