Alcis Sports opens its 2nd retail outlet in India
By Rita G Chauhan | February 02, 2018
Alcis Sports opened its 2nd exclusive flagship retail store in Mumbai. The brand which has received funding from venture capitalist RB Investments recently is looking to expand its retail presence pan India.
Alcis Sports, an Indian home grown performance wear brand, has launched its 2nd exclusive retail outlet in Kurla Mumbai after unveiling its first retail store at LuLu Mall Kochi. Spread across an area of over 1,000 square feet, the outlet displays the Alcis Sports' range including specific clothing for training, running, yoga, and sports etc. The store displays a selective range of premium performance wear to provide unforgettable retail experience for its customers to getting them up close with the brand.
Telling more about the retail strategy planned for Alcis to reach-out more number of customers, Anuj Batra, President, Alcis Sports Pvt. Ltd. shares with Retail4growth team, "We have a robust retail strategy in place for expanding our network. We are overwhelmed with the customers'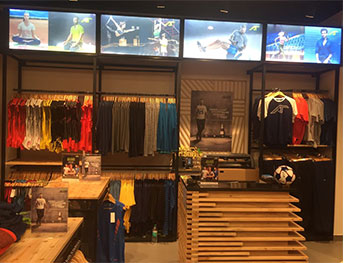 response toward our products so we have decided to go beyond the conventional distribution channel. As we have received VC funding from RB Investments, we decided to go aggressively for expanding retail presence this year. We are setting up our outlets under different business models including Exclusive Stores, Large Format Retail Stores, Franchisees Outlets, Distribution and MBO's all along keeping balance within Online, Institutional and corporate sales."
Currently the brand is available at 150+ Large Format Retail Outlets and 400+ MBO retail points across the country. Launched in 2016, the company has an exclusive tie-up with FIFA where it is the Official Licensed Apparel Merchandise partner for both U-17 WC and for 2018 Russia WC.