Bringing brands closer to mom-and-pop stores
February 29, 2016
Gurgaon-based Just Buy Live eliminates distributors and connects mom-and-pop retailers with consumer brands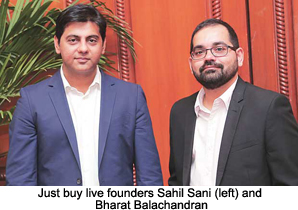 It was during the 2014 Diwali that most e-commerce players in India unleashed a torrent of discounts and promotions for consumers, enticing buyers away from traditional retail, towards e-tail. Brick-and-mortar retailers could only watch.
That's when Sahil Sani, a Boston College graduate into distribution of entertainment electronics products in India for 16 years, and Bharat Balachandran, an aggregator of loan products, had the epiphany that the pricing models relevant for many decades were getting replaced with instant price discovery.
"It was technology, not the unnatural discounts that were the primary driver for this shift in consumer preference. We asked ourselves how we can use this same technology to give power back to the aam dukandaar (mom-and-pop retailers)? This led to the Just Buy Live system," Sani, co-founder, chief executive officer (CEO) and chairman, explains as the reason for starting Just Buy Live. A platform that provides traditional retailers and institutional buyers unfettered access to consumer brands.

Concept
A mobile app-only service available on the Android and iOS platforms, it incepted in November 2015 and went live in January 2016. It operates like any other distributor. It takes goods from the manufacturers, or their warehouses, and transports these to the retailer's doorstep through 3PL (third-party logistics) partners. Claiming the platform to be the world's first multi-category distributor, co-founder and managing director Balachandran says unlike conventional distributors, they stock products from competing companies like Pepsi, Coke, Hindustan Unilever and ITC.
The platform provides an added advantage to retailers, too. "We have a structured and unsecured credit offering -Udhaar by Just Pay - which is powered by financial services firm Religare. In essence, we will be providing Udhaar (credit) upwards of Rs 2 lakh to retailers to use the app, sans any collateral or unnecessary paperwork," he adds. In India, an estimated 98 per cent of retailers have not borrowed a single rupee from a bank or lending institution. Therefore, we have deprived them of the fundamental freedom to trade. Credit by Just Pay is a service that addresses the problem of fund scarcity, according to him.
Under the Udhaar, a retailer can avail a 30-day interest-free credit, which frees the working capital of the retailer and allows him to repay the amount later. The firm aims to provide Rs 1,000 crore in credit by the end of 2016.
Sani and Balachandran are undeterred by competition in the business to business (B2B) e-distribution space. "We don't see any other companies operating in any competing or complementary areas of business. However, there could be competition arising at the regional level, in the next six to seven months. Some companies might also tweak their existing models to offer value-added services," Sani said, adding that the firm will be on the lookout for such companies to acquire.
The next leap
It raised $20 million in December 2015, in a Series-A funding from Mumbai-based private equity investment management firm Alpha Capital Advisors, for growth and expansion.
According to Vishal Ootam, founder and chief executive officer of Alpha Capital, scale could be limitless for the business, and revenues would flow through multiple channels and be meaningful. "At Just Buy Live, we are guiding the company in multiple areas that will help them across their analytics, lending platforms, future investments and strategy," he said.
The firm operates across 15 cities in 10 states and aims to expand to 500 cities and towns by the end of 2016-17. The firm has 25,000 registered retailers on its platform. From 1,000 brands and 300,000 products in January 2016, it aims to have 10,000 brands and one million products by the end of this calendar year.
Declining to share current or future revenue figures, Balachandran, however, said they were outperforming in their revenue metrics. "We expect to be operational for 10 million retailers, of which we expect 10 per cent to buy twice a month, at an average buy box of $250."
Sani says they are not constrained by having to break even first before scaling up. With high-transaction e-commerce businesses, especially food delivery and hyperlocal, facing consolidation, the focus today is clearly on unit economics. Venture capitalists are looking for businesses that have good unit economics, instead of models that need to burn cash to acquire customers. Welcoming the trend, Sani said Just Buy Live uses its venture capital (VC) funds only to accelerate its growth and not to burn money or leave gaping holes in profits.
"Our unit economics are sound from day one. We don't operate on a burn or discount model, where you spend a lot to acquire customers upfront with the intention to make revenues later. All our discounts and offers come out of our margins," he said.
FACT BOX
Inception: November 2015
Area of business: e-distribution
Fund-raising: $20 million from Alpha Capital in December 2015
Expected average buy box: $250
Expansion: To 500 cities by FY17, from the current 15

EXPERT TAKE
Just Buy Live occupies a much-needed space in the business to business (B2B) e-distributorship arena. The viability of the idea is excellent, provided the offering is able to offer a proof-of-concept that embraces a small geography and saturates it to efficiency.
In terms of scalability, the possibilities are endless. India is a nation of 14.2 million retail outlets. Ensuring scalability across that number is a huge task in itself. This task is not for one Just Buy Live but maybe for 500 such "ideapreneurs".
These models are alive and active across the world. I am, however, waiting for Amazon to occupy this space to create that ubiquitous B2B delivery format that is going to make the physical distributor redundant.
Just Buy Live must focus on offering a seamless degree of coverage and service. Establish a very high standard of delivery sustenance, and you will do well. Do not look at the entire country for now. Focus on a small geography, make it a success and then think ramp-up. For now, don't look at width. Look at depth.
The key challenge Just Buy Live will face is credibility. They have done well to incorporate Udhaar, a very important need felt by this category of potential buyer.
Harish Bijoor is brand expert and founder, Harish Bijoor Consults Inc