Consumer durable sales for Apr-Jun remain tepid
Vjmedia Works | July 20, 2015
IIP data point to a weakness in the marketplace, which is expected to stay. Companies, however, say the tide will change during the festival season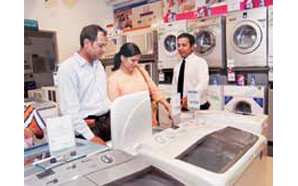 Anirudh Dhoot, director at the country's third-largest consumer durables company Videocon, is a worried man. "April and May were just about okay in terms of sales," he says. "We were able to meet our targets. But June and July so far haven't been good at all. Sales are down," he says.
Dhoot is not the only one raising such concerns. Executives across consumer durable and electronic firms voiced similar views. And numbers support the claim.
The May index of industrial production (IIP) for consumer durables showed a 3.9 per cent degrowth over the year-ago period. While April was better, showing a marginal growth of 1.3 per cent, the index was in the negative between January and March.
Data for 2013 and 2014 show the negative trend stayed throughout the two-year period. IIP is considered an indirect indicator of consumer demand. Lower IIP numbers imply demand in the marketplace is not strong. This impacts sales.
Categories that have particularly borne the brunt of the consumer slowdown, according to analysts, have been appliances — air conditioners, refrigerators and washing machines. Rate of growth has been in single digits in these segments, they say.
Kamal Nandi, business head and executive vice-president, Godrej Appliances, attributes the slower rate of growth to the weather. "There were unseasonal rains in April. Cooling products typically need a long and hot weather. While May was better, June saw a downpour in some parts of the country. The window of sales as a result shrunk, resulting in the quarter being challenging," Nandi says.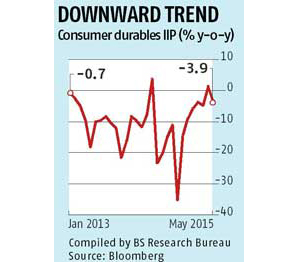 But analysts insist it is not the weather alone that is playing havoc with companies' sales plans. Frequent price hikes, thanks to currency fluctuations, have resulted in consumers delaying purchases.
Madan Sabnavis, chief economist, Care Ratings, says, "The spending power of households in urban areas has actually come down in the past few years, thanks to inflation, higher interest rates and nominal salary increments. In rural areas, too, there have been challenges as far as farm incomes go with the inclement weather. The result is this weakness in the marketplace, which is pushing down sales."
Unlike television panel prices, a key component that is required to build light-emitting diode TVs have been falling, thereby, bringing down prices and improving sales offtake. In the case of appliances, component prices have been inching up.
This has pushed up product prices, market experts say. In the past two years alone, appliance prices on an average have shot up at least eight per cent to 10 per cent, while growth rates have been lower in comparison. These numbers are at the industry-level, though individual companies when contacted insist that their rates of growth have been ahead of the market.
Some players, however, believe the tide will change going forward. "The festival season should be better because consumers will come out to make purchases," says Eric Braganza, president, Haier Appliances India. This point is endorsed by Nandi of Godrej Appliances, too.
"We are preparing for Onam with a new line-up of refrigerators and washing machines," Dhoot of Videocon says.
"Onam will be a crucial indicator of how the festival season will pan out," he adds.
Executives at LG and Samsung say the pent-up demand could prompt consumers to go back to the marketplace, goaded by price-offs and product offers.