Digital offline platform ShopX celebrates their first Retail Employees' Day
By Nabamita Chatterjee | Vjmedia Works | December 15, 2016
In one year of its existence, ShopX has empowered 40,000 Retail Partners across 200 towns in 10 states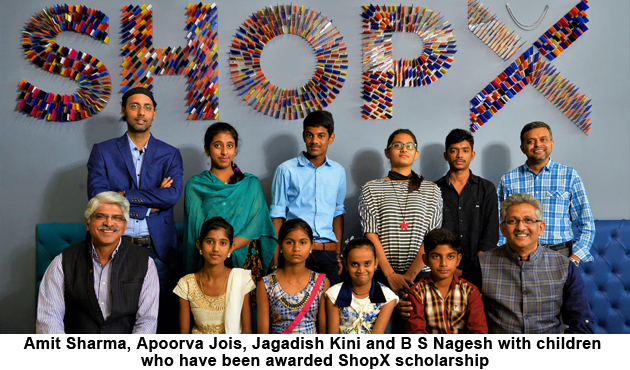 ShopX, a B2B commerce platform that powers retailers across the country, announced a one-year Educational Scholarship program in association with Trust for Retailers and Retail Associates of India (TRRAIN). The scholarship program has been designed for ShopX Retail Partners to support their children who are pursuing their education from the 5th to 12th Standard. Each selected student under the program will be awarded up to INR 25,000 per annum.

On the occasion of Retail Employees' Day on 12th December, 2016, ShopX kicked off this initiative by selecting 9 students from different states of India including, Karnataka, Andhra Pradesh, Telangana, Kerala, Chhattisgarh, Gujarat, Tamil Nadu and Mumbai. The scholarships were awarded by Mr. B.S. Nagesh, Founder of TRRAIN, former MD Shoppers Stop. TRRAIN initiated the celebration to recognise the services of retail employees and foster pride in belonging to the retail community.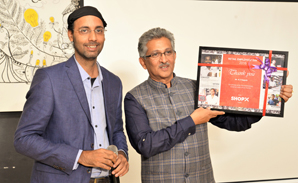 "With 92% of commerce being contributed by India's unorganized retail segment, their contribution to the Indian economy is immense. We are delighted to celebrate this day with TRRAIN and we take this as an opportunity to express our gratitude to all our Retail Partners. Our collaboration with our Retail Partners are helping us realise our Vision and has driven the aggressive growth of our company." said Amit Sharma, CEO of ShopX.

"Retail Employees' Day is a day dedicated to the 43 million retail employees of India. A day to thank them for the services rendered to the customers, day in and day out, even on holidays and festive occasions. TRRAIN is proud to get associated with ShopX in taking this initiative to the smaller retailers and tier 2/3/4 towns. Very rarely start-ups get involved in doing good at an early stage. In Amit and ShopX we found a partner who shares our vision of "Empowering People in Retail" and creating lasting impact at the grass root level in the retail industry." said B.S. Nagesh, Founder TRRAIN.

Bangalore-based ShopX is a B2B commerce platform, and is trying to provide retailers across India significant benefits. ShopX's proprietary technology, when partnered with a retailer, transforms the retailer into a technology enabled platform that allows him to service his many customers in more engaging ways. The Retailer has access to new products, new services, and platform services (like credit, payments and loyalty). With this approach, the company is helping to expand the overall addressable digital commerce market size significantly.

ShopX is backed by Strategic Investor Nandan Nilekani, and Mentors including Jagdish Kini [ex- CEO, Airtel (South Region), Managing Director, Gillette India], and Pramod Varma [earlier: Chief Architect, UIDAI Aadhar Project, CTO Sterling Commerce]. In one year of its existence, ShopX has empowered 40,000 Retail Partners across 200 towns in 10 states; it has already served more than 1 million customers in the country. The company aims to provide the 600-million middle-income population in India (as against the current 50 million active internet buyer base) access to digital commerce through its Retailer Partners.