Finolex launches first exclusive India store in Chennai
By Retail4Growth Team | November 23, 2018
The brand's first exclusive store 'Finolex House' is positioned as a one-stop shop for home construction and electric works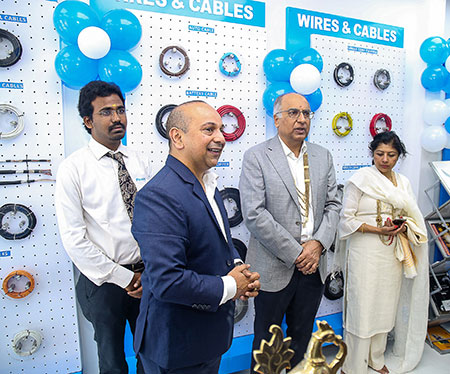 Finolex Cables Limited, leading manufacturers of electrical and communication cables, inaugurated 'Finolex House' – its exclusive brand retail store in Chennai. This launch marks Finolex's foray into the exclusive retail format. The store was inaugurated by Deepak Chhabria, Executive Chairman of Finolex Cables Limited.
Finolex House will serve as a one-stop shop for consumers who are constructing or improving their homes. The store offers end to end electrical solutions for a safe home, from high quality cables to electrical fittings. The product range includes electrical wires including industrial flexibles, auto & battery cables, low voltage and high voltage power cables, speaker cables, telephone cables, CCTV cables, solar cables, LED lighting products etc.
Commenting on the launch, Deepak Chhabria, Executive Chairman of Finolex Cables Limited said, "Our goal is to provide complete electrical solutions to our customers across India. The launch of Finolex House is our commitment to the consumers to offer them the whole range of Finolex quality products under one roof. We are happy to launch the first Finolex House in Chennai."

Finolex plans to launch 50 Finolex Houses by 2019, with exclusive stores in key Indian cities. The stores will house experts who will help consumers with appropriate products for safe and secure homes. Currently the brand retails out of 3500 channel partners and about 40,000 dealers across the country.