Frozen Ribbons opens first store in Delhi
By Retail4Growth Team | May 23, 2019
Glowing furniture, a ground foggy floor atmosphere and an affordable and attractive menu are the high highlights of the store.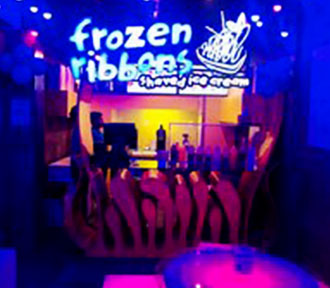 Dubai-based ice cream brand Frozen Ribbons has recently launched a cozy little store in Hauz Khas Village, Delhi.
The unique store ambience has glowing furniture, a ground foggy floor atmosphere and an affordable and attractive menu which draw customers making it an exciting experience for all ages, according to the company statement.
"Having moved to Dubai five years back and owning a couple of ice cream brands, I realized that participating and carving a niche in the existing clutter of ice cream market was not an easy task. I wanted to introduce something new and different for the consumers to relish, and I started exploring various options. Finally, we zeroed in on a Taiwanese concept of shaved ice based on water, and modified it to add a milk and cream base. After experimenting with various flavours and recipes for over a year, we finally found the perfect frozen treat, and that is how Frozen Ribbons came to its existence. Now, I want to introduce this creation to my country and make this unique dessert available to the Indian audiences. I sincerely hope that this unique, attractive, and affordable concept of shaved ice creams finds its place among the hearts of Indians," Rohit Kakde, Founder and CEO, Frozen Ribbons remarked.
Following the launch of its first store in New Delhi, Frozen Ribbons is looking forward to opening outlets in Bangalore and Hyderabad. The brand aims at opening 50 retail franchise units in major metro, Tier-I, and Tier-II cities across the country by the end of FY 2019-2020, and is currently looking for franchise partners.
Similar News
While Amul plans expansion, Havmor launches'leaner' range and others are focusing on candylines
Amul's super premium range might trigger a price war