Garmin taps into Indian Market with Shoppers Stop
By Retail4Growth Team | August 26, 2019
Garmin's association with a retail giant like Shoppers Stop aims at capturing the new market opportunities and network expansion across the country.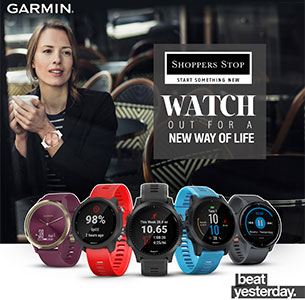 To augment its retail presence, in the ever-growing demand for smart wearable and fitness devices, Garmin India - a unit of Garmin Ltd announced its association with Shoppers Stop, India's premier fashion retailer.
Through this association, Shoppers Stop stores and website (https://www.shoppersstop.com) will be pivotal for Garmin to enhance the overall experience for walk-in and online customers. Further in next phase of expansion, the company plans to make a mark in the metros like, Delhi and Bangalore. The association with a retail giant like Shoppers Stop aims at capturing the new market opportunities and network expansion across the country.
Speaking on this announcement, Ali Rizvi, National Sales Manager - Garmin India said, "Indian smart wearable industry is growing rapidly and holds a lot of opportunity in serving the customers. This association is a step further in tapping new customers and showcase them the performance of global technology from the house of Garmin. This association will further embark us in expanding our footprints and bring all together a new experience and range of products for the enthusiasts who search for advanced features and performance in their smart wearable."
Speaking on the announcement, Uma Talreja, Customer Care Associate, Chief of Marketing & Customer Officer said, "The market for smart wearable and fitness devices is booming and with our exclusive in-store association with Garmin India, we aim to enhance the experiential quotient for our customers and help them to make an informed purchase decision. Garmin has a very focused fan following and is a credible source of fitness support for its fans and we look forward to welcoming them to our stores and equally excited to bring the best in fitness to our existing customers as well at their favourite Shoppers stop stores."
At Shoppers Stop, the fitness enthusiasts can experience their favorite gadgets like, Garmin Vivo series, Forerunner Series, Fenix Series and Instinct at Shoppers Stop stores. The watch range will be available to customers in five cities – Mumbai (Inorbit Mall, Malad), Chandigarh (Elante Mall, Industrial Area Phase 1,), Lucknow (Fun Republic Mall, Gomti Nagar), Hyderabad (Inorbit Mall, Cyberabad) and NCR (Shipra Mall, Ghaziabad). The brand experts will also be available at these stores to guide the customers with its features and help them in finalizing the most appropriate gadget as per their requirement.
For more updates, subscribe to retail4growth newsletter - Click here
Similar News
The company posted an EBITDA of INR 50.1 crore in the quarter, up by 15.4% owing to significant operational efficiencies.
Designed by the German retail design firm Schwitzke & Partner, the new store is located at the posh Gaur City Mall in Noida.