Getting down to the MT dynamics
By Rajiv Raghunath | Vjmedia Works | 1 | April 17, 2013
We take a closer look at MT and how various factors, including rising new challenges, the changing retail scenario, the new FDI policy and others affect brand visibility in this space.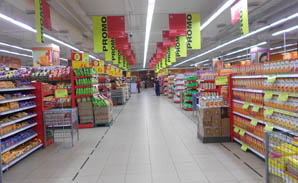 Modern trade presence is an inevitable need for most brands, even if a bulk of their sales comes from General Trade. In contrast to traditional outlets, hypermarkets/convenience stores are an easier way to expand distribution. Hence, for many brands, the growth in modern retail is an obvious advantage. So how well can a brand capture the shopper in the midst of clutter with hundreds of brand jostling against each other, screaming for attention?
Creating the right environment
A key factor in ensuring consistence of brand presence at MT is creating the right visibility environment. Says Yogesh Chawan, Creative Head, Yogesh Chawan based out of Mumbai, "At a MT store, POSM Design and structure should be capable of making the consumer connect with proper placement at right level so that it can create an environment of better sales." Thus visibility as thought of earlier has become redundant but the options available for visibility are still the same. So in essence, it is all about communication and customization.
According to Vicky Philip Thomas, Director, The Circus Entertainment, a Delhi based Brand/Activation/Events/Retail Solutions provider, there are three fundamental points to be borne in mind while creating visibility at MT:
-It should be dynamic, attractive and clutter breaking
-It should communicate to a consumer
-It should communicate with a call to action.

Changing scene, changing briefs
Given the rising challenges in MT, it is not surprising that brand briefs are also changing by the day reflecting their changing needs. To begin with, brands seem more concerned about the life and placement of POSM at the store today. Also, gone are the days of fixed, pre-printed written-in-stone kind of an approach to briefs. Instead today they are more flexible and adaptable as per the rising new situations. With the retail scenario changing every day, the briefs are'situationalised' and have moved from being brand centric to being more of competition centric, according to Yogesh.
Sukanya Bose, Director, Planet Dezign, a Mumbai based Strategic Dezign and Retail Solutions Company, adds, "As compared to five years ago, it is definitely more competitive. Brands don't just give brief for his product/service, but also expects a competitor study in the same arena and then derives the best solution for visibility."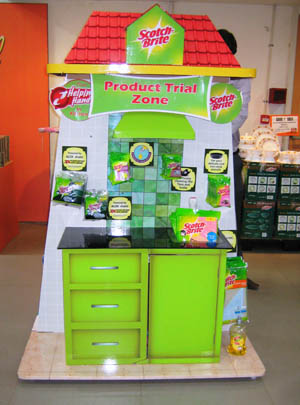 Materials and fabrication
Increased competition also means greater emphasis on differentiated communication and hence the need for a holistic approach on the part of the brands towards POSM designs and innovative materials. There is thus greater thrust on POP producers and merchandising solution providers to come up with dynamic solutions using new age materials such as HIPS, LED Lights, Moving Mechanisms, 3D structure, larger-than-life product displays, vibrant colors, finish, props etc.
Says Nabeel Khan, Retail & Communication Head, BMS, "Each POSM material given whatever the size, has its own capability when strategically placed to grab consumer attention & thus garner a sale for its particular brand. POSM like danglers and PP Cubes are mainly used for striking or hammering the brands message or identity again and again into consumers mind. If placed strategically they serve the purpose of the brand. Parasites, Floor stacks and Island Units are the most sustainable POSM in MT as they are complete attention pullers at the trade if designed in a right manner."
Sukanya adds, "Brands are looking more into interactive POSM solutions, a visibility solution that not only pulls the shopper, but also keeps him engaged for some time. Innovative utilization of end caps I feel is the most sustainable." According to Vicky, "Security sensors and the glass façade are the most sustainable POSM. It is equally important for you to stand out your regular end cap to woo the shoppers. We had fabricated reusable FSUS for one of our clients and when we went for the change-over we found out that 20 to 25% of the FSU were missing. Chances of this are very high when structures are not part of the store layout. Technology I believe is the new material in POSM. Improved versions, 3D lenticular, holographic printing, touch tables, is something that every client is interested in."

MT in the context of GT
Any discussion on MT is incomplete without looking at the dynamics at play in a GT environment because both are inextricably linked to each other despite their differences. A brand has to clearly understand these differences if it has to execute a good visibility plan at MT. So the approach needs to be more oriented towards innovation, while GT is more about space availability and simplicity of execution. GT works on trust and word of mouth, hence the approach needs to be more retailer-friendly.
Says Sukanya, "Visibility at a general trade ambience is complicated as it is cluttered and because shoppers do not spend enough time in the stores, they generally come with specific requirements, and are not looking at impulse purchases. Hence, within these limitations the brands need to draw attention and induce buying. Also, since volumes are more, an economical solution is a priority at GT." This is obviously not the case in MT where the thrust needs to be on consistently driving brand recall.
FDI and its impact
MT is in the midst of changing retail trends, including the new FDI policy with which new competition from international players are expected. Thus, both brands and their merchandising partners need to gear up to raise the bar where communication at MT is concerned. So, how are the pop producers and solutions providers catching up?
Says Yogesh, "The Indian market works on good relationships with their partners and vendors. There are other factors like availability of cheap labor, uninterrupted availability of raw materials and the cost of production. For us in India there is less production cost when compared to international players. Also, we have a better understanding of Indian consumer. We at Brand Mark in particular are abreast of work culture and lifestyles. We are also well-versed in terms of legalities."
Says Vicky, "Retail execution is more about communication and campaigns, and not just about simple visibility. Creativity, design, communication and technology are where we are investing in. Besides, we are also in contemplation on the pros of having an in-house production to counter this trend."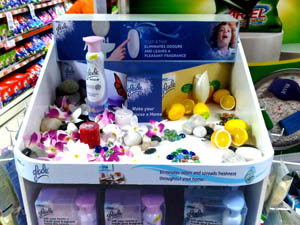 Challenges
But even as industry players pull up their socks and upgrade their services, any initiative and approach also has to be in clear response to specific challenges that are inherent to the MT environment. "There are various questions to be borne mind for a vendor while addressing the demands of the brands in terms of retail visibility; the reason being that mass media is far from where people actually buy things. Do people shopping in any retail store remember the TV commercial of a brand? Or has a competitor's ad campaign wiped out this effect? The foremost challenge for any retail solution/design agency is to match the in-store displays and packaging design with the ATL campaign," emphasizes Yogesh.
According to Sukanya, the only challenge lies is coming up with new innovative concepts. "The MT shopper today is educated and well informed about most products. So how to pull her attention by providing innovation and creativity is the biggest challenge," she says. Vicky for his part makes an important observation when he says, "POSM and structure designing is all about restrictions. With clients demanding new and innovative concepts it becomes very challenging to integrate experience and structures with such restrictions. Since most of the retail chains use international standards to create store, it is time to create stores that are suitable for the Indian shopper. The major challenges are cost of space, electrical support and permission required for installation."
Solution
Well, the MT space is obviously at a transition phase and this space requires close integration between the retail brand, the manufacturing brand and the merchandising solution provider to develop the right platform. It is essential that the MT space takes into account the mindset and behavior of the new age shopper spoilt for choices, weaves in the conveniences of a traditional Indian buying environment and flexible enough to accommodate innovation in brand visibility. For both brands and retailers, it is thus inevitable that they study their shoppers in the context of the buying environment.