Getting the beauty quotient right!
By Nabamita Chatterjee | October 11, 2017
According to Assocham, the market size of India's beauty, cosmetic and grooming market will reach $20 billion by 2025 from the current $6.5 billion depending on the rise in disposable income of middle class and budding desires of people to live a good life and look good. Point-of-Purchase looks at this flourishing vertical and brings you an overview of the growth factors, industry trends, in-store marketing strategies and viewpoints from some brands catering to the Indian market.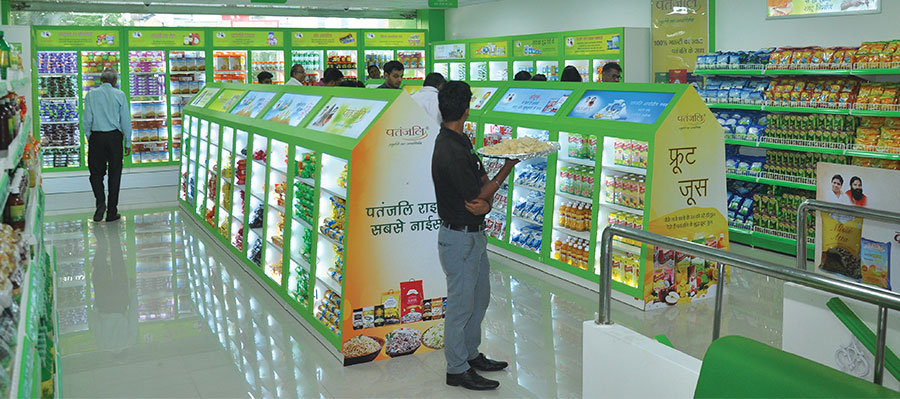 Personal grooming and beauty therapy is considered as an integral part of today's generation. India being a growing nation has stayed strong in the development of this category with its huge consumption pattern.
Driving factors
Fast moving consumer goods (FMCG) is the 4th largest sector in the Indian economy. There are three main segments in the sector – food and beverages which accounts for 19 per cent of the sector, healthcare which accounts for 31 per cent and household and personal care which accounts for the remaining 50 per cent as per the report of India Brand Equity Foundation.
It is anticipated that the Product innovations, continued demand for naturally positioned products, premiumisation and consumer willingness to experiment with new products has helped drive value growth, and will continue supporting the industry in its development. Another significant reason is that the rural population too is joining the mainstream with advancement in linkages with the cities by roads, telecommunication and the firms or FMCG companies reaching out to the people in villages and small towns.
Major Players Dominating Indian Market
India's personal care industry is primarily composed of hair care, bath products, skin care and cosmetics, and oral care. The top three players in the Indian market are international players, namely Hindustan Unilever, ColgatePalmolive India and L'Oréal India. The other international players with a strong presence in the Indian market include Gillette India, Johnson & Johnson (India), Reckitt Benckiser (India) and Procter & Gamble Home Products. All these companies have an extensive assortment of merchandise at varying price points across categories with worthy distribution networks. Domestic players are also very fast catching up the souk, gradually due to the development of the trends towards natural, herbal and Ayurvedic products. Prominent domestic players include Godrej Consumer Products, Dabur India, Marico, Wipro Consumer Care, Emami and Patanjali Ayurved.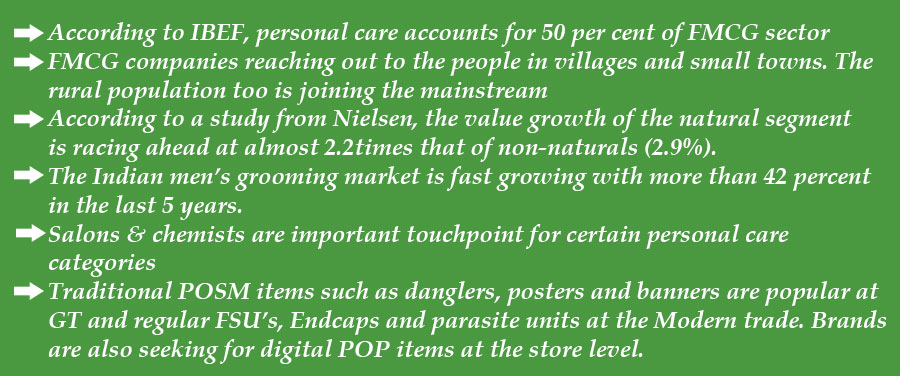 MARKET TRENDS
Growth of Natural and Herbal Products
According to the Nielsen retail index as published in Nielsen India Personal care Report, the natural personal care segment is estimated at INR 18,500 crores (USD 3bn) and comprises about 41% of total personal care sales. The value growth of the natural segment is racing ahead at almost 2.2times that of non-naturals (2.9%).
The key players in the beauty and personal care market launched products on the natural platform to tap into this emerging trend. Some of the notable new product launches witnessed in 2016 on the natural platform included Godrej No 1 Germ Protection Bar Soap, Dove Elixir Nourished Shine Hair Oil with Hibiscus & Argan Oil, Forest Essentials Amla, Honey & Mulethi hair cleanser, Colgate Sensitive Clove toothpaste, Colgate Cibaca Vedshakti toothpaste and Patanjali's Saundarya Aloe Vera Gel with Kesar Chandan. This movement was observed across several beauty and personal care product categories during the last year and is projected to remain over the impending years.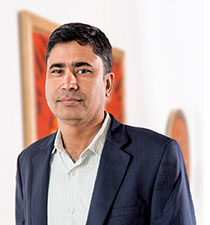 Retailing it rightly
"Ayurveda or Herbal range powered with health benefit is now becoming very popular among the consumer with the rise of lifestyle related disorders and consumers increasingly looking for natural solutions for the same. We have a strong portfolio o f Ayurveda based products and we are continuously taking various initiatives to highlight the benefits of them for better consumer engagement at stores," Madan Pandey, President, Sales, Emami Limited shares with POP.
A granular look at retail channels and town classes also reveals a pattern of preferences for naturals. While naturals are growing faster than non-naturals across population strata and channels, chemists emerge as the fastest growing channel for naturals.Avinash Kumar, CGM – Media & Branding, Patanjali Ayurved Ltd. shares with POP, "All our products including the personal care range have been born out of the need of "ayurveda" in human lives. Therefore, we are not o n l y promoting our several ranges but also encouraging our consumers to choose overall holistic health. We have more than 700 SKUs inclusive of food and personal care ranges. We plan to create separate shopin-shop zones format for Divya Pharmacy in all our Megastores. We are also using end caps to promote seasonal categories, while danglers and category headers have been made mandatory for all our ranges. Going forward we will categorize more between food and non-food items (personal care range).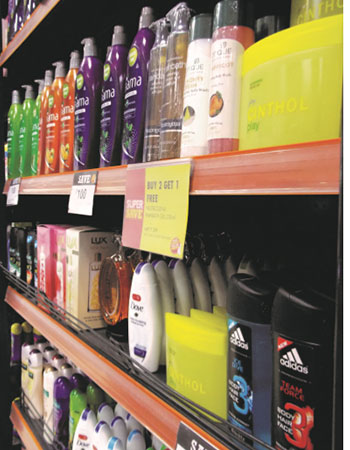 Men's Grooming Market gaining momentum
As per Assocham, there is a growing desire amidst Indian men to look well groomed, and it has led to the Indian men's grooming market's fast evolution of more than 42 percent in the last 5 years. The study further showed that this growth is faster than the growth rate of the total personal care and beauty industry in India. Additionally, as more Indian men are looking to remain competitive in the workforce, they are looking for products to help them sustain a youthful look.
Interestingly, men who fall in the age group of 18 to 25, spend more money on grooming and personal care products than women in India. The objectives and necessities of today's young Indian men are promptly developing. With a flow in disposable income, men are becoming more perceptive and permissive. In a developing trend in India, men are beginning to look at advanced grooming and personal care products made specifically for them," highlighted the study of Assocham.
Madan Pandey shares, "For Men's Grooming especially we have launched many new products for the coming festive season to create an excitement among the shoppers who are always on the lookout for innovative products. Some of the products recently introduced are Fair & Handsome Laser 12 Advanced Whitening and Multi Benefit Cream for Men, HE On The Go Waterless Facewash for Men ( the only Waterless Face Wash in India). We have activated our product communication through social media & POS at store outlet and has got an aggressive spending plan for shopper marketing initiatives to drive the brand imagery and create direct connect with the targeted consumer.
Varied Consumption patterns
It has been observed by the market players in Indian market that the consumption pattern of cosmetics among teenagers went up considerably between 2005 and 2015 because of increasing awareness and craving to look good Over 68 percent of young adults feel that using grooming products boost their confidence. Brands such as L'oreal, Lakme, Maybellene, Nivea and Color Bar are being pushed as mass market products and focus on younger women and women with lower buying power, noted the study of Assocham. While these are little expensive products, the price barriers are also being broken both by the consumers and the manufacturers.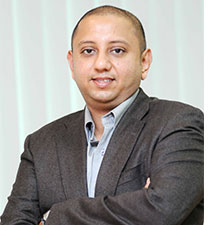 Rohit Prakash Gupta, Marketing Head- Skin Care & Home Care, Dabur India Ltd.
shares, "Our beauty skin care products like Oxy Life, Fem and Gulabari are mostly targeted at young women between age froup of 25-45 years mostly, who are primarily working women. For us the retail channels are mainly two, one is the MT and GT and the other is the chain of Parlour's. We believe that each channel acts as a very important touch point for us." The brands are thus looking for various innovative marketing solutions to reach their target audience. Apart from the traditional danglers, posters and banners at GT and regular FSU's, Endcaps and parasite units at the Modern trade, they are also seeking for digital pop items at the store level.
Avinash Kumar shares, "We are looking to add digital interfaces at our megastores if we get some good partners. However, at this point, we do not think, it augurs well with FMCG brands. However, we are in talk with some of the leading corporate for effective planograms and we also plan to bring augmented reality wherein a whole store can be experienced through mobile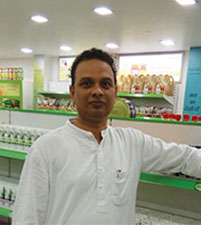 phones.
Omni channel retailing
About 62 percent of young consumers in big cities prefer to buy online beauty and grooming products whereas, 45 percent of consumers tend to buy cosmetic, apparel items from any shop of their convenience rather than a single shop. Both quality and value for money is being sought by consumers says Assocham.
As E-commerce is growing rapidly in India, and because of the growing use of smart phones, Indian e-commerce will probably quadruple within five years as per market study. Multinational firms sell a lot of products in India, but some Indian firms already have sales of more than one billion in US dollars. The ability to place online orders for a variety of health and beauty supplies and medications is not only convenient, but also a boost to the industry.
Way Forward
Hence, according to the industry trends we may conclude by saying that the Indian personal care market has high growth opportunities riding on the above factors, which have been influencing the purchase decisions and opening new avenues for the retailers as well as solution providers alike