Glass Sutra opens its first studio in Delhi
Vjmedia Works | March 31, 2017
Glass Sutra opens its first studio spanning over 5000 sq ft at Delhi's Chhattarpur area.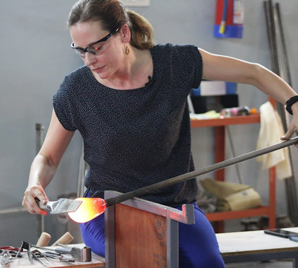 Glass Sutra, a brand that is curator for glass art and facilitator of glass craft, opens its first experiential studio at Delhi's art and design marketplace Chhatarpur area. Built over an area of 5000 sq.ft. in Delhi, it will act as a design and practising den for international and national glass artists.
Reshmi Dey, the founder of the place, said, "Glass art is one of a kind practise of an individual's artistic expression. It includes intricate techniques and methods of working with glass. These techniques require a lot of precision and finesse."
As part of the Studio's active International Visiting Artist Program, acclaimed glass artist Helen Tegeler, from The Corning Museum of Glass (USA), was here to conduct workshops and demonstrations throughout the month of March fuelled by her expertise of 24 years.
Helen Tegeler said "It can be very difficult to find the space, freedom and opportunity to make work in glass, even as a professional artist. The diverse programmes offered by Glass Sutra opens gate for enthusiasts to a world of experimentation and creativity. I am honored to be a part of the opening launch! "