Hindware launches digitally integrated stores; to open 400 brand stores in next 20 months
July 29, 2017
The leading bath fitting brand launched its first digitally-enabled store in Mumbai with plans to build aggressively on their exclusive brand outlet network.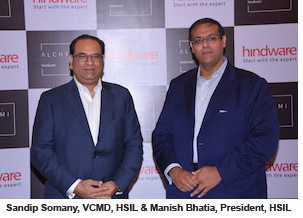 Hindware recently launched its state-of-the-art revolutionary concept store Lacasa in the upscale area of Vile Parle, Mumbai. The 4000 sq. ft. showroom will have digital Integration at every point for easy selection of products where consumers will be provided a smart device to capture their favorite products and then drop all of them into a smart screen for consultancy and building a bathroom of their choice. The specially designed stores will take consumers on an exhilarating journey with multiple alluring bathroom suites displaying beautiful combinations of the products. Apart from the other brands from the house of HSIL Limited, the Lacasa store will also showcase and offer the 4 suites curated by designer Manish Malhotra from the latest super-premium brand Alchymi. The company will invest aggressively in setting up 10 new Lacasa and 200+ Galleria stores across the country by 2020.
The brand has also revealed its plan to open 400 exclusive brand stores in India in the span of next 20 months. HSIL has also launched its brand-new identity with new azure symbol of expertise 'HW' and tagline, 'Start with the Expert'.
The company has recently undertaken extensive research and reached out to 20,000+ consumer and 100+ architects. This research suggested that modern consumers seek expert advice to validate their choices and make their hectic lives easy. The positioning of an Expert Companion embodies the trust and faith of the consumers which Hindware has assimilated over the past 57 years. Hindware will be stepping up investments across ATL and BTL platforms to promote this new brand identity to engage consumers across multiple touch-points, including the digital media, to enhance visibility.
Sandip Somany, VCMD, HSIL Limited, said, "Hindware has been at the fore front of innovation for close to six decades. Today, with the rapidly changing times, improved technology and product innovations coming into the category, bathrooms are becoming more personalized yet complex. Hindware's repositioning as an expert brand will fill that space and be a companion to consumers on their bathroom design journey."
Mr. Manish Bhatia, President, Building Products Division, HSIL Limited, commented, "To reinforce our already-built rapport with our clients, we plan to gallop with our services like Hindware DreamBath App 2.0, Expert website, State of the art Hindware Design studio, Digitally integrated brand stores, Hindware in-store consultants and Hindware DreamBath Book V2. Through these initiatives, we are not only expanding our footprint, but creating a space for our consumers to explore along with our expert help."