IKEA launches its first India store
By Satarupa Chakraborty | August 09, 2018
Spread across 4,00,000 sq ft area and located at Hyderabad's tech hub HITEC City, IKEA's first store in India is the brand's formal commencement to open retail stores in 40+ cities across the country. The retailer's entry into India's retail shore is expected to challenge value shopping in home segment.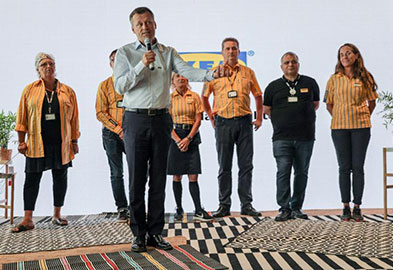 World's leading Swedish home furnishings retailer IKEA has officially opened the door of their first store in India in Hyderabad. This is a landmark moment for IKEA after it got FDI approval in 2013 that allowed 100% FDI for single brand retailers in India. IKEA has been sourcing from India for its global stores for more than 30 years. Its plan to open retail stores in 40+ cities across the country, reinforces its long-term commitment and deep connection with India. IKEA sets out to become a truly unique, meaningful and trusted brand in India, making everyday brighter and better for the many people and this dream seems closer to reality today as we wait to see what the Hyderabad store will offer.
The store is 4,00,000 sq ft large and is spread over 13 acres in the heart of Hyderabad's tech hub HITEC City and promises to be a 'fun day out' for the family. It will offer 7,500 affordable, good quality, value for money home furnishing products, all under one roof.
On the occasion, Jesper Brodin, CEO, IKEA Group said, "Today is a proud moment as it marks a major milestone in a journey that started more than 30 years ago when IKEA partnered up with local manufacturers in India. We have a long-term commitment to India, which is an important market for us. We bring an inspiring, affordable and convenient home furnishing offer and we are more than ready to meet and understand the needs, frustrations and dreams in the everyday lives of our customers in India."
The IKEA store in Hyderabad will offer ideas, inspiration and solutions. It will exhibit 2 full homes that reflect Life at Home in Hyderabad, besides different room sets based on different parts of the home like bedroom, kitchen, children's room and living room. It will also have a market hall where you will find home kitchen utensils and accessories, textiles, rugs, lighting, decoration, stationary and even live plants.
The store also houses a 1,000-seater restaurant, IKEA's largest and possibly India's largest restaurant, a café which will offer coffee, bakes, frozen yogurt and many more for purchase, a kids' play area named Småland where customers can leave their children safely.
IKEA's business idea is based on ambition of reaching the many people with thin wallets. As it sets a goal to reach 200 million people in the next 3 years, the foundation for a strong and relevant offer is affordability and accessibility. IKEA will attract the many different segments in society and not just the few.
Peter Betzel, CEO, IKEA India said, "At IKEA the people, the community and our contribution to safeguarding the health of the planet is the biggest priority. Over the last five years Juvencio Maeztu and the team here have laid a very strong foundation and a solid base for IKEA to be successful. I thank all our friends in India including the government and officials for all the support and partnership to make this dream a reality."
The IKEA store employs 950 co-workers in Hyderabad directly and 1500 indirectly in services and expects to host close to 7 million visitors each year. There are currently 403 IKEA stores in 49 countries with a sales volume of 38.3 billion euros. 936 million customers visited IKEA stores in FY17 and more than 2.3 billion people visited IKEA online.