Intex opens its 100th store in Jaipur
Vjmedia Works | November 11, 2016
Indian electronics brand Intex opens its 100th store in Jaipur since its brick-and-mortar retail inception 18 months back.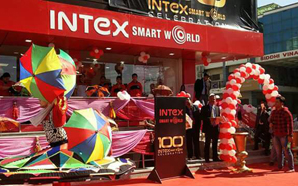 Indicating 100 stores rollout in 18 months, Electronics brand Intex opens its 100th store at Vivek Vihar in Jaipur. The city gets its second store while the third one is slated to open. This 600- sq ft franchisee-owned exclusive brand store will house a range of white and brown goods along with their range of mobile phones.

Responsible for the design execution, Manish Chandra, Director, Entasis, said, "The brief we got before executing the store was to provide experiential design and world-class feel." The brand is looking for lateral growth with no specific retail-expansion plan as of now.