Jewellery Industry - an integral part of Indian lifestyle
By Subhro Prakash Ghosh | Vjmedia Works | February 10, 2015
Luxury retail experts Abhay Gupta, Founder and CEO, Luxury Connect and Luxury Connect Business School, and Rajat Bhattacharya, Co-Founder and Campus Director, Luxury Connect Business School, conducted an exclusive workshop for jewellery retailers at In-Store Asia 2015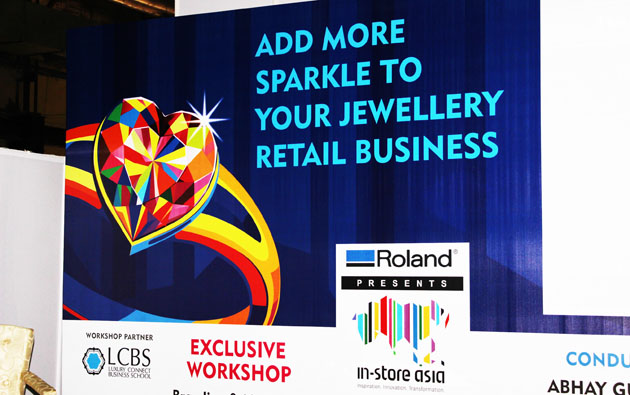 Luxury retail experts Abhay Gupta, Founder and CEO, Luxury Connect and Luxury Connect Business School, and Rajat Bhattacharya, Co-Founder and Campus Director, Luxury Connect Business School, conducted an exclusive workshop for jewellery retailers titled'Add Sparkle To Your Retail Jewellery Business' on February 7 at the In-Store Asia 2015 show that was organised in Mumbai during February 5-7. Gupta and Bhattacharya shared their points of view and case studies on building luxury brands, creating the visual merchandising strategy for luxury goods consumers, and developing the right HR and CRM systems and processes to drive luxury retail business.
Gupta said the jewellery industry has remained an integral part of Indian lifestyle, going back to almost 5,000 years. "The range of jewellery in India varies from the religious to purely aesthetic types. Jewellery is symbolised as wealth and considered as the most important investment by Indians," he said.
He stated that there has been a sharp increase in the share of organised jewellery retail in the overall jewellery retail business. Over the period between 2008 and 2013, local and independent showrooms have dominated the market with a share of 78%. Gupta said: "The share of regional chains like Mehrasons, PC Jewellers, and others have increased significantly from 7% to 17% while the share of national chains like Kalyan Jewellers, Malabar, Tribhovandas Bhimji Zaveri (TBZ), and others have grown from 3% to 5%".
Gupta presented a case study of TBZ, one of India's largest jewellery chain. Established in 1864, TBZ in Mumbai's Zaveri Bazaar, today has 27 showrooms in 21 cities across India. Though it is still a family-owned business, its presence in the Indian market is marked by a number of firsts. TBZ has been the first jewellery retailer to offer buyback guarantee on gold jewellery, first to promote the concept of lightweight jewellery, first to offer certified solitaire diamonds and first to innovate branding strategies.
"Why is branding important? Brand is the way your customer perceives you. A good brand doesn't just happen, it is a well thought out and strategic plan. The three mantras of branding are defining brand DNA, brand differentiation, and brand positioning," said Gupta.
Sharing yet another case study, that of Tiffany & Co, Gupta said that this renowned brand has been positioned as a product, as a medium of emotion and its Facebook page has been used to tell the story of the brand. Tiffany was one of the first brands to update its Facebook page, presenting facets going all the way back to the founding of the company in 1837. Tiffany's Facebook page also reinforces the exclusivity of the brand, sharing images of celebrities and prominent figures out of their diamonds. "With their social media presence, Tiffany is impressing consumers by tapping into the sentiments involved in purchasing fine jewellery, particularly engagement rings," Gupta shared.
In the next part of the session -- visual merchandising and store design -- Bhattacharya iterated the fact that "the visuals of your jewellery store will be your customer's takeaway. Having the right merchandise is not enough, merchandise must be displayed in a way that shows off its beauty and invites browsing."
For a jeweller, vision is the most powerful of senses and the visuals of a jewellery store will be a customer's takeaway. So, some of the visual merchandising techniques include space and grace. "The more the space the better and be graceful. Be elegant since innovation is an important element," shared Gupta.
Speaking about customer service, Bhattacharya said, "Customers expect service to be at the same level as the creation of brand is promoting. Service costs nothing. A consistent service helps build the brand's image and create a wow factor. Customer Service needs personalisation".
Giving an overview of the reasons why a customer leaves, Bhattacharya shared statistics that said that 1% die, 3% move away, 5% develop other relationships, 9% leave for competitive reasons, 14% are dissatisfied with product or service and 68% leave because of rude or discourteous service.
"The customer wants you to invite him back, listen to him, help him, greet him, and most importantly, value him. Customer Responsibility Management (CRM) is now a top priority for brands. It refers to a system of managing company's interactions with their customers to gain their loyalties. Develop a powerful CRM culture specific to your brand DNA," said Bhattacharya. He also urged the jewellers present at the workshop to objectively measure the customer experience locally and make customer experience measurement results transparent within the organisation. He also said that educating the customer about the products is extremely important.
The luxury retail expert shared another case study, of Pandora Jewellers which adds sparkle to customer experience with Microsoft dynamics. "Pandora's mission is to offer women high quality, hand-finished, modern and genuine jewellery at affordable prices. To ensure all customers have a great experience while browsing and buying. Pandora has recently increased its investment in CRM," said Bhattacharya.
After implementing Microsoft Dynamics in 2009, CRM has evolved into a system that touches almost every aspect of the business -- from marketing to sales, merchandising and consumer affairs. With the CRM update, Pandora's field representatives are able to review customers' history with the brand, answer questions and make product recommendations. Through Human Resource selection, people make organisations smart, so Bhattarcharya urged the jewellers to hire people with good communication skills, technically qualified and trained and with pleasant personality. He made it mandatory to develop a training programme in order to train the hired staff according to the company norms. "The sales representatives are actually the ambassadors of the brand and should be called one. So educate the sales ambassador about the product".
Bhattacharya concluded the workshop by reiterating that the pre-requisites of a sales ambassador include customer sensitivity, decisiveness, flexibility, follow up, impact, initiative, integrity, job knowledge, judgment, motivation to serve, planning and situation analysis.