Kingfisher now goes high on lemon, thanks to Radler
By Smita Sinha | December 24, 2018
The brand from the UBL group has entered the non-alcoholic beverage segment with its new lemon-based drink brand Radler, which is being actively promoted at retail.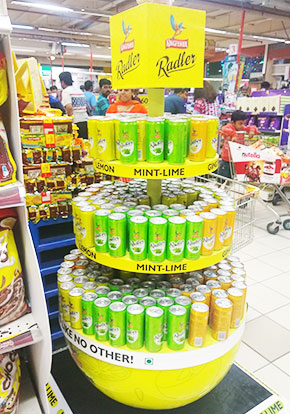 United Breweries, India's largest beer maker, has forayed into the non-alcoholic beverage segment with its new lemon-based drink brand Kingfisher Radler. Radler is a blend of lemon juice and imported barley malts, which comes in three flavors – lemon, mint lime, and ginger lime.
Punyabrata Dashsharma, GM – Marketing NAB of United Breweries, told Retail4Growth, "There are two reasons why UBL entered the non-alcoholic beer segment. First, UBL wants to get into the consumer space, where customers are lapsing out of the carbonated drinks which are currently available in the market and looking for an alternative drink which contains less sugar. Also, we want to target people who don't drink beer and those occasions that are non-alcoholic. Secondly, we want to extend the brand beyond beer and into geographies which were inaccessible to us."
Currently, Radler is test-marketed in Ahmedabad and Karnataka before it is taken pan-India. "Two test markets which we looked at - Ahmedabad, where the company has no presence, and Karnataka, where we have the highest market share in terms of sales. Before taking it pan-India, we want to test these markets first and understand the consumers' behavior and understand if we need certain changes in terms of product or packaging or communication," Punyabrata said.
Kingfisher's non-alcoholic beer contains 30 percent less sugar than carbonated soft beverages. It is priced at Rs 45 and is available in 300 ml cans and glass bottles.
Similar News
The quick service restaurant chain will open 15 more outlets in the city by the end of current fiscal.
Set to commission 12 million cases capacity plant in Bihar
The company\'s net sales rose to Rs 973.9 crore for the fourth quarter as compared to Rs 931.92 crore in the same period of previous fiscal