Lenskart partners with Truecaller to enhance customer experience
By Nabamita Chatterjee | Vjmedia Works | May 25, 2017
Collaboration with Truecaller Priority will help customers identify'power follow up' calls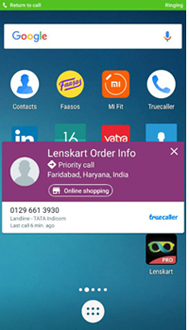 Lenskart.com, a leading eyewear portal for better customer engagement announced a strategic collaboration with Truecaller. The partnership between Lenskart.com and Truecaller for its Truecaller Priority feature is aimed at enhancing the experience of the end customers by helping them identify important calls regarding their orders on Lenskart.com. The integration will enable the unique Lenskart number used for 'power follow-ups' to appear with the label 'Lenskart Order Info' and will appear as a 'Priority call' on the Truecaller interface, making it easier for users to recognize the relevant communication from Lenskart.
Announcing the partnership, Peyush Bansal, Founder and CEO, Lenskart said "At Lenskart we constantly strive to enhance the user experience by improving our portfolio, services etc. This time we are very pleased to bring the Truecaller Priority feature to our customers. There's a single number owned by Lenskart which is used for reaching out to customers for confirming their eye powers and now it will be marked as a 'Priority Call' and will be identified as 'Lenskart Order Info'. This will not just aid Lenskart representative but will also ensure that our customers do not miss out on important calls such as these. We are confident that this will ensure the delivery of correct items and add immense value to both sides."
Performance of this integration will be measured in terms of improved customer satisfaction (NPS), faster order processing, lower cancellations, and refunds.
Arun Krishnan, Director, Strategic Partnerships at Truecaller said, "In a highly competitive market, it is critical to ensure enhanced consumer experience. It becomes even important once the user has placed the order and expects action from the firm. Not only does it add greater efficiency and precision in Lenskart's follow up outreach, but also helps our users stay ahead by helping them identify the right call."
Following the partnership, Truecaller priority will also help Lenskart.com to standardize the look and display of the company contact information flashing on Truecaller users mobile. It will not only allow customers to easily identify a call from Lenskart.com representative but will also build trust due to the standardization of the calling numbers, allowing customers to answer critical calls from Lenskart, related to confirming and noting their eye lens power.