Licious appoints Bhaskar Raju Konduru as CTO
By Retail4Growth Team | December 05, 2019
Bhaskar comes with a deep understanding of the Indian startup space, given his decade-long work at redBus as a founding member.
Licious, announced the appointment of Bhaskar Raju Konduru as its Chief Technology Officer (CTO). "The strategic appointment is aimed at strengthening the brand's technological capabilities, augmenting existing products and establishing newer capabilities," the company said in a statement. In its fifth year of operations, the Bengaluru-based company plans to strengthen its pan-India presence and provide newer and more innovative solutions to its rapidly growing customer base.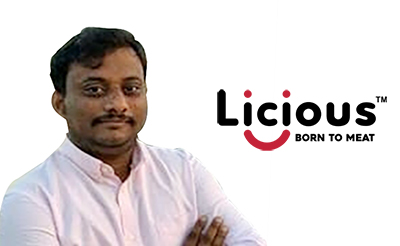 Bhaskar comes with a deep understanding of the Indian startup space, given his decade-long work at redBus as a founding member, followed by his stints with start-ups like HelloClass, Pharmeasy and Housejoy among others. A Computer Science engineer from JNTU, Hyderabad, Bhaskar was always clear about choosing the excitement and innovation of a career in startups over the comforts and security of an MNC job.
After completing his Masters in E-commerce from Naspers Academy, Dubai, Bhaskar helped several GrowthStory portfolio companies in scaling and advancing their technological capabilities.
Commenting on the latest appointment, Manoj Mishra, Head - Human Resources & Admin, Licious, said, "As we welcome Bhaskar as the CTO of Licious, we are excited about the next phase of the company's growth journey. Being a digital native platform, technology has always been an integral part of the Licious growth journey. Top notch tech talent and enabling leadership are imperative to our success and Licious has been successful in carving out a niche for people looks at pursuing a career in technology. Bhaskar's rich experience & expertise is sure to bolster that progress."
Bhaskar Raju Konduru, CTO, Licious, said, "A chance to work with a brand like Licious is indeed transformational, primarily because of the immense impact that technology has been making in a massive fnb market in India. Over the last 4 years, Licious has grown rapidly from being a delivery platform to a consumer brand and has done some remarkable work across its product lines. I couldn't be happier to be a part of the team at such an important time in its development. The Company is looking at transforming the way Indian experiences meat & talks about it & technology will have a massive role to play in this journey. Having worked across business verticals & markets, I am looking forward to disrupting the meat & seafood category with never-seen-before tech intervention."
Since its inception in September 2015, Licious has played a pivotal role in organising the fragmented $40-billion market in India. As a category-first and digitally native brand, backed by technology, Licious has been able to solve the prevailing customer pain points of quality, hygiene, freshness and convenience in a sustainable manner.
Currently, Licious processes more than 17,000 orders every day, with nearly 90 per cent of the business coming from repeat clientele. Licious has several industry-first initiatives to its credit - aseptic cold chain processing facility managed by doctors and meat scientists, first-in market technology like vacuum packing and modified atmosphere packaging to maintain freshness of short shelf-life products, and IoT-powered refrigeration technology across all stages of cold chain.