Microsoft launches flagship store in the heart of London
By Retail4Growth Team | July 17, 2019
The flagship store covers 22,000 square feet of space with spectacular architecture and store associates collectively speaking 45 languages.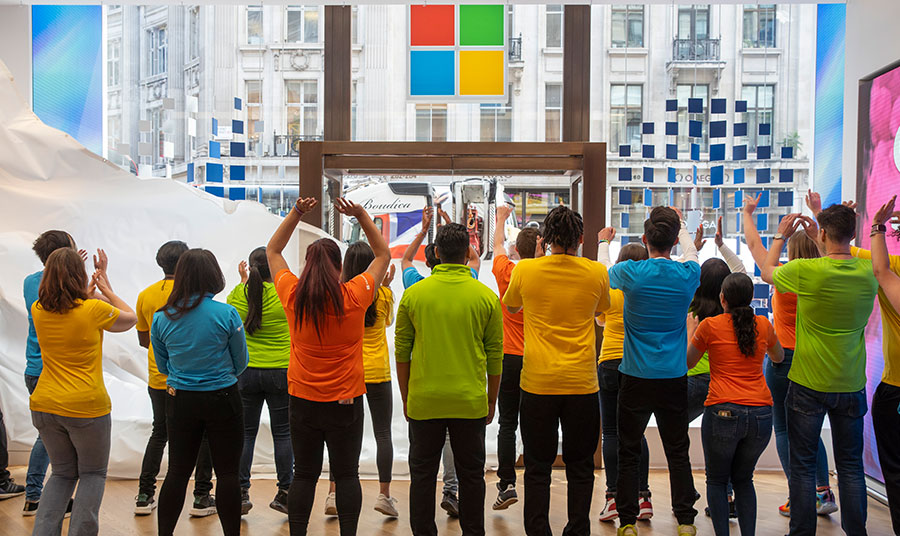 Microsoft's new flagship store in London has opened its doors to the public for the first time, with people waiting for hours to be among the first to set foot inside.
The first physical retail store for Microsoft in the UK, which is located on Oxford Circus and covers 22,000 square feet over three floors, was officially unveiled to the crowd at 11 am on July 16th.
Chris Capossela, Microsoft's Chief Marketing Officer, Cindy Rose, UK Chief Executive, and Senior Store Manager John Carter welcomed the public by giving speeches in front of the doors on Regent Street.
Rose said the store was a "symbol of Microsoft's enduring commitment to the UK", which allows people to "experience the best the company has to offer". "Thank you for helping us make history today," she added.
People had started queuing along Regent Street from 7 am to see Microsoft's Surface devices, HoloLens, Xbox Gaming Lounge and sit in the McLaren Senna on the ground floor.
Microsoft handed out free T-shirts and Xbox Game Passcodes to people in the queue, while the first 100 visitors to buy a Surface Pro 6 were also given a free limited edition Liberty Surface Type Cover.
It is also the most accessible store Microsoft has ever opened, with store associates collectively speaking 45 languages, buttons to open doors, lower desks to help those in wheelchairs and Xbox Adaptive Controllers available for gamers with restricted movement.
Similar News
Spread over approximately 44,000 sqft area across three floors, the new store will offer chic and desirable fashion brands under one roof.
The Canon Image Square (CIS) store launched in New Delhi is reportedly positioned as a one-stop shop for photography enthusiasts.