Monte Carlo adds a flagship store in Delhi
By Satarupa Chakraborty | July 25, 2018
With back to back two flagship store launches in Delhi, at Rajouri Garden and Janak Puri, Monte Carlo also launched their new logo, to keep up with their young audience.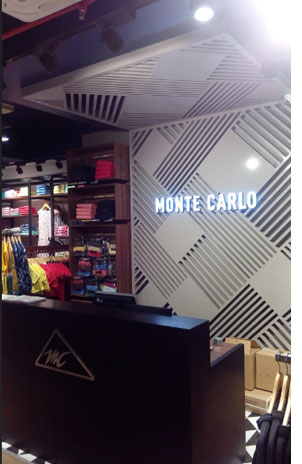 Apparel brand Monte Carlo has recently launched the city's largest store of the country at Janak Place, District Centre, Janakpuri, Delhi. With another latest store launch at Delhi's Rajouri Garden, Monte Carlo also unveiled their new brand logo recently.
Rishabh Oswal, President, Monte Carlo, said, "Monte Carlo's new retail store in Janakpuri is one of our largest stores in Delhi. Following our strategy to revamp the brand identity and render it a fresh appeal, the store features new-fangled collection with an utterly pleasing décor. Given its presence at one of Delhi's most posh and shopper busy localities, the retail outlet will provide us a strategic presence and visibility in West Delhi."
Monte Carlo recently also came up with a brand outlet in Rajouri Garden, another popular shopping hub in Delhi. The store launches are being followed after the unveiling of the new logo by Monte Carlo, revamping its brand identity. In the new logo, the blue background and red rectangle enclosing the text have been given up and the tagline is also brought closer to the brand name "Monte Carlo", which is given a new typography style.
As an already established brand in North, Central and East India, the brand has disclosed their plan to try new markets while strengthening their store footprint in the existing market.