Puma to integrate its Forever Faster concept into factory outlets
By Satarupa Chakraborty | February 16, 2018
Puma will soon introduce its Forever Faster concept at factory outlets while planning for women-only stores. The brand has recently opened 2 kids-only stores while planning to add 40 new stores to their total store count.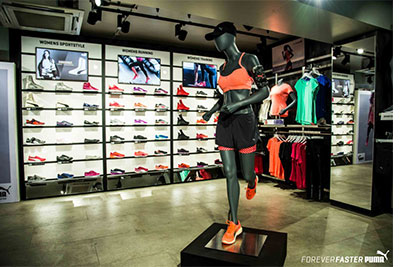 Fitness wear brand Puma will intergrate their latest store concept, Forever Faster, into factory outlets soon. Arrived in India in 2016, the concept is followed by the brand's flagship stores all across the country. Puma also revamped its factory outlets as per international standards last year, where the stores followed warehouse concept and offered customers self-browsing options.
Sharing the news with Retail4growth, spokesperson from the brand added, "We are currently working on the prototyping and all of our upcoming large format factory outlets will follow this design concept. We plan to roll it out by mid of this year." Forever Faster concept reduces the red element of brand communication and enlarges the grey elements in store design. the store concept will also introduce the newly-designed façade with a red lit strip.
Puma also recently launched its kids-only stores at Phoenix Marketcity malls in Pune and Mumbai. Planning to add a total number of 40 stores by this year end, the brand is also planning for women-only stores.