Retail space supply in malls up by 78% in 2013: CBRE
By Chanda P Kumar and Nabamita Chatterjee | Vjmedia Works | January 24, 2014
The total organized retail supply in 2013 stood at approximately 4.7 million square feet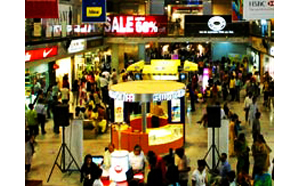 Retail space supply in
shopping malls
grew by 78 per cent during 2013 to 4.7 million square feet in seven major cities, with global players expanding their presence in the country, property consultant
CBRE
said.

"Despite ongoing uncertainty, retail real estate witnessed good activity during 2013 with a number of international brands entering and expanding across key cities," CBRE South Asia Chairman and Managing Director Anshuman Magazine said. He noted that this year is expected to remain positive for the retail sector, with existing brands being expected to ramp up operations and new brands look to making their India entries.

Although domestic retailers have been performing steadily, they face competition from global retail groups, especially in the apparel and food and beverage segments, Magazine said. "The total organized retail supply in 2013 stood at approximately 4.7 million sq ft, witnessing a strong y-o-y growth of about 78 per cent, over the total mall supply of 2.5 million sq ft in 2012," CBRE said in a report.

These seven cities are - Delhi NCR, Mumbai, Hyderabad, Bangalore, Kolkata, Pune and Chennai. Demand from international and domestic brands as well as retailers continued to strengthen throughout 2013 with the second half of the year witnessing an increase in demand for quality retail space in Delhi NCR, Pune and Chennai, according to CBRE's latest report 'India Retail Market View H2 2013'.

The demand from global retailers in the Delhi NCR and Mumbai markets remained buoyant as more retail groups sought space in prime shopping centres, as opposed to standalone high street outlets, the consultant observed.

"Most of the supply in 2013 was concentrated across Tier II cities; however 2014 is likely to witness supply addition in the key hubs of NCR and Mumbai," CBRE said. Prominent global players such as Starbucks, Krispy Kreme, Dunkin Donuts, Forever 21, Zara and Superdry expanded their presence across the country's leading cities. Retailers in the luxury and bridge-to-luxury segments were particularly active, with brands such as Brook Brothers, Missoni, Michael Kors and Emilo Pucci making inroads into the country's market places.

Rental values displayed mixed trends across the top cities during the second half of 2013.

While traditional high street markets such as Khan Market (Delhi) and Brigade Road, Commercial Street (Bangalore) witnessed an increase in rental values, the shopping hubs of Eastern Mumbai and South Bangalore observed a rental decline in H2 2013 compared to first half of the year.

Cities such as Hyderabad, Chennai and Kolkata largely witnessed stability in pricing across most micro-markets; while Pune saw an increase across its high streets, even as its mall rentals remained stable.
Business Standard